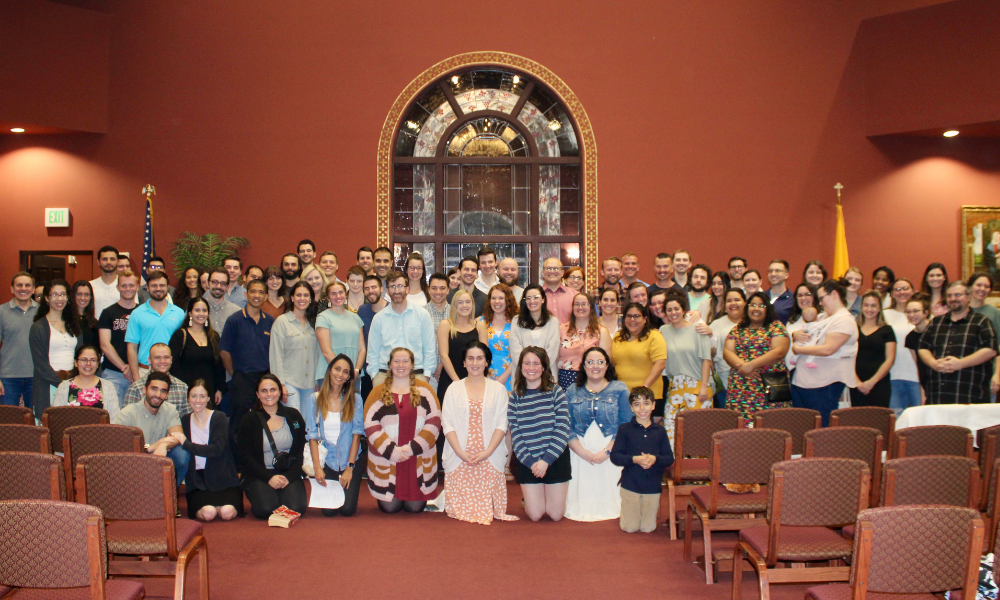 Young adults photographed at SUMMIT, a new monthly gathering organized by the Diocesan Office of Youth and Young Adult Ministry and Catholic Young Adults of Tampa Bay. Photo by Keishla Espinal
---
"You Are Not Alone"
SUMMIT, A New Event for Young Adults is Introduced
February 13, 2023 | "There are times that I can feel alone, but at SUMMIT it was a reminder that whenever I'm in God's presence I don't feel alone," said 21-year-old Raine Lester who will become Catholic on February 19th when she is confirmed and receives first Holy Communion at the Cathedral of St. Jude the Apostle in St. Petersburg.
SUMMIT is a new monthly gathering organized by the Diocesan Office of Youth and Young Adult Ministry and Catholic Young Adults of Tampa Bay. It is a time for young adults across the Diocese to come together for the celebration of Mass, Confession, and Adoration of the Blessed Sacrament.
The first SUMMIT was held on February 9th at Our Lady of Divine Providence House of Prayer in Clearwater.
"Attending events like SUMMIT makes me more devoted to my Catholic Faith," Lester said, "It is inspiring to see people show their faith."
During the SUMMIT's Mass, Father Connor Penn, parochial vicar at St. Catherine of Siena Parish, reminded everyone about the importance of community.
"Our prayer for you is to know that you are not alone. We are not alone here as Catholics in Tampa Bay. I encourage you to continue to allow Jesus to draw you to him, continue to be drawn by Jesus," he said.
"Father Penn's words only clarified for me that we are not alone, and that we are not meant to be alone. I really enjoyed his homily," Lester said.
Lester was raised in a Protestant denomination.  The decision to become Catholic wasn't always easy but Lester is looking forward to what the future holds.
"I have had a few struggles, mostly people judging me or not understanding why I'm becoming Catholic, which I can understand where they are coming from," Lester said. "People are always going to have questions, but at the end of the day the only person you have to answer to is God and yourself, in that order."
Cody Holton, one of the members behind the planning of SUMMIT said, "Our goal is to continue to gather young adults. We want to gather the young adults in the area for community so we can grow deeper in our faith."  Cody became Catholic last December and he belongs to St. Raphael Parish.
Events like SUMMIT help young adults grow deeper in their faith while building community alongside like-minded people.
"I loved the whole program, being able to attend adoration, the live music, the candles, seeing people my age worship, attending Mass, and meeting new people. It was a beautiful event overall," said Lester.
The next SUMMIT gathering is March 9th, at 7:00 p.m. at Our Lady of Divine Providence House of Prayer in Clearwater. All young adults in their 20s and 30s are welcome to attend.
"Come be open and ready to make friends because we will do our best to engage you, we are a very lively community, very loud community and everyone here is wanting to make more friends." Holton said. "We are all trying to live our faith life, and this is a way to do it together."
If interested in volunteering or helping with this program, you can reach out to the St. Pete Catholic Young Adult email at CatholicYA.stpete@gmail.com
The Diocesan Office of Youth and Young Adult Ministry is supported by the Catholic Ministry Appeal.