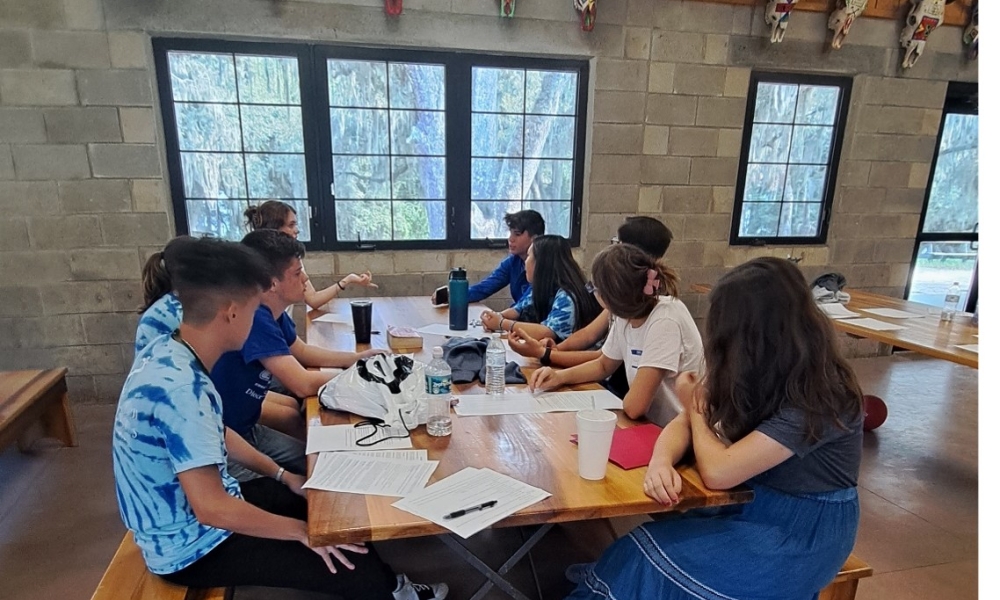 Teens gather at Our Lady of Good Counsel Camp in Floral City to participate in peer ministry leadership training. Courtesy Photo
---
Teens Learn to be Leaders
September 8, 2023 | Eighteen teens from Our Lady of Grace Parish in Beverly Hills, St. Elizabeth Ann Seton Parish in Citrus Springs, St. Thomas the Apostle Parish in Homosassa, and St. Paul Parish in Tampa Parishes spent a day at Our Lady of Good Counsel Camp in Floral City to participate in peer ministry leadership training. 
"Peer ministry training gives our young people the leadership skills necessary to know how to listen, care, and help their fellow teens. These skills translate into their everyday lives and are the very ones needed for them to 'love their neighbors"" said Mylene Taylor, Youth Minister at Our Lady of Grace Catholic Church in Beverly Hills.
Led by seven current and former peer ministers from the same parishes, the teens went through various team-building and self-reflective exercises.  The exercises were designed to help them discover and recognize their own spiritual charisms while at the same time recognizing the charisms of the others in their groups.  The team-building exercises helped them analyze their strengths and weaknesses in communication, leadership, and organization.
They also explored scenarios in groups that they might have to deal with in real life, such as bullying, cliques, reaching out to lonely peers, and working with difficult people.  The teens were able to help each other out with tips and techniques to navigate these and other situations.
Teens who had previously been through this training explored weightier topics that affect them, such as developing a personal spirituality in today's culture, guided by the Bible and the Catechism of the Catholic Church.
Our Lady of Grace Parish and St. Paul Parish Youth Ministry teams hosted the training. Both parishes employ the peer ministry model for their youth groups and have been hosting this annual training for the last four years.  This collaboration has proved fruitful for both parishes. 
Melissa Mulson, Director of Youth and Young Adult Ministry at the Diocese of St. Petersburg, led a session for the more senior peer ministers about living their faith.
"It's so essential that teens are empowered to serve in the Church at events like these. Watching these young people step out of their comfort zone to encounter the Lord and one another is a beautiful representation of our Diocesan call to courageously live the Gospel.  The skills they develop in teen leadership are the building blocks of whole lives joyful discipleship," said Mulson.
The day culminated in faith-sharing talks about the Eucharist and its importance in their lives, a fitting conclusion in the National Eucharistic Revival's Year of Parish. The group listened to a young adult witness about the impact that the Eucharist has in her life.  Then the group broke into small groups to discuss how the Eucharist should be the priority in their lives and why this matters.
Laura Wendt, Youth Minister at St. Paul's, urged everyone to continue praying for young people throughout the Church that they continue to grow in their faith. "It is always heart-warming and uplifting to see these youth that are committed to not just living out their faith, but to sharing it with their peers.  We want to support them in all ways possible!"
Mylene Taylor is Youth Minister at Our Lady of Grace Catholic Church in Beverly Hills.