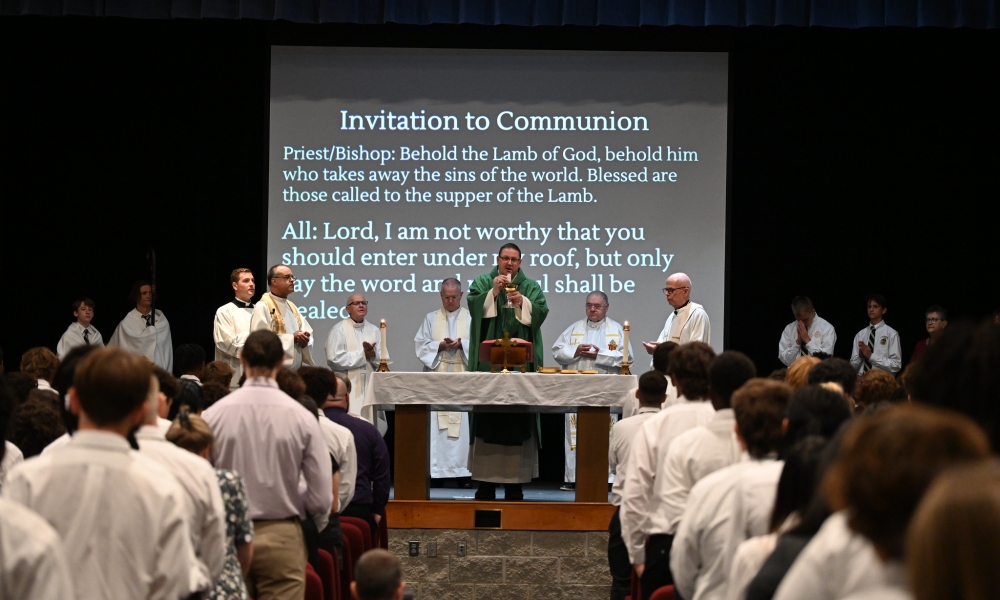 On Wednesday, September 6th, 2023, Bishop Gregory Parkes celebrated St. Petersburg Catholic High School's 50th Anniversary Mass, concelebrated by Msgr. Robert Gibbons, Fr. Arthur Proulx, Fr. Richard Rosin, Fr. Gerry Hendry, and Fr. Thomas Morgan. Photo by Keishla Espinal
---
Bishop Celebrates Mass for High School's 50th Anniversary
September 10, 2023 | "There is a culture here that is very appealing, it is the spirit of family, a spirit of belonging, a spirit of community, which is what the Church of the future is all about," said Msgr. Robert Gibbons, pastor of St. Paul Catholic Church and School during his homily on Wednesday, September 6th, 2023, at St. Petersburg Catholic High School 50th Anniversary Mass.
St. Petersburg Catholic High School, which provides a co-ed education, was established in 1973 after Bishop Barry High School (1957-1973), an all-boys school, and Notre Dame Academy (1962-1973), an all-girls school, merged.
The school's mission is to be a Christ-centered, college preparatory school rooted in a firm foundation of Catholic faith, family, tradition, and excellence.
"We here at St. Petersburg Catholic High School are called to continue to proclaim the Good News and build the Kingdom of God as we have over the past 50 years," said Ross Bubolz, principal at St. Petersburg Catholic High School.
Kyle Weaver, Alumni Class of 2014, and current Physical Education and Social Studies teacher stated, "St. Petersburg Catholic High School greatly impacted me to be the person I am today. I had a great relationship with all of my teachers. The teachers cared greatly about our academic success as well as our success as individuals, which has impacted me to do the same as a teacher now."
St. Petersburg Catholic High School's motto is Fortes in Unitate, which is Latin for "Strength in Unity."
"Attending a Catholic school is like having a second family and being part of a great community," said Nichole, a senior at St. Petersburg Catholic High School. "You know you are going to be at home when you're in a Catholic school."
Nichole has had the opportunity to not only grow in her faith but also in her academics and sports life.  Nicole is a part of the school's Basketball, Volleyball, Softball, and Cheer teams. She is also a member of the Vet Club, Honor Society, Student Government, and the Campus Ministry Leadership team.
The school provides students the opportunity to grow in many different ways. They pride themselves on being more than just a school.
For more photos of the Mass, click the arrows below.