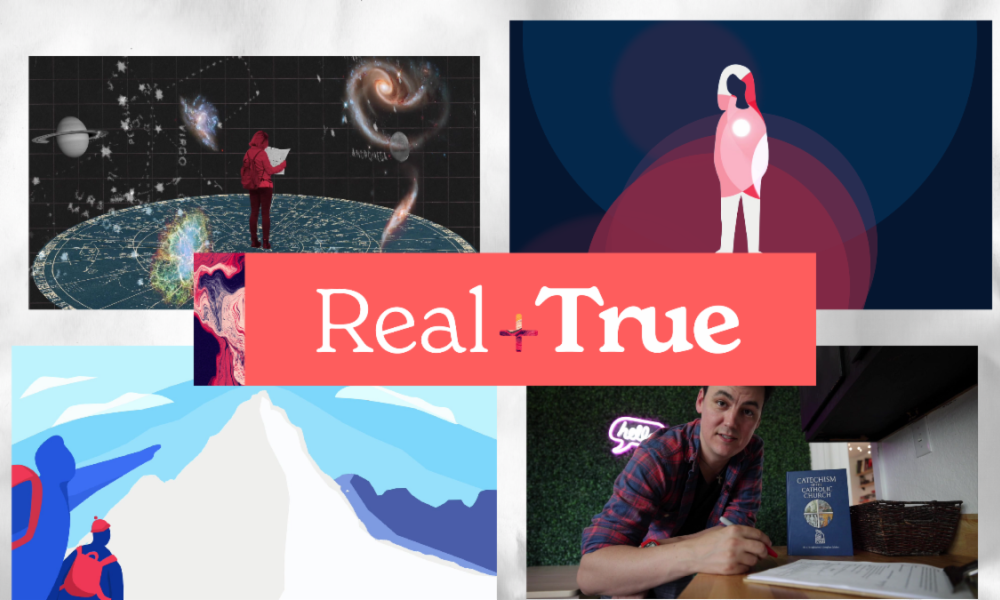 ---
Real+True Receives Endorsement From the Holy See, Expands Outreach
May 17th, 2022 – Real+True, a project of OSV that publishes digital content based on the Catechism of the Catholic Church in English, Spanish, Portuguese, and French and is accessible for free to people worldwide, received the patronage of the Holy See through the Pontifical Council for Promoting the New Evangelization.
Archbishop Rino Fisichella, secretary of the Pontifical Council, expressed his support for Real+True and deemed it "greatly valuable, which allows for the dissemination of the contents of the faith especially among the younger generation and in a language close to their sensibilities."
Real+True publishes monthly content inspired by the Catechism of the Catholic Church. Since its launch in September of 2021, Real+True videos and content have over 1.75 million views and are being used in dioceses, parishes, and schools around the world.
In addition to the Real+True website www.realtrue.org and social media, Real+True videos are also available on the Augustine Institute platform FORMED, serving over one million users; CatholicTV, a broadcast network of the Archdiocese of Boston, serving many dioceses in the US and users around the world; and DeSales Media, a ministry in the Diocese of Brooklyn serving the 1.5 million Catholics in New York. Later this spring, content will also be available on Shalom World, a 24/7 channel reaching Catholics in Asia and around the world, and Salt and Light Media, serving Catholics in Canada and people around the world.
"We are excited to partner with these apostolates and ministries that will help more people around the world unlock the beauty and wisdom of the Catechism and, most of all, help them discover its pulsating heart: Jesus Christ," said Emily Mentock, cofounder of Real + True. "When we launched in September of 2021, we had a goal of reaching one million views in three months. We were blown away by the response and enthusiasm and in less than two months we reached that goal. We believe these and future partnerships will ensure Real+True continues to be a gift to the Church all over the world."
Real+True is also partnering with Juan Diego Network, a leading Catholic publisher in Latin America and the US, to increase its outreach to Spanish-speaking Catholics. In January, Real+Verdadero www.realverdadero.org launched Spanish social channels and started publishing a monthly podcast and a newsletter.
"Forty-one percent of Catholics in the United States are Latino/Latina and there are more than 425 million Catholics in Latin America, roughly 40 percent of all Catholics in the world," said Edmundo Reyes, a cofounder of Real+True. "There is a great need for effective, dynamic, and captivating content in Spanish to pass down the gift of our faith to the next generation."
Bishop Arturo Cepeda, auxiliary bishop of Detroit and chairman of the Committee on Cultural Diversity in the Church for the United States Conference of Catholic Bishops (USCCB), said he was grateful to see "high-quality" catechetical resources designed for Latinos in the US and the Church in Latin America.
"Real+True videos are a great way for people to enter into the mysteries of our faith and hear the voice of God inviting them into a relationship," he said. "The videos combine sound catechesis and an attractive way to pass down our faith to the next generation."
Real+True engages with Millennial and Gen Z audiences through videos, social media, and podcasts. New content is published in monthly units, each covering a section of the Catechism. Parishes, dioceses, apostolates, and ministries worldwide can incorporate the videos and content in their catechetical and evangelization programs and efforts.
"We are very encouraged to see parishes, schools, and families using Real+True to explore the Catechism of the Catholic Church,"said Edmund Mitchell, cofounder of Real+True. "We received a photo of a youth group in Romania watching the videos together. We've heard of a parish in Costa Rica using them for their small groups. Teachers from around the country are using the videos in their lessons. As a catechist, former director of religious education, and youth minister, it's a gift to see our videos serving the work of evangelization and catechesis in all these settings."
Real+True's mission is to pass down the gift of our faith by creating beautiful, captivating, and relevant content inspired by the Catechism of the Catholic Church available in multiple languages and accessible for free to people all over the world.
Real+True is a project of Our Sunday Visitor, one of the largest Catholic publishers in the world and a leader in catechetical and evangelization resources.
---
About OSV (Our Sunday Visitor): OSV was founded in 1912 by Fr. John Francis Noll as a way to spread knowledge about the Catholic Faith through periodicals, books, and parish resources. Its mission is to help Catholics fulfill their calling to discipleship, strengthen their relationship with Christ, deepen their commitment to the Church, and contribute to its growth and vitality in the world.