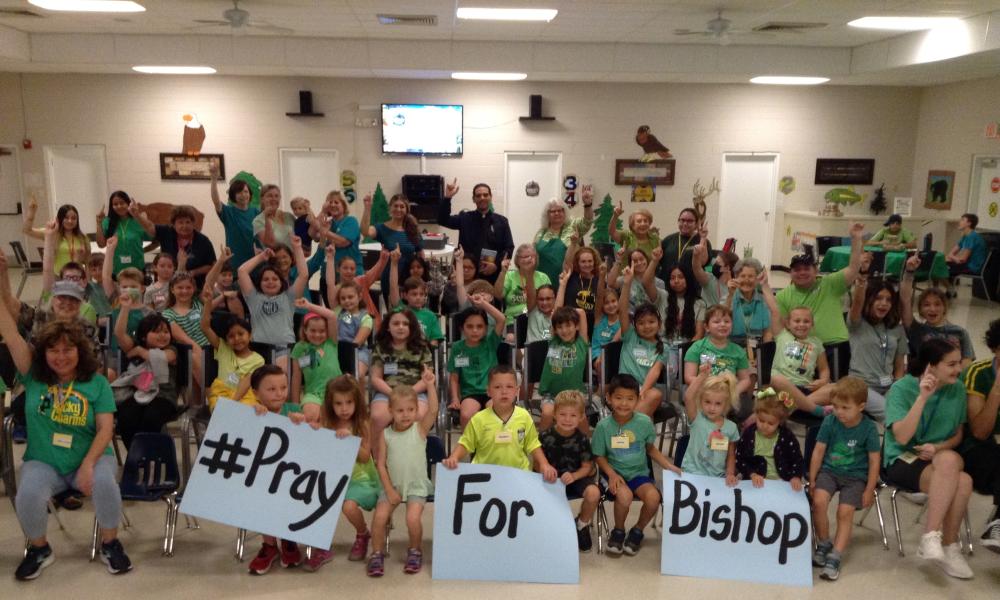 ---
Outpouring of Prayers for Bishop Parkes
The community of West Central Florida has been showing love and support for Bishop Gregory Parkes as he recovers from major surgery. Prayers have even been offered around the country and around the world.
More than 50 young people from Corpus Christ Parish in Temple Terrace submitted a video of a prayer of healing they offered for Bishop Parkes during Vacation Bible School.
"Father Mike Smith along with the children, adult volunteers and teen helpers from our MONUMENTAL VBS 2022, prepared this video for Bishop Parkes wishing him a quick recovery and letting him know we are all praying for him," said Liliana Hughson, Director of Faith Formation, Corpus Christ Parish.
Students attending Vacation Bible School at St. Mary Parish in Tampa also prayed together for Bishop Parkes and submitted a photo featuring the hashtag, #PrayForBishop.
Also, 96 people signed up for "24 Hours of Prayer" on June 9, 2022, the day of bishop's surgery.  Even during the overnight hours and early morning hours, people signed up to pray for 15-minute increments.
Parishes around the five counties of the Diocese of St. Petersburg have been praying for Bishop Parkes during Mass intentions, which means literally tens of thousands of people united in prayer.
Additionally, parishioners from St. Thomas Aquinas drove from New Port Richey to the bishop's office in St. Petersburg to deliver a Spiritual Bouquet made of cards they collected. The cards were arranged in a gift basket for Bishop Parkes that included teas, honey, tea biscuits, a Rosary from Fatima, healing prayer cards, and other special treats.
At St. Benedict Catholic Church in Crystal River, parishioners left special messages and signed a prayer board as they continue to pray for Bishop Parkes. The prayer board read in part, "Lord God, extend your hand to Bishop Parkes, giving him the courage and strength needed on his journey of healing and recovery."
Family Rosary Across America with Father Rocky on Relevant Radio offered a prayer intention for the bishop's healing. Raul Galindo, of Miami, first heard about the bishop's surgery on Relevant Radio and he continues to keep the bishop in his prayers.
"Even though we don't know him, we are praying for him and his full recuperation," said Galindo, who regularly prays during the nightly broadcast of the Rosary, along with thousands of others.
Sylvia Marholin, a local Catholic, shared that her international group prayed the Rosary in Spanish for "our beloved Bishop Parkes" online with 27,000 participants.
Spirit FM 90.5 has been praying each day for Bishop Parkes on the air and they are creating an audio get well card for Bishop Parkes.
"We invite people to call 813-282-1234 and record a message for the bishop or use the open mic feature on the free MySpiritFM app. We will compile them and send your well wishes to Bishop Parkes as he recovers," John Morris, Station Manager, Spirit FM.
On June 10th, Bishop Parkes posted on social media (@BishopParkes) that he was "doing great" following his surgery. He also wrote, "I'm very grateful for all the prayers and support."
For more ideas about how to surround Bishop Parkes with love and prayers, click here.