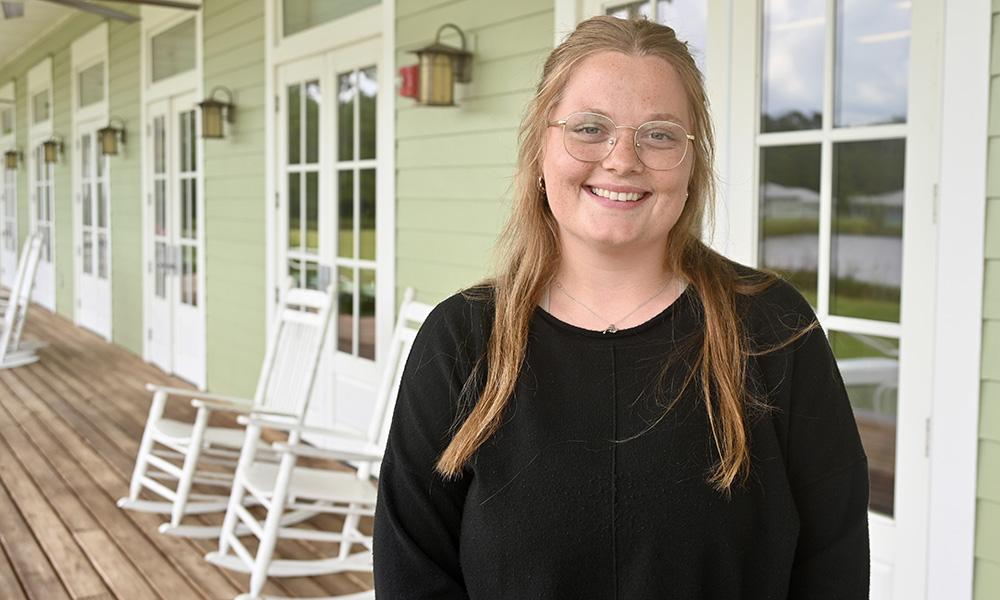 Salome Bubolz, is new third grade teacher at St. Patrick's Catholic School in Largo. Her father is principal at another Catholic school in our area. The 2023-2024 Catholic school year began on August 9, 2023. Photo by Katie Camario.
---
New Teacher Follows The Example of her Dad, a Principal
August 9, 2023 | Salome Bubolz, is excited to embark on her teaching career as a third grade teacher at St. Patrick Catholic School in Largo.
"I am so excited. I can't wait to see my students and watch their minds develop," she said.
The recent Saint Leo University graduate was one of ninety teachers hired to fill positions across forty-six schools and centers in the Diocese of St. Petersburg. She is also daughter of Ross Bubolz, principal of St. Petersburg Catholic High School.
The group of teachers and other newly hired staff were welcomed into the Diocese during an orientation August 2, 2023, led by Chris Pastura, Superintendent of Catholic Schools for the Diocese of St. Petersburg.
"The enthusiasm of the new teachers is a testament to the infectious nature of Catholic education," said Pastura. "When you're spreading the Gospel, in a ministry like Catholic schools, it's incredibly infectious and people want to be a part of it."
For Bubolz, working at a Catholic school was her main goal after earning her teaching degree. She attended Catholic school her whole life and was set on only teaching at a Catholic school.
"Catholic schools have a very different dynamic. I have felt that sense of family in every school I have been in, even in college. It's definitely that aspect of the Catholic faith that brings in that sense of warmth and comfort, not just for students, but for teachers and faculty as well," she added.
Bubolz is looking forward to pursuing her love of teaching in an environment where she can live out her faith and be a role model for her students.
"Expressing my Catholic faith and sharing it with my students is very important to me," she said, "I feel called to share my Catholic faith through teaching."
Teachers, staff and students of all faiths are welcomed at Catholic schools and centers and Pastura says this is an opportunity to share the Gospel with them.
"We are unabashedly and proudly Catholic in everything we do" he said. "I see this as an opportunity to reach out and share Christ's message with people of other faiths and invite people into our community."
In preparation for the first day of school, Bubolz has been decorating her classroom in bright, cheerful colors to create an inviting space for her students.
"I can't wait to see their smiling faces and watch them grow throughout the year," she said. "I want to help build a strong foundation of faith for them."
Pastura said the new group of teachers and staff will continue the important mission of sharing the Gospel through Catholic education.
"We can't get wait to get back to work," said Pastura. "We're so excited about this year, and about the future of Catholic education and the Diocese of St. Petersburg."
To learn more about the Diocesan schools visit: https://www.dosp.org/schools-office/