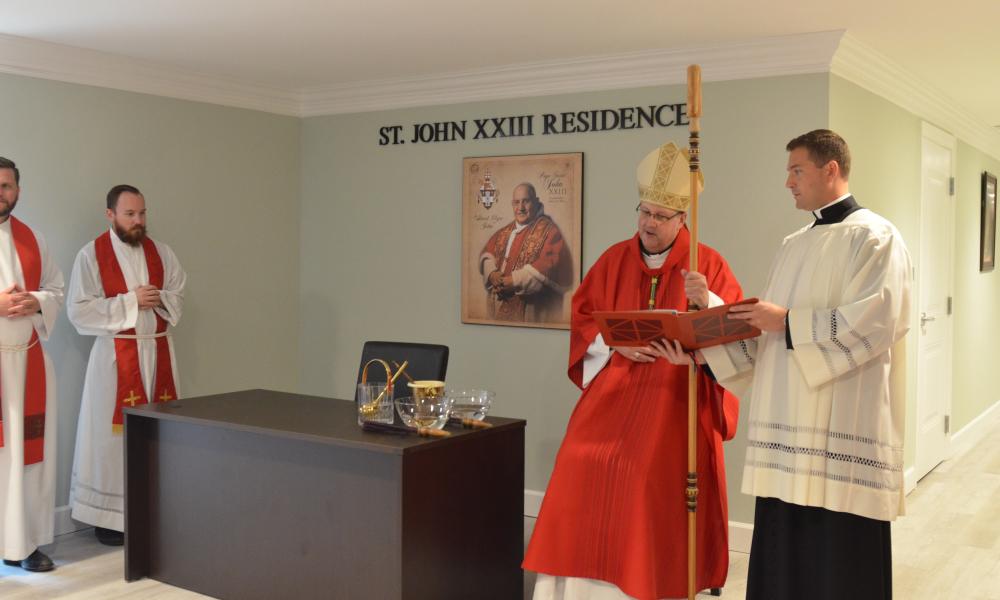 ---
New Retirement Center in Hillsborough County Will Be a Spiritual Haven
Caption: Bishop Gregory Parkes blessed and dedicated the St. John XXIII Residence retirement center, October 19, 2022. Photos by Katie Camario.
---
October 24, 2022 | Bishop Gregory Parkes blessed and dedicated a new retirement center in Hillsborough County on October 19, 2022. The St. John XXIII Residence is a new retirement home built by the Diocese of St. Petersburg in association with Angels Senior Living. The residences are open to priests, religious sisters, and Catholics who are disabled or in need, who live in Hillsborough, Hernando, Pasco, Pinellas and Citrus Counties.
The newly constructed assisted living facility is comprised of 22 residences that are studio, one and two-bedroom accommodations with kitchenette, living room, and views of nearby woods. The residences will share a chapel for the celebration of daily Mass, praying of the Rosary, spiritual devotions, and Bible study.  A part-time Pastoral Services Coordinator will attend to the continued spiritual growth and development of the residents.
Speaking during his homily at the first Mass celebrated in the newly constructed chapel, Bishop Parkes said, "I hope that this will be a place of joy and a place of peace, where those who live here feel secure and they feel the presence of God, here in the Blessed Sacrament, the Real Presence of our Lord, Body, Blood, Soul and Divinity, present in this chapel. What a great blessing that is."
The chapel has been carefully designed to highlight the sacred nature of worship and to honor God. The altar is made of mahogany wood with gold leaf carvings, the detailed Stations of the Cross were imported from Italy, and stained-glass windows depict images of the Blessed Virgin Mary, Joseph and Jesus.
"This assisted living facility feels like a home, not an institution. The space is designed with the people in mind, what their needs are as they age, so they will continue to be loved and cared for," said Monsignor Mike Muhr, who was appointed by Bishop Gregory Parkes to lead this initiative.
The retirement center was made possible by a generous bequest from Charlotte Rhodes who passed away in 2021. She was a parishioner of St. Brendan Parish in Clearwater Beach who worked as a nurse. St. John XXIII Residence is located at Angels Senior Living at The Reserves of Idlewild in Lutz. To learn more visit https://angelsseniorliving.com/location/reserves-of-idlewild/.