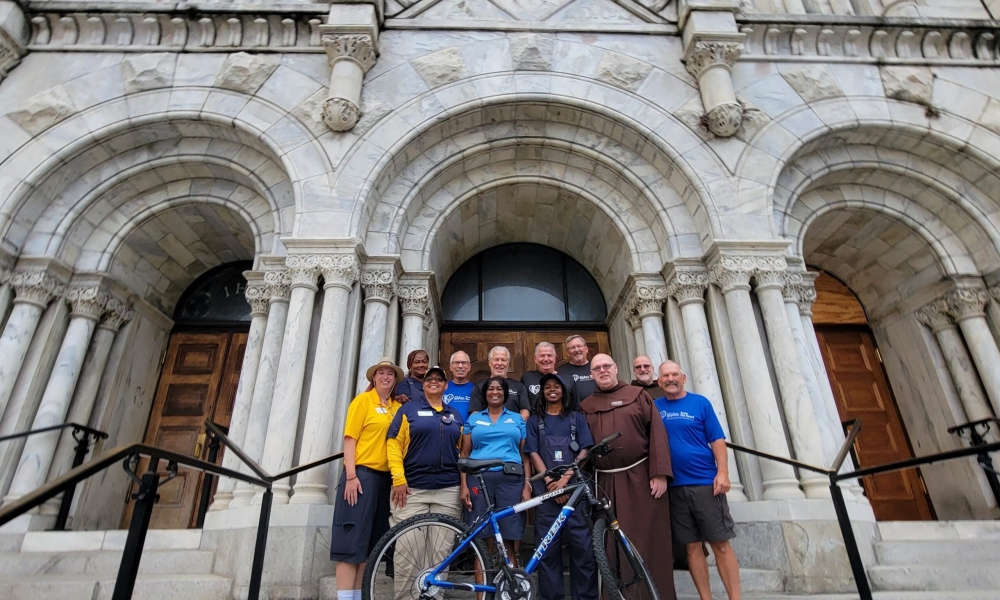 Members of the Bikes from the Heart Ministry at Sacred Heart Parish gather in front of the church. They collect used bicycles, refurbish them to working order, and deliver them to those in need. Courtesy photo.
---
New Ministry Provides Free Bicycles to Those in Need
A new outreach ministry of Tampa's historic Sacred Heart Catholic Church is offering neighbors with limited transportation access a way to get to work, grocery stores, and essential services, such as medical care.
Bikes from the Heart (BFTH) collects used bicycles, refurbishes them to working order, and delivers them to those in need. The volunteer program, founded by parishioners Tim Eves and Tom Henry, operates out of the former convent on the church's "North Campus" property, formerly Sacred Heart Academy (3515 N Florida Avenue).
"I started helping some other churches with their bike repair ministries for the transportation limited, and I found there was quite a demand for bicycles in our community," Eves said ahead of the new ministry's blessing and launch event in August. "Through a stroke of luck and the Grace of God, we found an opportunity through a partnership with the Tampa Police Department for the on-going supply of a large number of bikes that we could rehabilitate or recycle to distribute to our homeless and needy neighbors."
Used bicycles and parts are donated to Bikes from the Heart by individuals, parishioners of Sacred Heart and other area churches, apartment, and condominium complexes, partners like WellBuilt Bikes, as well as law enforcement. Tampa Police donated well over 100 bicycles to the ministry from the department's impound lot since the ministry began work in March.
The project was conceptualized between Eves and Henry in late 2022, with the pair able to begin work after receiving a seed donation from another parishioner in the spring of 2023. Sacred Heart provides the space and utilities in several restored rooms of the former convent, which was originally built in the 1930's. The ministry has a large workspace for repairs, a storage area for parts, and holding areas for bicycles awaiting repair or restored ones awaiting a new owner. "We came up with the idea to collect these used, old bicycles and refurbish them and redistribute them to partner agencies on the front lines helping our homeless and needy," Eves said.
The ministry regularly works with Catholic Charities' homeless shelter, Tampa Hope; Love INC of Metro Tampa, an ecumenical collective of intercity churches addressing community needs; Metropolitan Ministries; Hyde Park United Methodist Church, The Portico, the Agency for Community Treatment Services, and the Tampa Downtown Partnership on distribution of the restored bikes.
BFTH distributed their one-hundredth restored bicycle to Josh Webber, a newly hired member of the Downtown Partnership's Clean Team currently working in Hyde Park, on Thursday, October 12, on the steps of the church, alongside volunteers, Downtown Partnership employees, and the friars of Sacred Heart. When asked about receiving the bike, Webber stated "this means I can get to work reliably, and also have some nice rides along the river."
Some bicycles are also given to recipients through direct request or referral. Anyone looking to receive a bicycle must complete an application. Depending on access to needed parts and available volunteers, between seven and 15 bicycles can be refurbished and made available for distribution each week. It costs between $30 and $35, on average, to recondition a bicycle. In addition to the initial seed donation, funding has come from both inside and outside of the church, but the founders hope to secure more funds through other means.
"The need for transportation is ubiquitous," says Henry. "We have a large population here in Tampa that do not have the funds to own or operate a vehicle, so bicycles are a natural solution to allow those folks to go shopping or get to and from work."
"We do this for the honor and glory of God, which Tom and I have in our hearts." Eves added at the August 17 launch and blessing event. Over 60 were in attendance for the event which provided a tour of the facilities, and a blessing from Fr. Mike Jones, OFM, pastor of Sacred Heart, and Fr. Steve Kluge, OFM. Leaders from 12 area agencies were also in attendance, eager to see how they could assist the ministry as it continues to grow.
"It gives a chance to deal face-to-face with our neighbors in need," Eves said.
To learn more about the ministry, volunteer, or donate, visit shfla.org/bikes.
Rob Boelke is Communications Manager at Sacred Heart Parish in Tampa.