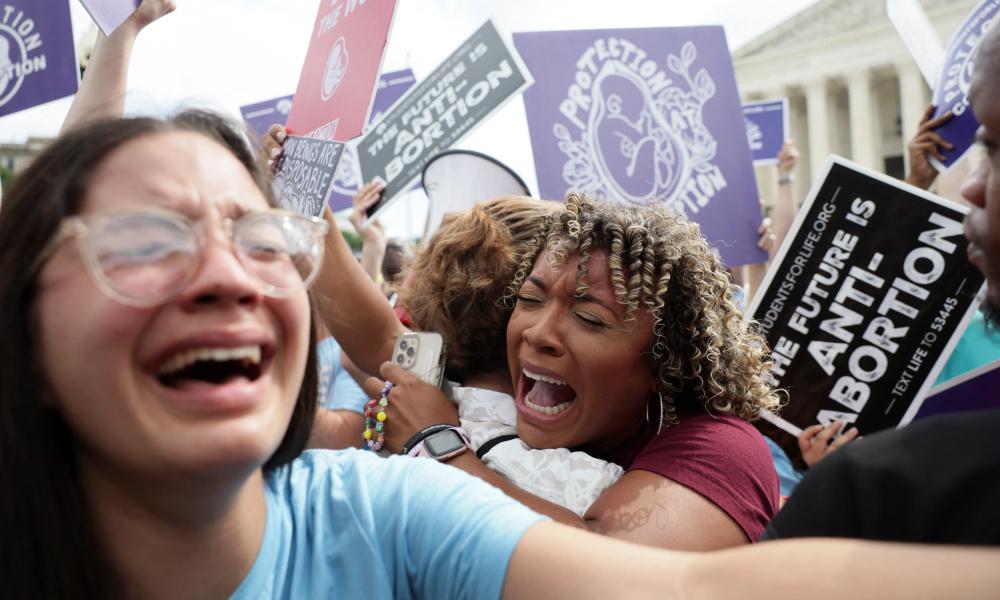 ---
Major Victory for Life
Photo Caption: Pro-life demonstrators in Washington celebrate outside the Supreme Court June 24, 2022, as the court overruled the landmark Roe v. Wade abortion decision in its ruling in the Dobbs case on a Mississippi law banning most abortions after 15 weeks. (CNS photo/Evelyn Hockstein, Reuters)
---
The ruling on the U.S. Supreme Court case Dobbs v. Jackson Women's Health Organization represents an answer to millions of prayers that have been offered for mothers, fathers and their preborn children. For decades, the Catholic Church has been a leader in advocating for life in all stages of development and praying for an end to Roe v. Wade that left a whole class of human beings, the preborn, outside the protection of the law. 
The ruling issued on June 24, 2022 has given states an opportunity to undo the grave injustice of 1973, Roe v. Wade decision that legalized abortion across the country. In the decades that followed the Roe decision, about 60 million preborn children have been aborted in the U.S. The overturning of Roe means each state can now decide to protect the lives of preborn children, and in doing so, also protect millions of women from the tragic consequences of abortion.  
A statement from the Florida Conference of Catholic Bishops, including Bishop Gregory Parkes, issued on June 24th, reads:

"We are deeply heartened to see that the U.S. Supreme Court has overturned Roe v. Wade and Planned Parenthood v. Casey in its landmark opinion, Dobbs v. Jackson Women's Health Organization. The most influential abortion case in decades, Dobbs is a decision by our nation's highest court to allow states to protect women and their children from abortion through all stages of pregnancy." 
Catholic Charities of the Diocese of St. Petersburg operates various ministries to serve expectant mothers who face difficult pregnancies and those who find it difficult to care for their children after they are born. Services continue long after babies are born and include comprehensive referral services to those in need. Catholic Charities has also operated a licensed, private adoption agency to assist women with adoption planning since 1945. 
"Catholic Charities provides an enormous array of services, such as financial assistance, utility assistance, medical services, shelters and housing, and pregnancy and adoption services. All our services are free and available to everyone. We serve all residents in Citrus, Hernando Hillsborough, Pasco, and Pinellas counties regardless of race, creed, gender, national origin, disability status or socioeconomic status," said Laura Ramos, Pregnancy & Adoption Services Director Catholic Charities Diocese of St. Petersburg. 
Legal protection for the preborn means the Church is redoubling its efforts to accompany women and couples who are facing unexpected or difficult pregnancies, offering them loving and compassionate care. 
"Foundations of Life Pregnancy Center has always been prepared to serve our community. For us it is not just about saving the baby. This is about setting up parents for long-term success in their parenting," said Ramos. "What we want is not only to give hope to those who are thinking about abortion, but we want to walk with all moms through their pregnancy and until they have achieved their spiritual, economic and physical goals." 
Another rapidly growing initiative is "Walking with Moms in Need," sponsored by the United States Conference of Catholic Bishops. This parish-based process helps parishioners connect with local mothers facing difficult or challenging pregnancies, identifying local resources and filling the gaps so that pregnant and parenting women receive the material, spiritual, and emotional support they need. 
During the month of May, meetings were held between Parish Life Ministries in the Diocese of St. Petersburg and local pregnancy centers to discuss Walking with Moms in Need. 
"Walking with Moms in Need provides an avenue for parishes to better serve their parishioners while at the same time supporting pregnancy resource centers. The meeting provided an opportunity for attendees to tour the center, learn about the services provided, and what our needs are," said Jeanne Whitely, manager of Foundations of Life Center in Spring Hill.
"The services we provide will remain the same with the overturning of Roe, however we expect to see an increase in the volume of clients served. Since the recent change in law in Texas, Pregnancy Resource Centers such as Foundations of Life have seen an increase of nearly 40% in clients, therefore we certainly can expect an increase as well." said Whitely.
For Ramos, the ruling means continuing to share Jesus' love for all women and their children with compassion and mercy. 
"We need the community to rally around these families. We need their help in promoting love and life. And they can do that by volunteering and or donating baby and maternity supplies, such as diapers, baby formula, toiletries."  
The Church continues to reach out to women and men who have been involved in an abortion and then find themselves in emotional and spiritual turmoil. Project Rachel Ministry offers confidential, compassionate help to women and men after an abortion. 
If you or someone you know is suffering after abortion, confidential, non-judgmental help is available from Project Rachel Ministry.
Anyone looking for help can call the confidential helpline at 407-222-8584
Email: projectrachel@cflcc.com 
---
To get involved and help assist pregnant mothers, parenting mothers and children, and anyone who needs assistance there are many ways to help:  
Foundations of Life Pregnancy Centers
Offers support and services to women who are facing unplanned pregnancy with the goal of having them choose life. They offer free, confidential, and nonjudgmental support to women of all ages. There are five Pregnancy Centers located in Tampa, St. Petersburg, Spring Hill and Dade City. Call for appointments and walk-ins are welcomed. 
www.foundationsoflife.org 
Catholic Charities Adoption Services 
Licensed, private Florida adoption agency that has been assisting women with adoption planning since 1964. Their experienced adoption counselors are ready to assist you during and after your pregnancy. You are provided confidential, non-judgmental support and counseling. The Adoption Services serve 64 counties throughout Florida. 
www.ccadoptfl.org 
Pasco Family Shelter
The Pasco Family Shelter offers shelter, clothing, food, counseling and more to nine families at any given time. We work closely with the Coalition for the Homeless of Pasco County.
www.ccdosp.org/pasco-family-shelter 
Pasco Women's Shelter
Pasco Women's Shelter provides support services and temporary/transitional shelter and support services for homeless women and homeless women with children in Pasco County.  Serves 20 women and children with wrap around services.
www.ccdosp.org/pasco-county-womens-shelter 
Upper Pinellas Pregnancy
Support Services UPPSS is an outreach ministry of St. Ignatius of Antioch Church that extends the love of Christ to women who face the challenges of pregnancy and motherhood. We are dedicated to helping women make informed choices by providing information, encouragement, support, and material assistance.
https://uploads.weconnect.com/mce/3b69df951b3d4c18c3cb681597fbb9bba88d799c/pregnant-2.pdf