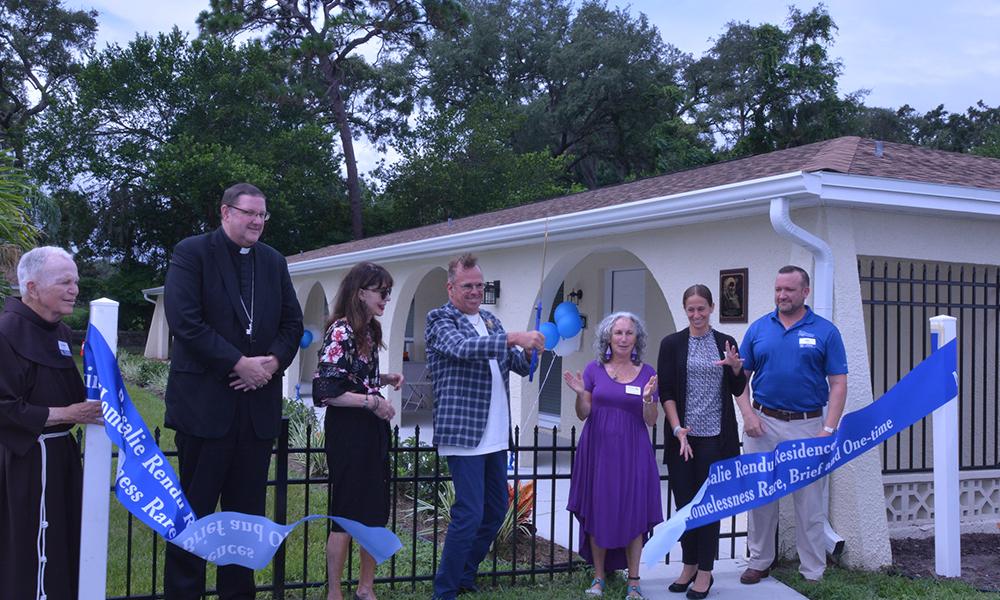 ---
A Day Of Hope And Joy In Pasco County
On August 5, 2021, St. Vincent de Paul CARES celebrated the opening of Rosalie Rendu Residences, an affordable and supportive housing project in New Port Richey that features eight newly renovated apartments. The project provides a safe place for those who are homeless or at risk of becoming homeless. People like Jay S., a veteran who was the first resident of this apartment community.
"I can't tell you how grateful I am today for all that's been done for me. It has had a profound impact on me," said Jay during the blessing and opening ceremony. "I hope one day to have an impact on other's lives like you've had on mine."
Jay said he grew up in a "normal family" but after falling on hard times he wound up homeless, living in the woods for over three months. He described this difficult experience to nearly 100 supporters who gathered for the ceremony. After the emotional testimony, Michael Raposa stepped up to the podium.
 "We believe housing is a fundamental right for all people. We go into the woods, the encampments, embracing men and women who experience homelessness and bring them out and bring them back to live among us," said Raposa, CEO, St. Vincent de Paul CARES.
The ceremony included a blessing by Bishop Gregory Parkes and Father Justin Paskert, pastor, Our Lady of the Rosary Parish, Land O' Lakes. Father Kevin Mackin, O.F.M., spiritual advisor for St. Vincent de Paul CARES, sprinkled holy water on the walls while walking through the apartments.
"Today is a day of hope and joy," said Bishop Parkes. "When someone has a clean, safe and secure place to live, they have hope for the future. That's what this building provides."
The building was named in honor of Vincentian religious sister Blessed Rosalie Rendu, who worked tirelessly to aid the poor in the slums of Paris during the 19th century. Sister Rosalie assisted those in critical need through person-to-person service. She visited the poor in their homes or on the street to provide them food, clothing and material support. She was fearless and treated everyone with dignity and respect. During the French Revolution, she was asked to evacuate but refused saying, "my place is with the poor."
This housing project was made possible through a partnership with Pasco County Government and with the support of many donors to St. Vincent de Paul CARES.
Supportive housing is a type of affordable housing that includes intensive, coordinated services to help people struggling with physical and/or mental health issues or disabilities. This project aligns with diocesan goals for affordable housing related to our mutually shared vision, Courageously Living the Gospel.