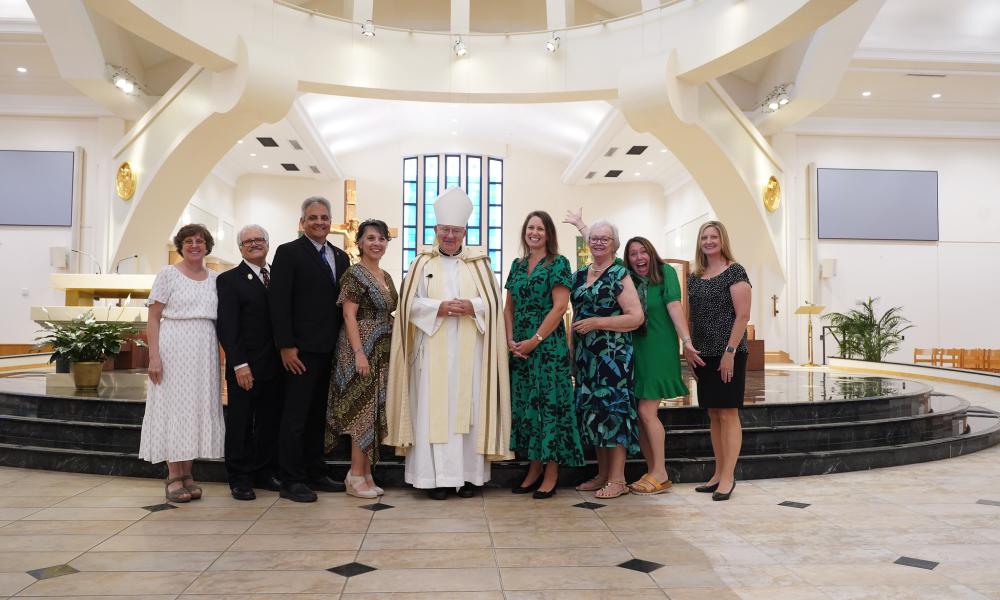 Bishop Emeritus Robert Lynch is surrounded by the newly commissioned lay ecclesial ministers on June 20, 2023. Left to right: Mary-Chris Peterika, Joseph McEvoy, Jose' Orlando Colón, Judy Prinzivalli Colon, Gretchen Covine Ammons, Kathryn O'Brien, Deb Reedy, and Denise Sanders. Photo by Dana Rozance
---
Commissioned to Serve
June 28, 2023 | On June 20, 2023, eight Catholics were commissioned as lay ecclesial ministers during a Commissioning Ceremony and Evening Prayer Service at the Cathedral of St. Jude the Apostle led by Bishop Emeritus Robert Lynch.
These individuals are now graduates of the Lay Pastoral Ministry Institute, a four-year formation program of the Diocese of St. Petersburg that empowers laity to learn about and share their personal gifts with their parishes.
Candidates must successfully complete a year of discernment and a three-year formation period that concentrates on Human Formation, Spiritual Formation, Intellectual Formation, and Pastoral Formation.
Providing a holistic view of the tools necessary to succeed in ministry, and even a period of apprenticeship, these four years seek to develop the individuals in their knowledge of the Catholic faith and their ability to work in parish ministry.
Graduates in this year's class were Kathryn O'Brien, Mary-Chris Peterika and Deb Reedy, all from Espiritu Santo Parish; Gretchen Ammons, José Colón, and Judi Colón from Resurrection Parish; Joseph McAvoy from St. Thomas the Apostle Parish; and Denise Sanders from St. Paul Parish in St. Petersburg.
This year's class included a married couple from Resurrection Parish, José and Judi Colón.
"My wife is doing it with me, so that makes it better still, since we have teamwork," said Jose. "I'm not sure that I would have done it if it weren't for her support."
Jose and his wife drove with Gretchen Ammons, also from their parish, every Thursday night to class for four years. He said the program enabled them to build strong bonds with other Catholics.
"It's not just us from the same parish, but our group, and other members of the class. We hope to be friends for life," said Jose.
During the Commissioning Ceremony Bishop Emeritus Lynch said, "The wounded and the hurting are all around us, and they abound. But tonight, Christ the healer receives new helpers, new nurses, new physicians."
This new class of LPMI graduates were each assigned an end-of-class project focused on a parish need. This project is more than just a small work of service. It is designed to challenge each member to follow the Divine Will of God in doing what He calls them to do at their parish, whatever it may be. José, for example, assisted with various aspects of liturgy at his home parish. That service will continue.
"This doesn't end once we've been commissioned, it's just the beginning," said Jose.
 The Lay Pastoral Ministry Institute is funded through gifts to the Catholic Ministry Appeal.
Click on arrow below to view photo album of the Prayer Service and Commissioning Ceremony.
Elena Rudatis is a freelance writer.