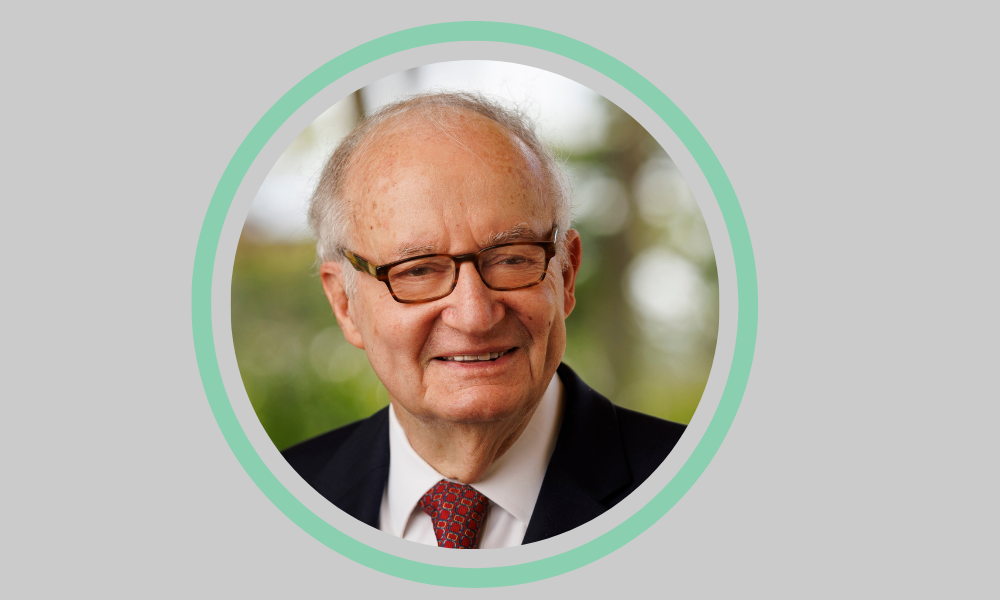 ---
Rabbi A. James Rudin to Receive Papal Knighthood
Caption: Rabbi A. James Rudin will receive the Papal Knighthood of the Order of St. Gregory

Photo Credit: Brian Tietz, Saint Leo University
---
November 16, 2022 | ST. LEO, FL – For only the third time in history, a pope is honoring an American rabbi with the Papal Knighthood of the Order of St. Gregory the Great. It is the highest honor the pope bestows upon individuals, both Catholics and non-Catholics, in recognition of their significant contributions to society. This also marks the first time in his papacy that Pope Francis is granting the honor to a Jewish person, Rabbi A. James Rudin.
Rudin is a distinguished professor of religion and Judaica at Saint Leo University and co-founder of the university's Center for Catholic-Jewish Studies. Rudin is being honored for his career of more than 60 years during which he fostered interreligious relations, dialogue, and understanding. He is the American Jewish Committee's senior interreligious adviser and previously was the organization's longtime Interreligious affairs director.
"I am deeply honored that Pope Francis has affirmed the extraordinary importance of Catholic-Jewish dialogue through this award. That he has continued the Church's historic commitment to care for the poor and disenfranchised, as my Jewish tradition calls it – tikkun olam – the repair of the world, makes this moment extremely special," said Rudin. "I am pleased this ceremony, led by Cardinal Sean O'Malley, will take place at Saint Leo University where building positive Catholic-Jewish relations is an integral part of its mission. I am proud to accept this papal honor while remembering the many colleagues and friends who have been so important on my incredible interreligious journey."
Cardinal Sean Patrick O'Malley, OFM, of the Archdiocese of Boston, will present the historic honor on behalf of Pope Francis and conduct the investiture ceremony at Saint Leo University, November 20, 2022.
"For more than 50 years, Rabbi James Rudin has worked to advance Catholic-Jewish relations, and interfaith relations on a wider scale, with extraordinary skill, dedication, and success," O'Malley said.
"We are all blessed by Rabbi Rudin's achievements in promoting dialogue and collaboration among communities of different faiths. The impact of this work continues to grow as successive generations build on the foundation Rabbi Rudin has established."
Rabbi Eric J. Greenberg, director of United Nations Relations and Strategic Partnerships for the Simon Wiesenthal Center, has worked with Rudin in the field of interfaith relations for more than 25 years. He noted that the papal honor, "comes at a crucial time when Jews are under assault around the world, and this knighthood clearly demonstrates the evolving positive relations between Catholics and Jews. Rabbi Rudin well deserves this historic, international honor."
The papal knighthood was created by Pope Gregory XVI (1745-1846) in 1831, and named in honor of St. Gregory the Great, who died in 604, and whose writings greatly influenced the Church.
The public is invited to this historic event, which will be followed by a dessert reception at 2 p.m. in the university's Wellness Center, 33701 State Road 52, St. Leo, FL 33574.  Reservations are required. RSVP for the investiture ceremony here. Parties of six or more should contact Dr. Matthew Tapie, director of Center for Catholic-Jewish Studies, at matthew.tapie@saintleo.edu.
The ceremony also will be available via livestream at: saintleo.edu/papal-knighthood.