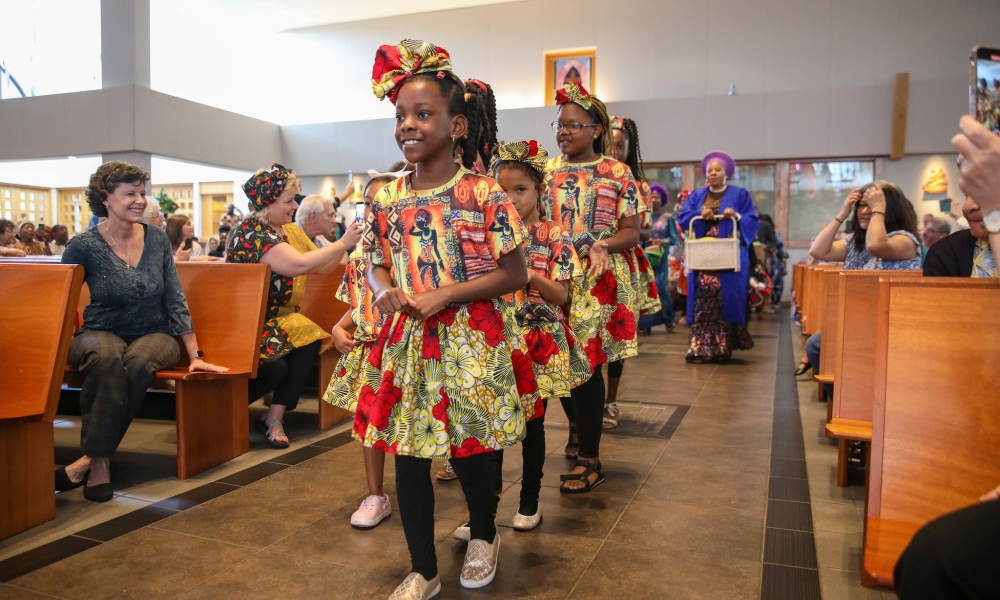 Participants in the 5th annual Diocesan African Mass joyfully process in. Photo by Chris Zuppa.
---
Annual African Mass Celebrates Faith, Unity, Diversity, and Thanksgiving
November 2, 2023 | Bright colors, unique headdresses, and music not typically found within our diocesan church walls welcomed people of many backgrounds and origins to celebrate the African Catholic culture with a special Mass.
Approximately 700 people gathered at St. Paul Parish in Tampa, on October 28, 2023, to celebrate the 5th annual Diocesan African Mass.
"I welcome you all to this Eucharistic celebration. We have gathered today in thanksgiving to God for life and His goodness. We celebrate our culture, our heritage, and we are gathered today as Africans to thank God for what he has made us," began Father Oscar Unakalamba, Parochial Vicar at St. Anthony of Padua Parish, in San Antonio, and main celebrant of the Mass.
Father Peter Okojie, Parochial Vicar at St. Paul Parish, in Tampa, helps to organize the African Mass each year. During his homily, he discussed the important aspects of faith, unity, diversity, and thanksgiving in African Catholic culture.
"Our faith must be part of our daily experience. Faith is not something we do in the church and another life somewhere else," he explained. "That would be inconsistent with what faith essentially is. What this means is that our faith is part of our culture."
During the Mass, priests and parishioners from African countries gathered as one unified community to celebrate Mass and worship God together. Various churches from across the Diocese were represented.
Father Okojie emphasized how Jesus celebrated unity and diversity in his time just as we should do now.
"Those he chose were not perfect. So, what does this mean for us? Jesus having chosen from the different peoples, and different experiences, bringing them into his fold, teaches us a lesson on unity and diversity."
Father Okojie also emphasized the need for thanksgiving– the need to recognize that everything is a gift from God and that a disposition of thankfulness should be at the heart of our spirituality, just as it is in African culture.
"Thanksgiving in the African culture is visible in what you are seeing today. God has given us the gift of His Word. And any gift God gives to us we do not deserve. Thanksgiving permeates throughout the spirituality of the African person. Gratitude to God– and that is what we are to celebrate today. To give thanks to God for ourselves and for others."
To view photos from this event, click on the arrows below.
For information regarding this ministry, please contact Carlos Flores, Director of Intercultural Ministry for the Diocese of St. Petersburg at 727-344-1611 ext. 5472 or cf@dosp.org. Intercultural Ministries is supported by the Catholic Ministry Appeal.