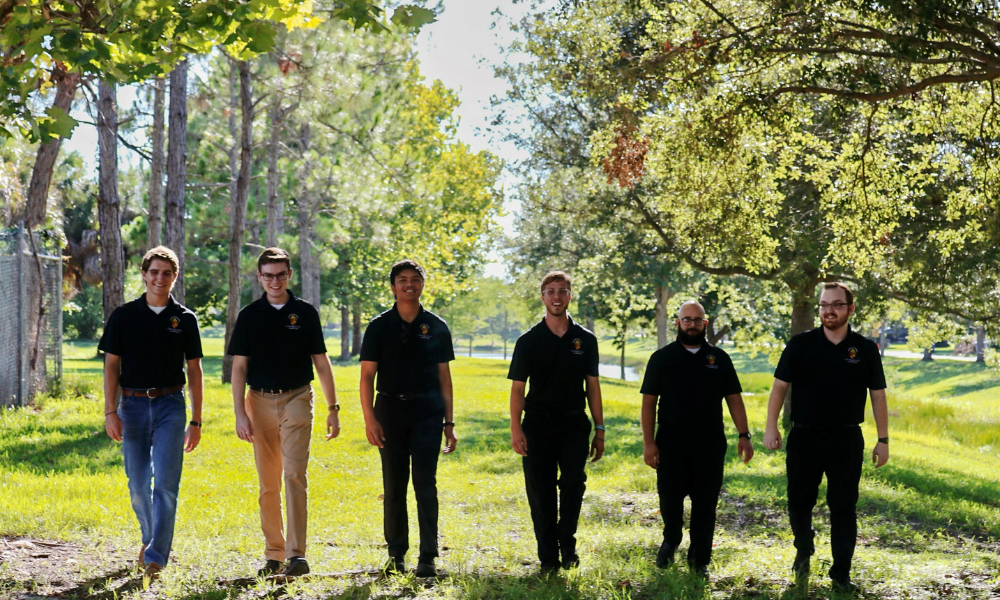 Vincent Washburn, second from left, photographed with seminarians from the Diocese of St. Petersburg. 
Credit: Nora Bourke
---
When Brothers Live in Unity
December 14, 2022 | One of the unique things about seminary life is living with your brother seminarians day in and day out. I'll be honest with you, when I began seminary one of the things that least appealed to me was having to live in an institution with over one hundred other people who, I thought, you rarely could get away from.
I arrived at St. Joseph Abbey and Seminary College in Louisiana in August of 2021, and it did not take me long to realize that my preconception of communal seminary life was quite wrong. While living with your brothers can obviously be challenging at times, it is a formative experience that teaches you more about yourself and how to relate better to others.
As the first months went on, I found myself making close friends who have truly become my brothers, who not only affirm me in my vocation and in my identity as a beloved son of God, but also challenge me to become a better man in order to one day be a good and holy father of God's people as a priest.
There are often misconceptions about how seminarians might act, which might be that they are unrelatable or limited in their knowledge of real-world things. Some people might be more inclined to imagine seminarians being like the great mystic, St. John of the Cross and having regular high and lofty encounters with God. While we certainly have a lot to learn from St. John's life and writings, your average seminarian will leave you with much to desire in your comparison.
The reality is, seminarians are regular, college-aged (and beyond) men who have a desire to grow closer to Christ and lead other people into that same relationship with Him. We love to go out and have fun together, watch movies, laugh, work out and play sports together, talk about our struggles and our joys, and pray together. It is precisely in this average, seemingly mundane, daily living that we help each other to grow, and in this daily living that we see Christ in each other every day.
Seminary life teaches you that holiness is not about perfection, it is not about reaching ecstasy in your Holy Hour, or about praying more than the holiest guy in the school. Holiness is about being faithful to your daily responsibilities, being faithful to prayer, and being faithful to your brothers, and in that, learning faithfulness to Christ. It is this faithfulness that forms you into the kind of father that the Church, the people of God, needs to shepherd them and aid their own growth in holiness.
Psalm 133 begins, "How good and how pleasant it is when brothers live in unity." We pray this psalm regularly when we pray the Liturgy of the Hours together. While it is one thing to read that on paper, it is another thing to live that psalm. Seminary teaches you the importance of community and having people in your life who support you and challenge you to be a better person.
In my time here, the Lord has given me the grace to realize that this is not an institution: it is a home, where he has called me to live and grow in His grace in order to share that with the people that I encounter each day. In your own life, find your community (family, school, work, etc.) and see where God is calling you to grow in that setting, so that you may become more like Him.