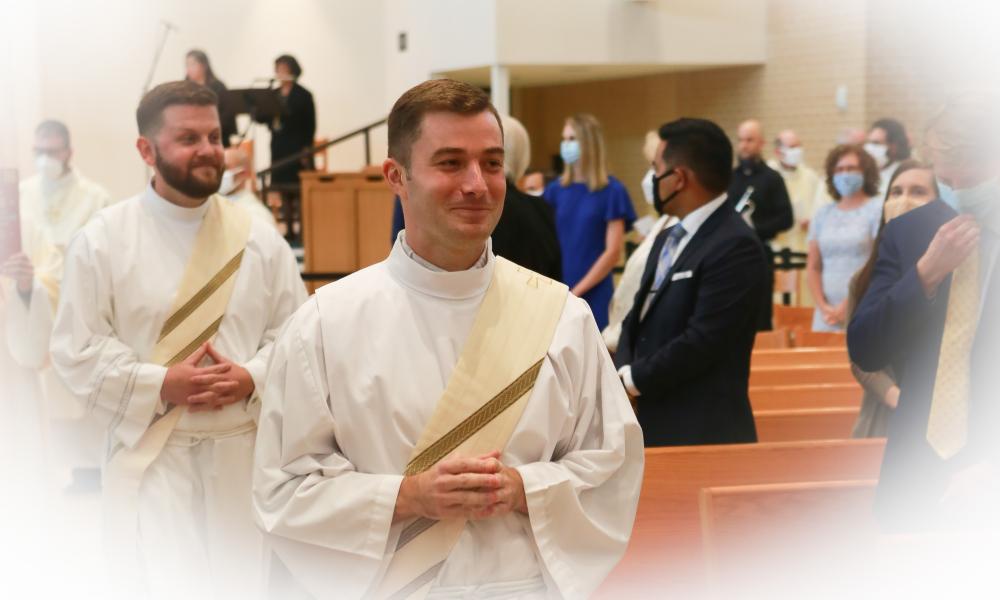 ---
What's His Story? Father Connor Penn
In the Catholic world we often encounter women and men who have chosen to live radically different lives. Often it can lead us to ask, "what's their story?" In this series we are honored to share the stories of priests and religious in the Diocese of St. Petersburg. We are grateful to Spirit FM for sharing these conversations with us from their "Father Friday series." Do you think you know what priesthood and religious life is all about? You might just be in for a few surprises.

An Interview with Father Connor Penn, Parochial Vicar, St. Catherine of Siena Parish in Clearwater
Where did you grow up?
I grew up in Temple Terrace and attended Corpus Christi Catholic School. Then from there, I went to Jesuit High School, and then went out of state for a year of college, and then eventually came back to Florida.
How many kids in your family?
I'm the oldest of three. And I remind them often, I am the oldest.
We know you are a major fan of the Tampa Bay Lightning. How did you become a fan of hockey and the Lightning?
That's a good question. I played hockey growing up, but I didn't play ice hockey. When the lightning won the Stanley Cup in 2004, I was hooked. After that though, we had to suffer through some not-so-great years, but I remained a fan. In middle and high school, I would play roller hockey in the street with friends. When I went to college, I was able to play ice hockey, and now I play a pickup game every now and then.
Why did you want to become a priest?
Honestly, when I was young, most weekends I wanted to sleep in late, eat Cinnamon Toast Crunch, and watch SpongeBob. I remember though, that even as a young kid, there would be times when I would really look forward to Mass. I would look forward to hearing a Scripture story or seeing my friends. In school at Corpus Christi, I was an altar server and read at Mass.  I enjoyed that because that always made the Mass go more quickly, you know, doing something. But then in high school, I really found this passion for journalism, for telling people about something that I felt they needed to know. I really became passionate about sports reporting. I was an avid sports fan, and I got very involved with writing for the school newspaper and the school morning show. I believed that because of my love for reporting, that perhaps my purpose in life would be to tell people about sports. But as I began college, I started to feel that perhaps God was calling me to announce, if you will, a different sort of news, a news that has eternal significance. And so, over time, it became clearer that God was inviting me to announce this news, this Good News of salvation to others.
Did someone encourage your vocation? Did someone say something to you?
There were always people who would affirm me. They would say, "I can see you being a priest one day." Most of the time I just shrugged it off, thinking, "That's something I'll do when I'm old and gray-haired, you know." But in fact, in college, there was one moment when I remember going into the church and saying, "Okay, God, I am so tired of being on the fence. What do you want me to do with my life?"
Then I did something I think we've all done before. I asked for a sign, a big sign. I said, "God, you got to give me a big sign, something that's going to let me know without a doubt what you want me to do with my life."
Well, that same day, a friend of mine who had no idea I was thinking of the priesthood came up to me out of the blue and said, "You know, Connor, I was just thinking today, you'd make a good priest."
Although that happened, I see now that there were always so many people along the way that were affirming this in me. I think that they saw something in me that maybe I needed to pay more attention to.
The pandemic certainly impacted your final year in seminary and your ordination. What was that like for you?
I found that God really shifted my perspective on what was exciting me about ordination. Was it the day with a big celebration, the party, festivities, and all my friends and family in town? Was that the only thing that was exciting me about ordination? God really shifted my perspective to look more at the long term of what was going to happen. My excitement grew for the day after that weekend, and the week after and the month after, and a decade after my ordination. I saw the joy of serving as a priest to God's people here in our diocese and that the ministry was the essential part, not the party. I think a lot of people experienced this reality. We found out what was essential, and that is our relationship with our families and our relationship with God. I think we'll look back and say that a grace among the pain of the pandemic was a kind of purification. I say this with hesitation, it might even become something beautiful.
What is your favorite part of being a priest? Maybe something that's surprising to you?
I have to say, it's very surprising what I'm enjoying the most about priestly ministry. When I was entering my final year of seminary studies, I knew that the role of hearing confessions was approaching. We actually had a whole class in the seminary about hearing confessions where we would role play confessions in order to practice. I still did not feel very prepared to hear confessions. But as I've begun this time of priestly ministry, without a doubt, my favorite thing is to celebrate that Sacrament of Reconciliation. It's almost like eavesdropping on this beautiful conversation between God and the penitent, and just how abundant His mercy and forgiveness is. It's so powerful. I mean, that moment of someone actually realizing that they've confessed to God through me, a mediator, and I'm bringing the words from Christ to you, that you are forgiven. Just to see the physical relief of a person when they know that they're forgiven is an incredible gift.
What was the conversation like with your parents when you said, "Hey, guys, I'm coming back from college and I want to go to the seminary to study to be a priest." What did they say to you?
I actually mentioned it to them when I was in high school. I remember mustering up all this strength to talk to my parents about what's really been going on in my heart. They've been so supportive, really, I've been so blessed. What a gift it is to have parents that are supportive of their children when they discern a religious vocation. They actually said, "You know Connor, we had a feeling that this was cooking in the oven."
What would you say to a young man who is thinking that God might be calling him?
Pray. The only person who can definitively know if you are being called to be a priest or not, is God. There are many people who can encourage us on that journey. But ultimately, God is the one that's going to communicate His will for our lives.
---
This interview with Father Penn originally aired on the Spirit FM 90.5 Morning Show during Father Fridays.