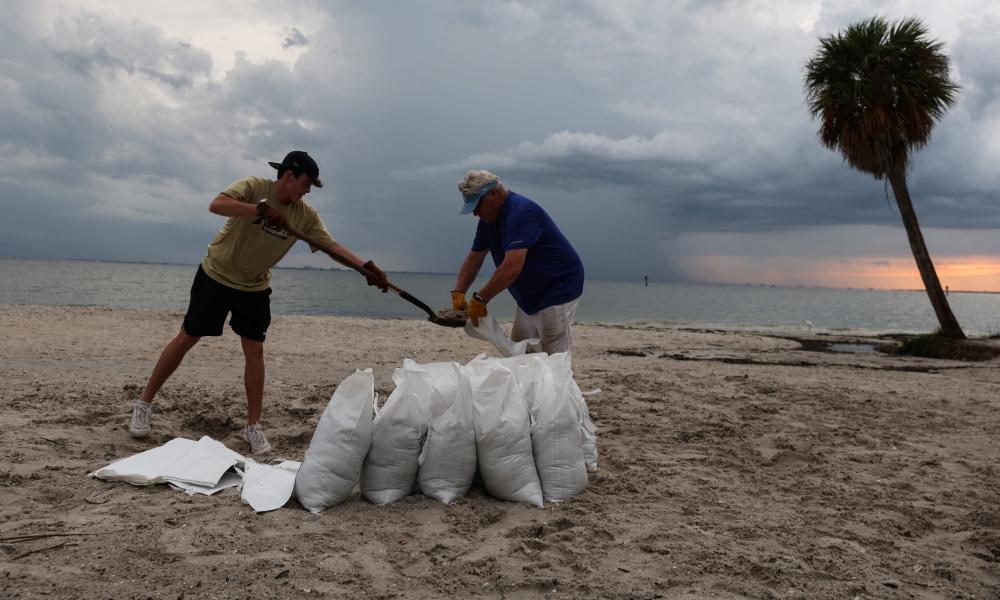 ---
"We Were Blessed"
Caption: Rich Reynolds and his son, John, fill sandbags in Tampa, Fla., Sept. 26, 2022, as Hurricane Ian spun toward the state. (CNS photo/Shannon Stapleton, Reuters)
---
October 5, 2022 | As Hurricane Ian originally appeared to be headed straight for the Tampa Bay area many heeded evacuation orders to find higher ground, including Bishop Gregory Parkes. He headed to Nazareth House, the Seminarian House of Formation owned by the Diocese of St. Petersburg, located in St. Petersburg.
"I was there for about two days with one other priest who lives there full-time and a family member, because there is plenty of room there, and his family member's dog. So, we rode out the storm together," said Bishop Parkes during an interview on October 4th.
As we all know, then the storm wobbled and changed direction.
"We were blessed that we didn't take the brunt of the storm," said Bishop Parkes. 
It was in fact, Southwest Florida, an area entrusted to Bishop Frank Dewane, that took a direct hit on September 28, 2022, from the intense and slow-moving, Category 4 hurricane.
"I've reached out to Bishop Dwayne. I've texted with him. I haven't actually had the chance to speak with him because he's just been so busy trying to get around to check on his Diocese," said Bishop Parkes.
An effort is now underway to assist with relief efforts. (Click here to donate online.)
"We want to help. That's something we've always done as a Diocese. It's part of our call as a Church to be charitable and to care for one another. So, I have asked for our parishes to take up a collection for our Disaster Relief Fund during the month of October. We'll be making a large donation to the Diocese of Venice for whatever specific recovery needs they might have there," said Bishop Parkes.
Despite Ian's last-minute wobble, many in our area have experienced difficulties. Being within 75-miles of the eye of the storm, the 140-mile-wide span of Hurricane Ian reached many parts of our coastal Diocese. Hundreds of thousands in our Diocese immediately lost electricity and water usage. Some also continue to struggle with the effects of flooding, uprooted trees, and home and roof damage. The flash flood warning is still active for some of the rivers within Hillsborough County.
"We are assessing the damage to determine what are the needs here short-term and long-term to assist our community and Diocese," said Dr. Lois Locey, Chancellor for Administration, Diocese of St. Petersburg.
As Hurricane Ian approached our area, Catholic Charities quickly reacted to keep residents of their shelters and housing properties safe. 
"Two of our shelters had to evacuate. That's a lot of work, a lot of moving pieces. However, we were done evacuating in 24 hours," said Maggie Rogers, Executive Director, Catholic Charities of the Diocese of St. Petersburg.
About 400 residents of Tampa Hope and Pinellas Hope homeless shelters were evacuated to local high schools. After the storm, staff found some tents had been damaged and there was no electricity at the shelters, which hampered meal preparations for residents who returned. Several volunteer groups, including the Knights of Columbus, stepped in to assist with meals and other needs. World Central Kitchen provided hot meals to both shelters for several days following the storm.