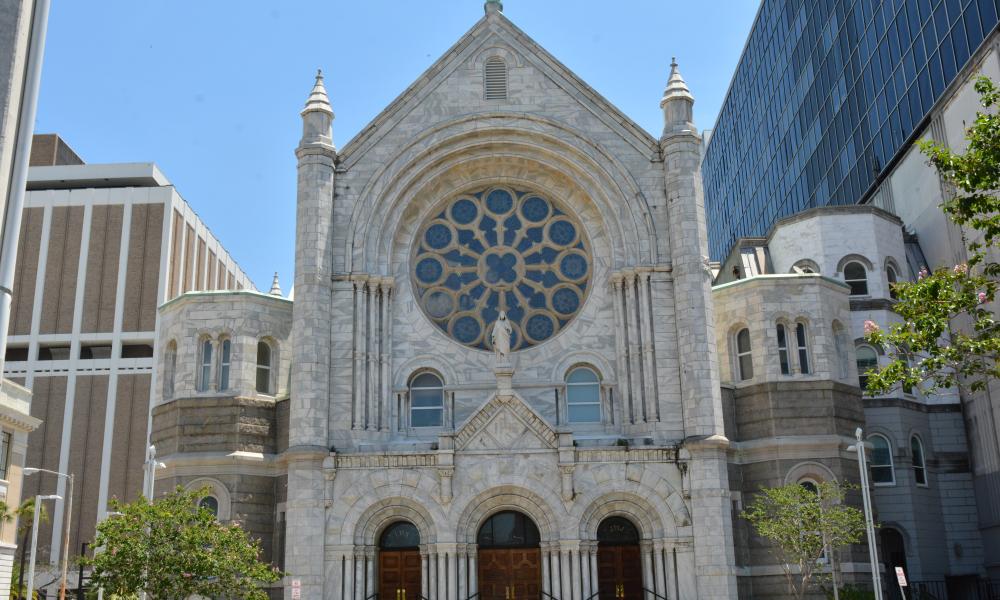 ---
Visiting Holy Sites this Summer
You don't need to travel far to inspire your faith.
Sacred Heart Catholic Church in Tampa is one of the holy sites listed in a local pilgrimage guide. The architecture is grand Romanesque, with Gothic and Byzantine influences. Construction started in 1898 and was completed seven years later.
Since ancient times, Christians have been making pilgrimages to holy shrines and great churches. Whether to walk in the footsteps of the Lord in the Holy Land or to visit the tombs of the apostles and saints. 
"There is great value in stepping out of our normal routine to journey with the Lord. Entering into a spirit of pilgrimage reminds us that we are all on a pilgrimage in this life," said Father Len Plazewski, pastor of Christ the King Catholic Church and Diocese of St. Petersburg Historian. 
In the West Coast of Florida, the Catholic faith has been proclaimed and lived for over five centuries. During that time, the area has been home to brave missionaries, martyrs and those looking for religious freedom.  
Father Plazewski has compiled a regional pilgrimage guide highlighting twenty- five sites of special religious and historical significance throughout the five counties of the Diocese of St. Petersburg. 
"It is our hope that by following this pilgrim's way you will come, not only to a deeper appreciation of our local Catholic heritage, but that you enter into it with a sense of pilgrimage, so that it is not just a matter of making a tourist stop, but that your faith will be enriched," said Father Plazewski. 
We're highlighting five local sites (one from each of our counties) from the Diocese of St. Petersburg pilgrimage guide:  
1. Pinellas County Location: Site of Narváez Landing, Jungle Prada Park, 8398 Elbow Lane North, St. Petersburg
Description: It was on this spot that Spanish explorer Pánfilo de Narváez arrived in April 1528 with five ships and a complement of 600 men. In his company were eight diocesan and five Franciscan priests; among them was Father Juan Xuarez, O.FM. who had received an appointment as Bishop of Florida. Father Xuarez celebrated Easter Mass ashore on April 16th making it the first Mass ever celebrated in Florida. After ten days in the area, including several violent encounters with the native Tocobaga peoples, Narváez left the area with 300 men (including five priests). Eight years later, a mere four survivors made it to Mexico, including Alvar Núñez Cabeza de Vaca who wrote an account of their ill-fated expedition.
2. Hernando County Location: St. Stanislaus Chapel, 14249 Citrus Way, Brooksville
Description: In 1913, a group of Polish farmers moved to northern Hernando County having purchased high-hammock land in an effort to begin a new community. Property was purchased for a church and cemetery in 1915. By 1917, they had built a small chapel. A priest from Saint Leo Abbey would come there once a month to celebrate the Sacraments. After a fire destroyed the first church in 1929, it was replaced with the present structure, an authentic Old Florida clapboard church. Challenging soil conditions, disease, and the Great Depression forced the settlement to disband though many of the early Catholic pioneers are buried in the adjoining cemetery. Mass is still celebrated here annually on All Souls Day. 
3. Hillsborough County Location: Sacred Heart Catholic Church, 509 N Florida Ave, Tampa
Description: Originally called St. Louis, our oldest parish was initially staffed by diocesan priests until an outbreak of yellow fever claimed the lives of three priests in 1887-88. In October of 1888, Bishop John Moore of St. Augustine recruited the New Orleans Jesuits to administer the parish and all of South Florida. Construction on this grand Romanesque church, with Gothic and Byzantine influences, began in 1898 and was completed seven years later. The 17 stained glass windows were designed and manufactured for Sacred Heart by the Mayer Company of Munich, Germany. The structure includes a 135-foot dome, solid oak pews and doors, porcelain tiles, and an altar made of Italian Carrara marble. 
4. Pasco County Location: Saint Leo Abbey, 33601 State Rd 52, St Leo
Description: The Benedictine Abbey's Church of the Holy Cross is of Lombardic-Romanesque design with a gleaming white 86-foot tower and red tile roof. Most of the exterior is constructed with native white limestone brick while the interior is richly furnished with red cedar. The exterior trim and much of the interior is sandstone from St. Meinrad Archabbey in Indiana. The monks traded boxes of fresh oranges from the abbey's groves for the sandstone from St. Meinrad in Indiana. The majestic marble crucifix, weighing 22 tons, is modeled after the Shroud of Turin and is framed by Italian mosaics. The oldest stained-glass windows are of domestic "antique" glass and include two stunning rose windows. Across the highway, there is a Lourdes Grotto which was constructed in 1916. The serene grotto was so beloved by the first abbot that he asked to be buried there. Early on, the monks also established a Catholic boys' prep school which later became a Catholic college in the 1960s. 
5. Citrus County Location: St. Benedict Catholic Church, 455 S Suncoast Blvd, Crystal River
Description: Since the late 19th Century, the Benedictines from Saint Leo cared for Citrus County. Mass was celebrated in various locations including private homes, stores, a theater, even a radar station. The Crystal River area did not receive a permanent priestly presence until the 1940s with the appointment of Father James Hoge, OSB to the Hernando-Citrus missions. A small concrete block chapel honoring St. Benedict was built in 1953. By the mid 1970s, the parish had outgrown it and was relocated three miles south to the present location. A new church, built in the shape of a Greek cross with a fresco of St. Benedict in the dome, was dedicated in 1981. The parish hall, which also served as the church for six years, houses a series of large paintings depicting the parish's history from pioneer days until today.