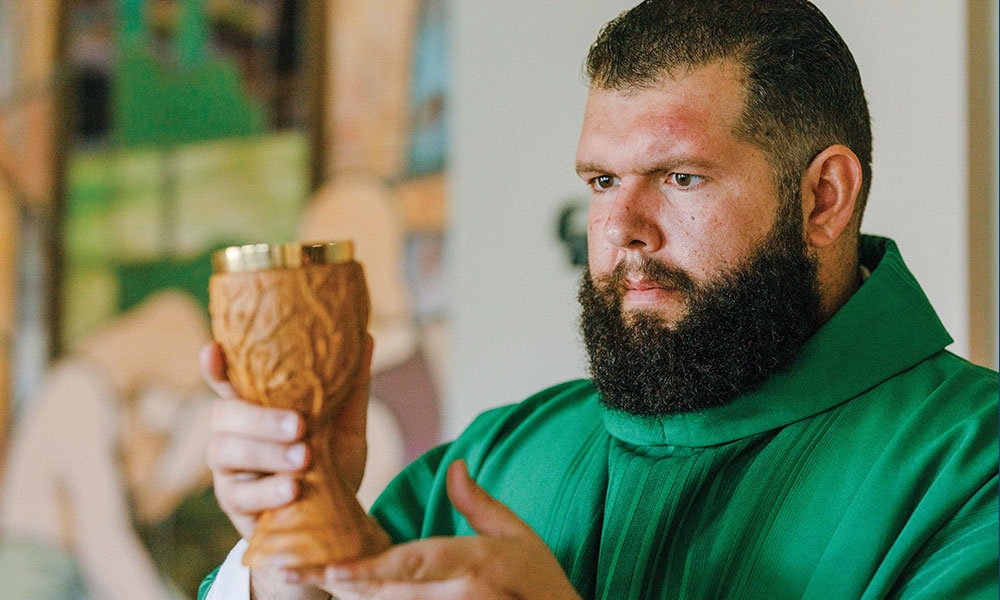 Father Chuck Dornquast is pictured celebrating Mass. Photo by Spirit Juice Studios
---
The Priest Who Prays With the Bucs
September 12, 2023 | For eight years, Father Chuck Dornquast has served as "team priest" for the Tampa Bay Buccaneers. That means he often has a front row seat to the nail-biting plays, passes, and field goals that make up the game of football.
It all started in 2015 when Father Chuck, as he is commonly known, was serving at St. Lawrence Parish in Tampa, just a few blocks from Raymond James Stadium. A staff member of the Bucs, who also happened to be a St. Lawrence parishioner, recruited him to serve as a chaplain for the team. The players and coaches have such demanding schedules that a chaplain is needed to provide them pastoral and spiritual support.
"My role is to be a minister of presence to them, to be a sign of hope," said Father Chuck, who also serves as the Diocese of St. Petersburg Director of Vocations. "A lot of our coaches and players, whether they're Catholic or not, are faithful men. They rely on Christianity and on the morals of Christianity, to live their lives and to perform as athletes."
As chaplain, Father Chuck shares the love and mercy of Jesus Christ with the Bucs organization in times of sadness and times of joy.
"When there's a loved one who is dying, or someone is grieving or facing a difficult time, or someone is celebrating a baptism or other joy-filled moments, I become the presence of the priest in those situations," said Father Chuck.
Another major way he supports the team and everyone involved with the team is to pray with and for them. He celebrates Mass at the Advent Health Training Facility for players, coaches, and staff, Saturday evenings before each home game.
A national TV network once captured Father Chuck praying with one of the kickers after he had missed several field goals and was feeling discouraged.
"I went over and asked if I could pray over him. He said, 'Yes, Father.' So, I did. As I finished praying, I looked up and there was the National Football League television camera pointed directly at us," said Father Chuck.
Father Chuck's ministry to the Bucs was featured in an award-winning video by the Knights of Columbus. "Tampa Bay Bucs Chaplain Brings Faith to the Field," tells the story of Father Chuck's ministry as a priest, Director of Vocations for the Diocese of St. Petersburg and chaplain to Super Bowl Champions, Tampa Bay Buccaneers. The video also tells the deeply moving and personal story of Father Chuck's family life. The video shows beautiful imagery of Father Chuck's priestly ministry as well as images inside Raymond James Stadium, the Buccaneers locker room, and the boat parade that Father Chuck attended on the Hillsborough River with the Buccaneers celebrating their victory.
---
To watch the video "Tampa Bay Bucs Chaplain Brings Faith to the Field," go to https://tinyurl.com/yc269nh7 or scan the QR code with your phone.
Considering the Priesthood?
Contact Father Chuck Dornquast, Director of Vocations for the Diocese of St. Petersburg at 727-345-3452 or spvocation@dosp.org.
This article appeared in the Fall 2023 issue of Gulf Coast Catholic Magazine.