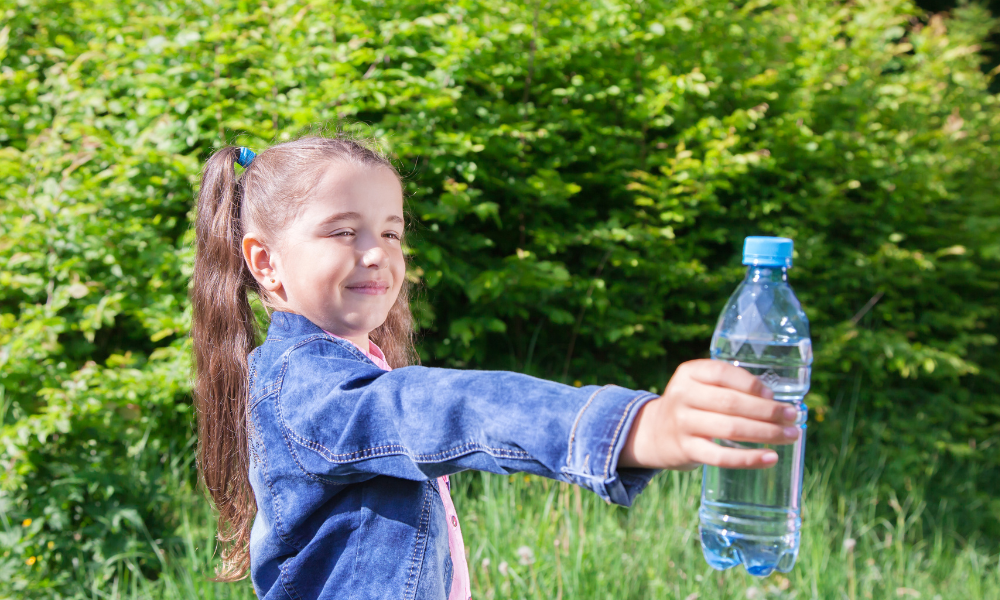 ---
How can Families Practice the Works of Mercy? - Give Drink to the Thirsty
March 8, 2023 | "I was hungry and you gave me food, I was thirsty and you gave me drink, a stranger and you welcomed me, naked and you clothed me, ill and you cared for me, in prison and you visited me."

Jesus' powerful words in the Gospel of Matthew form the basis for the traditional list of the works of mercy. When it comes to meeting physical needs, the Compendium to the Catechism of the Catholic Church lists the following actions as the corporal works of mercy:
Feed the hungry
Give drink to the thirsty
Clothe the naked
Shelter the homeless
Visit the sick
Visit the imprisoned
Bury the dead
How can families live this out? Especially with young children, hands-on charitable work can be daunting, but not impossible. The works of mercy will look different for each family – and can be practiced very literally when it comes to caring for children! But if you have a desire to introduce your children to acts of charity outside the home, I hope these ideas can be a gentle nudge to step out as the domestic Church and seek encounters with those in need.
---
Give Drink to the Thirsty
It was a brutal stomach bug season, and I was texting a nearby friend that one of my kids was in the thick of it. She offered sympathy and prayers, but then surprised me with a much-appreciated porch delivery: a bottle of Pedialyte and box of popsicles, pulled from her own freezer, to help ward off dehydration.
I always remember that act of giving drink to the thirsty, at a time when I couldn't leave the house, as a small yet perfect example of simple, tangible ways to practice the works of mercy with our literal neighbors.
Aside from having popsicles at the ready for the next time norovirus sweeps through, how can your family help fill in the gaps for those lacking simple needs such as drinks? Talk to your local food pantry about items that are under-donated. Food programs like WIC can come with rigid restrictions for eligible purchases, often excluding items such as nut or plant-based milk alternatives that families with dietary restrictions might prefer. Is there a need for some extra, shelf-stable quarts at your parish's St. Vincent de Paul chapter? The recent baby formula shortage revealed how quickly the fragility of our supply chain impacts those most dependent on it or those unable to meet soaring prices. Can you commit to providing formula on a monthly basis for a diaper bank or pregnancy resource center?  
Especially when summer returns, bottled water or sports drinks are an excellent addition to "blessing bags" to keep in your car for the homeless.
There are numerous charities that provide access to clean water in developing countries, and I've known families who tithe toward them and raise their children's awareness of the issue through books and other media. Closer to home, you likely have local organizations that help neighbors struggling to pay for utilities such as water.
Recently, though, I came across a catechesis from Pope Francis and was moved by his reflection on how Christians should practice the works of mercy. Donating generously to causes is important, he said, "but perhaps it does not directly get us involved." He went on to say: "There is always someone who is hungry or thirsty and who needs me. I cannot delegate this to another. This poor person needs me, my help, my word, my commitment. We are all involved in this" (General Audience, Oct. 19, 2016).
In other words, practicing the works of mercy shapes the very framework of our faith.
For those of us with children, how we interact with those in need can lay a foundation for how they understand our relationship with God and neighbor, faith and works. It's a weighty responsibility, and irreplaceable. Let's give our efforts to God and pray for each other – that our domestic churches might serve as bright spots of healing and mercy within his kingdom.
In the Tampa Bay area, there are opportunities for families to practice works of mercy by taking water for those in need through Catholic Charities Diocese of St. Petersburg. They run two homeless shelters which are always in need of bottled water donations. They are Pinellas Hope and Tampa Hope homeless shelters located at:
Pinellas Hope (5726 126th Ave. N. Clearwater, FL 33760)
Tampa Hope (3704 E. 3rd Ave., Tampa, FL 33605)
For more information on the needs of the two homeless shelters click here. 
---
Elizabeth Hansen and her husband, Luke, raise their four children in Lansing, where they attend Resurrection Parish.