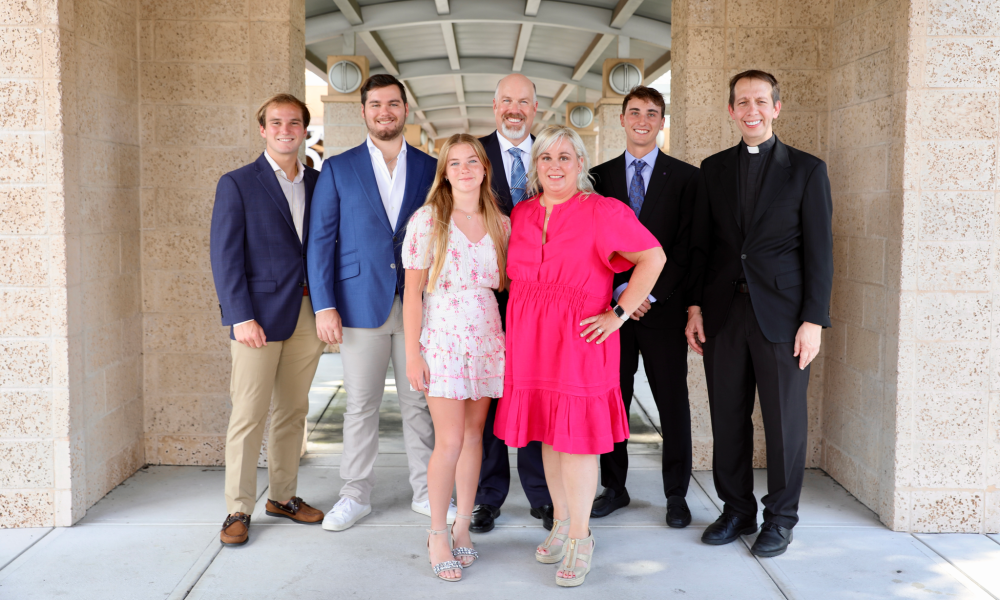 ---
Christ the King Catholic Church in Tampa Receives Largest Single Gift in Its 81-Year History
Caption: Pictured are Kyle and Michele Bailey and their children with Father Len Plazewski, Pastor of Christ the King Parish. Courtesy photo.
---
October 3, 2022 | – Christ the King Catholic Church (CTK) announced recently that The Bailey Family Foundation has donated $1 million to its Celebrate Youth campaign. This is the largest single campaign gift ever received by the South Tampa parish. In recognition of this gift, the project's new two-story building will be named "The Bailey Center."
Kyle and Michele Bailey and their four children (Brandon, Justin, Cameron, and Megan) are active parishioners of Christ the King and have been philanthropic leaders in the Tampa Bay area. They have provided opportunities for higher education through their support of numerous local charities via the Bailey Family Foundation, which was founded by Kyle's father, Ron K. Bailey. The Bailey Family Foundation has awarded over $36 million in college scholarships to thousands of deserving students since its founding in 1997.
"The Baileys have been extremely generous to a number of schools and many individuals in the Tampa Bay area and we are grateful for their philanthropic leadership and support of this long-awaited project that will benefit the many children and youth of our parish community and beyond," said CTK pastor Father Len Plazewski.
The $5 million Celebrate Youth project will replace two circa 1950s buildings used by both Christ the King Catholic Church and School. The new building will house a youth center, theatre, kitchen, dining hall, and nursery. Groundbreaking for The Bailey Center is anticipated in June 2023 with construction expected to take a year.
Christ the King Catholic Church, founded in 1941, has more than 3,500 families, and dozens of ministries serving the community. The church campus also houses Christ the King Catholic School, a two-time recipient of the National Blue Ribbon Award of Excellence, which serves over 500 PreK–8th graders.