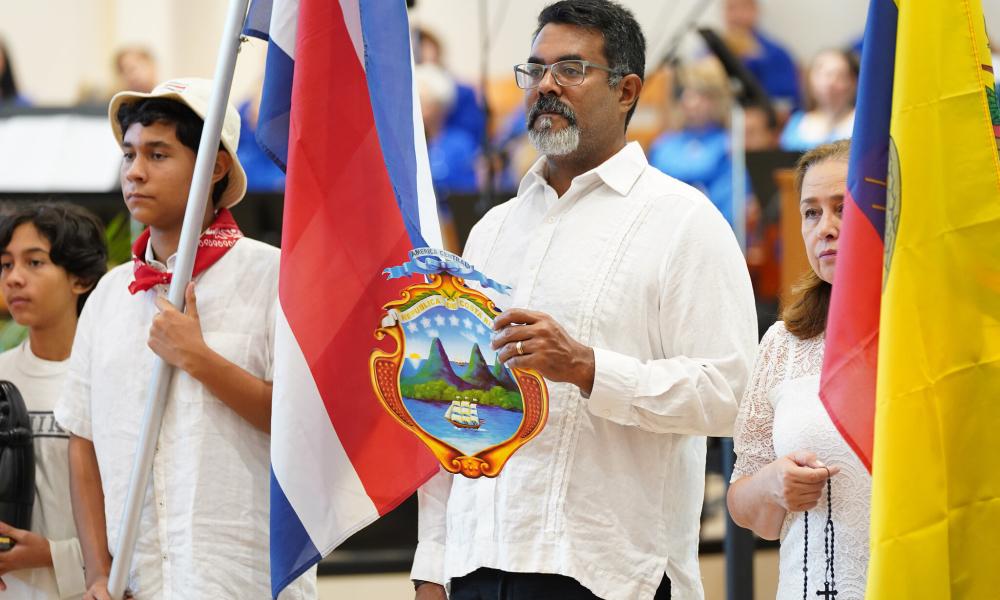 ---
A Celebration of Culture and Faith
Caption: Local Catholics participate in the Procession of Flags at the annual Hispanic Mass at the Cathedral of St. Jude the Apostle.
---
October 12, 2022 | The Diocesan Hispanic Mass occurs each year in October at the Cathedral of St. Jude the Apostle during Hispanic Heritage Month. This year, the Mass was celebrated on Saturday, Oct. 8, 2022, and the main celebrant was Abbot Isaac Camacho, O.S.B. from Saint Leo Abbey.
Before the Mass, the Rosary was prayed and there was a procession of 23 flags, representing Latin American countries, as well as Spain and the United States. 
During the Mass each year, there is a country selected to highlight their unique Marian devotion. This year, Our Lady Queen of Peace from El Salvador was selected. 
Carlos Flores, Director of Intercultural Ministries for the Diocese of St. Petersburg, oversees coordinating the planning committee for the Diocesan Hispanic Mass, which includes members of the Diocesan Hispanic Commission and other collaborators in the Hispanic Ministry.
Flores stated, " the Diocesan Hispanic Mass is important because it is the one time of the year when the Hispanic community of the diocese comes together to celebrate three important aspects: First, our faith by celebrating the Eucharist together, in communion with Christ and each other. Second, our devotion to Mary by celebrating the diverse Marian devotions of the Latin American countries and Spain that represent our Hispanic Heritage. Lastly, the presence of Hispanics in our midst and the many contributions we make to our local Church." 
Juliana Fonseca, who belongs to Our Lady of Lourdes Parish in Dunedin, has been attending the Diocesan Hispanic Mass since 2014. Fonseca was a part of the flag procession representing Colombia. 
"It is great to see all the different cultures represented within our very own Diocese. For example, some people come dressed in traditional garments of their country and the intercessions are read by people from different countries. While they are all speaking the same language (Spanish), the different accents make it more inclusive," said Fonseca.  She believes it is important to keep the traditions of our Catholic faith alive while maintaining our cultural identity. 
The Mass was first held in 1978, next year will be the 45th anniversary of the Diocesan Hispanic Mass. There was an estimated attendance of 500 people this year.  If you've never attended the Diocesan Hispanic Mass before, next year is another opportunity. Next year's Mass will be celebrated on Saturday, Oct. 7, 2023 at 11:00 a.m. with the rosary at 10:00 a.m. and the procession of the flags at 10:30 a.m.
"By attending you have the opportunity to participate in the celebration of the Holy Mass alongside people of different cultures, it really brings out the 'universal' meaning of catholic with a little 'c,'" said Fonseca.