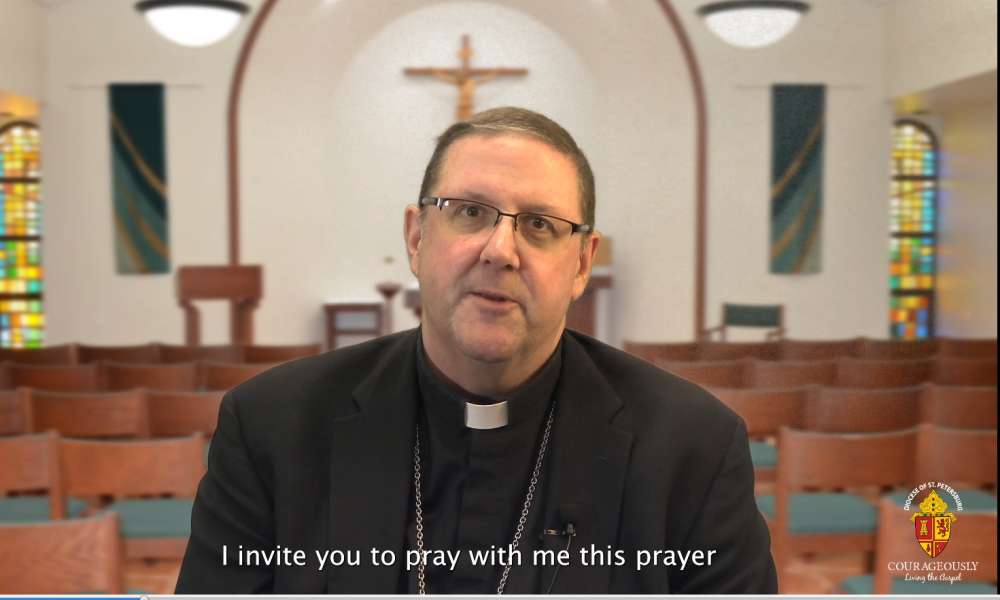 ---
Bishop Gregory Parkes Encourages Prayer and Preparations
September 27, 2022 | As the Tampa Bay area prepares for what could be a direct hit from a major hurricane, Bishop Gregory Parkes is calling everyone to prayer. In a newly released video, Bishop Parkes calmly recites a prayer for protection in the midst of a storm.
"As Hurricane Ian approaches our area, as we make our final preparations, and as we begin to feel the effects of the storm, I invite you to pray with me," Bishop Parkes states in the video that includes captions for the hearing impaired.
Bishop Parkes, who is the spiritual leader of 500,000 Catholics who live along the Suncoast, Tampa Bay and the Nature Coast, is hoping everyone will take a minute to pray to God for the protection of life and property as we face this serious threat.
The Christian faith is rooted in prayer. According to the Catechism of the Catholic Church, "Prayer is the raising of one's mind and heart to God" (2559).
The bishop's prayer for protection from Hurricane Ian is airing on Spirit FM 90.5 starting today and the video was emailed to local pastors and 11,000 parishioners. It was shared with the Diocese's 13,000 Facebook fans and posted to the diocesan website and YouTube.
The video was recorded on September 26th at the Diocese of St. Petersburg Pastoral Center, which is closed today through Thursday.