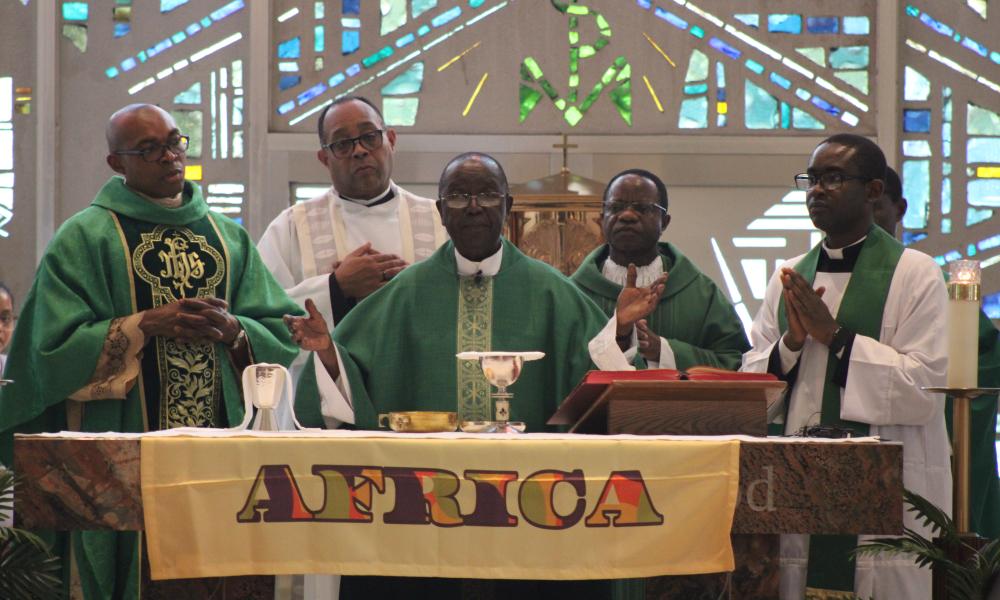 ---
Annual African Mass Celebrates Faith and Culture
Photos by Keishla Espinal
---
November 8, 2022 | Nearly 400 people gathered at Most Holy Redeemer Parish in Tampa, on November 6, 2022, to celebrate the annual Diocese of St. Petersburg African Mass. The main celebrant was Father Hugh Chikawe, Chaplain for Calvary Catholic Cemetery.
During the Mass each year, priests and parishioners from African countries gather together to worship God as one community. They belong to various churches from across the Diocese but this Mass is an opportunity to be united for one day.  The first Diocesan African Mass was held in 2018.
Father Peter Okojie, Parochial Vicar of St. Paul Parish in Tampa, is one of the coordinators of the African Mass. Father Okojie grew up in Nigeria and was ordained a priest in 2018.
"The Diocesan African Mass is important because we're celebrating our faith and our culture," said Father Okojie. "Participating in the African Mass is a way to recall our roots, celebrate our roots and our culture. We celebrate values that we share in common. It is a way to grow in unity and growing in unity is to courageously live the faith," he added.
Everyone is welcome to participate and learn about a different culture. 
"The synergy between culture and faith is something that we would like people to see. Even though we are different, we share a common faith. Unity in diversity," said Father Okojie.
The next Diocesan African Mass is scheduled for November 5, 2023. For information regarding this ministry, please contact Carlos Flores, Director of Intercultural Ministry for the Diocese of St. Petersburg at 727-344-1611, ext 5472 or cf@dosp.org.