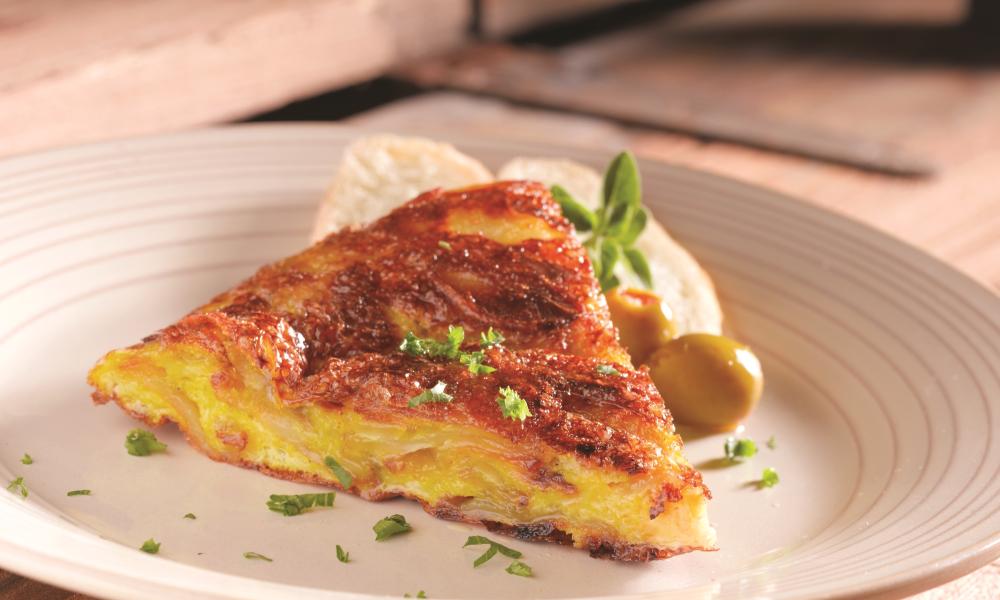 ---
Meatless Variety
It seems there are many Catholics who groan during Lenten Fridays. Is it really that hard to go a whole day without meat? What I find is that it isn't the absence of meat that people lament, but the absence of alternatives. It seems folks go blank when pondering what to prepare that does not include meat. The usual go-to's, such as grilled cheese, fish sticks, or pizza, can only carry one so far. The good news? There is a source that can help.
Thankfully for us, Spain is a Catholic country. And from the Iberian Peninsula comes the wonderful tradition of tapas. Tapas refers to a style of dining that involves multiple people gathering to taste many small plates of very different and unique dishes that, in aggregate, comprise a full meal. Typically served with sangria or Spanish wines, tapas provides the benefit of variety. Each diner typically selects a few dishes from a host of options, including meat, seafood, cheese, vegetable and rice dishes incorporating diverse sauces, spices and herbs. Upon arrival, all the dishes are passed around so each person can sample what they ordered, along with what their fellow diners may have selected.
So how does this tie into Lent (Cuaresma in Spanish) and abstaining from meat? As a penance, Catholics refrain from eating meat on Fridays during Lent. The key is in the variety. There are literally hundreds of dishes that can be found in restaurants and bars in Spain. And while many include meat, there also is an endless supply of recipes that do not.
If seafood is your pleasure, get ready to redefine your Lenten Fridays. The average Spaniard consumes roughly 80 pounds of seafood per year thanks to the surrounding Atlantic Ocean and Mediterranean and Cantabric seas. That reality is well manifest in the tapas tradition.
But for those of you who are crustacean-challenged, there are plenty of delicious non-seafood offerings. I have selected a favorite tapas recipe to share; it happens to be fish-free. I also encourage you to search for and collect as many tapas recipes as you can find. The variety you will encounter can actually make Fridays in Lent a savored part of the week.
---
Tortilla espanola
4-5 Yukon gold potatoes, peeled and sliced 1/8 inch thick
One medium-sized yellow onion, sliced 1/8 inch thick
6 eggs
½ to ¾ cup olive oil (or vegetable oil)
Salt and pepper to taste
1-2 tablespoons chopped parsley for finishing
Directions
Heat oil in a 9- or 10-inch non-stick skillet on medium-high heat for 1-2 minutes. Reduce heat to medium and add the potato and onion slices, evenly layering/distributing them in the skillet. Cook for about 10 to 12 minutes (stirring occasionally) until potatoes and onions are tender and golden in color (not brown).
Carefully transfer potato and onion mixture into a large strainer over a small, heat resistant bowl. Let the excess oil drain into the bowl and set aside for later use. Transfer cooked potato and onion mixture into a medium bowl and set aside. After the skillet has cooled, wipe it clean with a paper towel and set aside for later use.
In a large mixing bowl, whisk together eggs, salt and pepper. Gently fold in the potato and onion mixture until combined.
Using the same skillet, heat ½ of the reserved oil over medium-high heat for about a minute. Carefully add the egg, potato and onion mixture. Rotate the skillet, evenly distributing the mixture in the skillet. Reduce heat to medium-low and cook for 6-8 minutes, shaking the skillet every few seconds (so the eggs and potatoes release from the skillet). Using a heat resistant spatula to check, make sure the tortilla is set just enough and the potatoes are a golden brown on the bottom before flipping. Place a large, flat plate (lightly coated with oil) over the top of the skillet and carefully flip onto the plate. Add remaining reserved oil to the skillet. Carefully slide the tortilla back into the skillet and cook the other side (occasionally shaking the skillet) for an additional 4-5 minutes or until golden brown on bottom. Transfer the tortilla to a plate and let cool to room temperature before serving. Cut into wedges, garnish with parsley and serve with artisan bread.
---
Michelle DiFranco is a designer and the busy mom of three children.