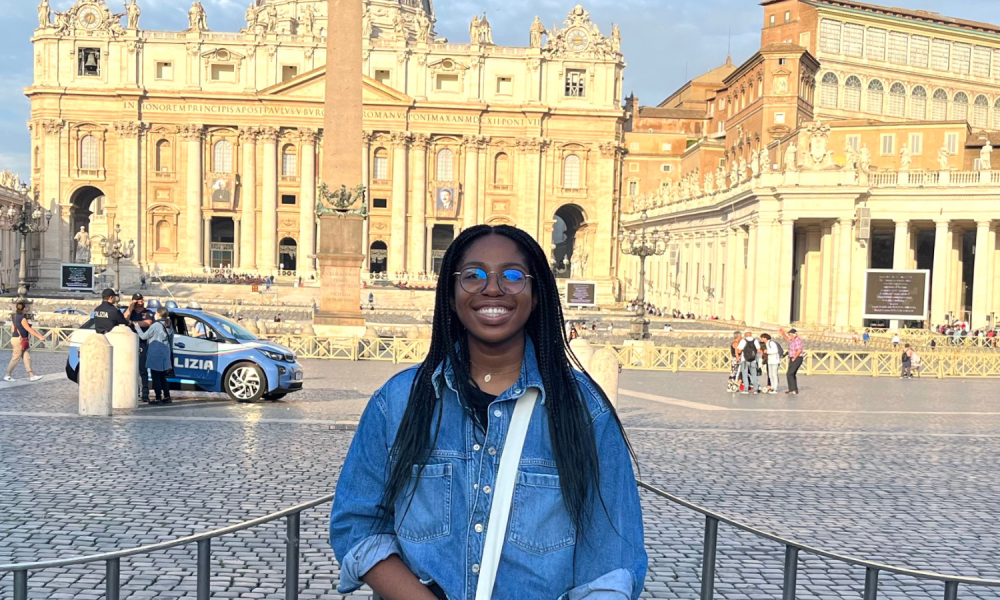 ---
What I Learned From My Friend, St. Artemide Zatti
November 2, 2022 | I had the privilege of attending the Canonization of one of the Catholic Church's newest saints, St. Artemide Zatti, a Salesian religious brother. As a parishioner and staff member at Mary Help of Christians Tampa, I have a strong spiritual connection with the Salesian spirituality and charism. The title Mary, Help of Christians, is associated with the founder of the Salesian religious order, St. John Bosco. He was known during his lifetime for his dedication to serving the young and the poor. Today, the Salesian religious order has a presence in over 130 countries around the world including here in Tampa Bay. Salesian spirituality and charism includes reason, religion and loving-kindness, as well as joy and optimism which are my personal favorites. 
St. Artemide Zatti was born in Italy in 1880 but he emigrated to Argentina with his family when he was young. He was known for his devotion to the Catholic faith, dedication to the sick, humility and jovial spirit. 
Though completely unexpected, I jumped at the opportunity to attend St. Zatti's Canonization. I did not know much about his life prior to attending, besides the fact that he worked as a pharmacist and was an ordinary guy. As I journeyed through the days leading up to the canonization, I learned about his steadfast devotion to his faith and patients. 
The day before the Canonization, my group and I visited different basilicas in Rome. We stumbled upon an exhibit of the life of St. Artemide Zatti at the Basilica of the Sacred Heart. By the grace of God, we were able to join a special tour, originally only for Salesian coadjutor brothers. Through this tour, I learned just how extraordinarily St. Zatti lived his ordinary life. The theme of his life was trusting Our Blessed Mother and knowing that she would lead him to her Son, Jesus Christ. This led me to think about my own devotion to Our Blessed Mother and where she has been leading me along my faith journey.
The Canonization itself was breathtaking–the Liturgy, the music, the people and even the weather. Pope Francis gave a beautiful homily on how St. Zatti and St. Scalabrini (the other Saint canonized that day) both lived their lives in the hope of the Paschal mystery. 
Being part of the Tampa Mary Help community for the past seven years, I often heard we are  "Hallelujah people" or "Easter people," but I've never been exactly sure how that directly correlated to me. It was not until one of the Salesian priests leading our group mentioned that as Salesians, we find our joy in the Resurrected Jesus. In an instant, my spirituality and way of finding Jesus in everything I do and experience made sense. 
As Catholics, the Paschal Mystery is the central point of the faith we profess. Everything we are, is because of Jesus' Passion, Death and Resurrection. I live my life striving for holiness as I work through the very sins that nailed Jesus to the cross. My entire life will be of sin and repentance, which could be discouraging and even lead to despair just as Jesus' Passion and Death. However, I can live my life with joy and hope because of the Resurrection. 
One highlight of visiting many basilicas and churches was being able to pray for many people. I prayed for my community at Mary Help which made it feel like they were on this pilgrimage with me. I pray that through the help and intercession of Our Lady, Help of Christians, I may continue to live out the Easter joy that will help me grow in holiness. I also hope to be a jovial spirit like St. Artemide Zatti as I live each ordinary day extraordinarily for the glory of God. 
St. Artemide Zatti, pray for us! Mary, Help of Christians, pray for us!
---
Chioma Okoye serves as Communications Director at Mary Help of Christians Center, Salesians of Don Bosco in Tampa.