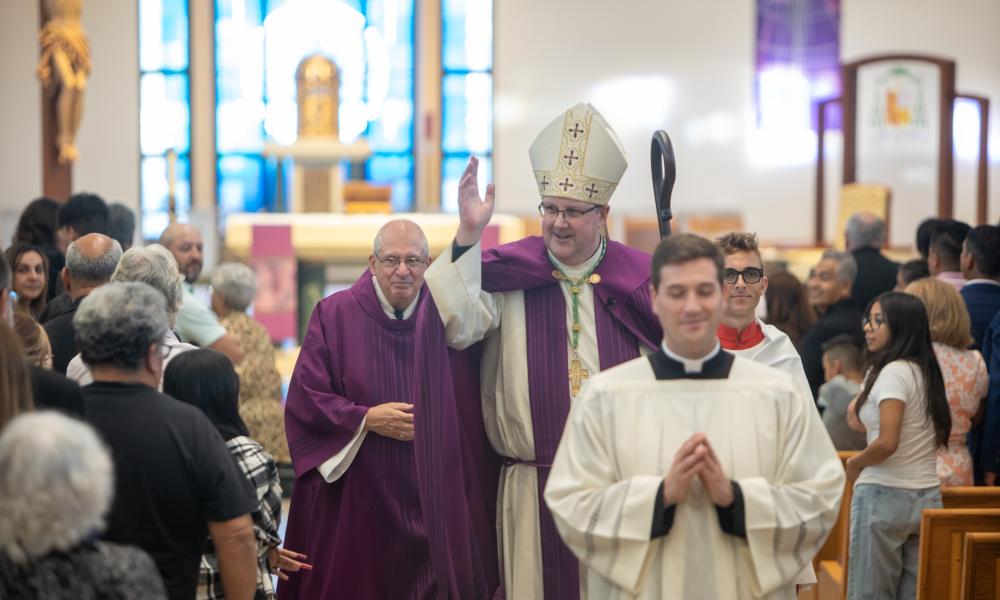 Bishop Parkes blesses participants at the Rite of Election on February 26, 2023, at the Cathedral of St. Jude the Apostle in St. Petersburg. Photo by Chris Zuppa
---
"We Need to Encounter the Person of Jesus Christ"
More than 800 people participated in the Rite of Election at a packed St. Jude the Apostle Cathedral on February 26, 2023. They were there to celebrate over 300 people from around our Diocese who are on a journey to profess the Catholic faith this Easter. The homily from Bishop Parkes, below, is relevant to those who are seeking to be baptized and to those who are already Catholic.
My Dear Brothers and Sisters in the Lord,
I welcome each and every one of you here to the Cathedral of St. Jude, the Apostle, the mother church of the Diocese of St. Petersburg on this beautiful Sunday afternoon, the First Sunday of Lent, to celebrate the Rite of Election. In a special way, I welcome all of the elect or soon-to-be elect who have gathered here today from parishes across the five counties of our Diocese. Though we come from different parishes, or we come from different cities and parts of our Diocese, today, we are one Church as we gather here at our Cathedral, in the presence of God together to give glory and praise to Him as those who are to receive the Easter sacraments will stand before us to profess their desire to do so.
I hope you've been instructed that today is not merely another box which needs to be checked off on the road or journey to Baptism at the Easter Vigil. But rather, the right that we celebrate here in our Cathedral today has real meaning and real significance in our faith and in your spiritual journey. For by coming here today as catechumens you will stand before God and before His people and publicly profess your desire or your wish to receive the sacrament of Baptism, to be confirmed, and to receive the Eucharist, the Body and Blood of our Lord Jesus Christ for the very first time. Your parents or godparents, whoever has accompanied you on your journey, as well as those who have helped to form you and instruct you in the faith, will also stand before God and before His people today to publicly profess and testify that you have prepared well, and that you are ready and worthy to receive the sacraments. So, it's not just another box which needs to be checked off on a list of things that have to happen before you can be baptized.
If I were to ask each of those who are to be elect today, what has brought you to this point in your spiritual journey, in other words, why are you here today in this Cathedral on this Sunday afternoon, what has brought you to this point, or who has brought you to this point, I'm sure for as many as are gathered here today, I would receive that many individual witnesses or testimonies of your spiritual journey and probably the unique circumstances that have inspired you to seek full initiation in the Church, through the Sacraments of Initiation.
Our Gospel reading which was just proclaimed from the Gospel according to John, chapter one, I think can be used as a model or a paradigm, not only for those who will be receiving the sacraments at this Easter Vigil, but for each one of us here today, in our own spiritual lives. We read in the Gospel that the two disciples of John the Baptist, saw Jesus walk by, and as he did, John the Baptist points out to them, Behold the Lamb of God. No doubt these two disciples were curious or intrigued by what John had just said to them. And they heard what was said and began to follow Jesus. Jesus turned to them and said to them, what are you looking for? What are you searching for?
Was that part of your conversion story, your spiritual story of why you are here today? Were you seeking greater meaning and purpose in your life? Are you seeking God's love his mercy, His forgiveness, and His grace. Are you seeking to be part of a faith community which gathers to worship, and which walks together on this journey through life, strengthening and accompanying each other, as we strive to be the people that God has created, and called us to be? That question that Jesus asked, each one of us hopefully, can answer. What are you searching for?
They said to Him, Rabbi, which means teacher, where are you staying? Obviously, again, their interest has been piqued. They are curious. They want to know more. They want to continue to have an encounter with Jesus. He said to them, "Come and you will see."
That invitation of Jesus to those two disciples is the same invitation which is extended to each one of you, to each one of us: Come and see; come and spend some time with me; come to know me; come to know of my love for you; Come to know of God's love and His mercy towards you; Come and get to know me at a deeper level.
This is what our faith is all about, and our spiritual journey, this continual process of growing in our faith, and in our knowledge of who Jesus is, but also spending time with Him. I'm sure during your RCA or your preparation program that you've been engaging in over the last year or so, you have learned a great deal about the Catholic faith. I hope that I say some of you may feel like you swallowed the Catechism, right? I hope not. While we do need to know what we believe and what the Church teaches, I think equally, if not more important, is that we need to encounter the person of Jesus Christ in our life. We need to have a personal relationship with Him. Our faith is not about words written on the pages of the Catechism. Yes, they're there so we can study them and learn from them. Our faith is not that. Our faith is a person and that person is Jesus Christ, who loves you, and who desires to have a relationship with you. The sacraments which you will receive at the Easter Vigil, are means by which God shows his love to you and will continue to do so through the sacraments, particularly through the Eucharist which you will receive every time you come to Mass, as well as the Sacrament of Reconciliation, which you will receive when you are in need of God's mercy and forgiveness.
I don't know why you are here today. I'm confident it is because you have found something in Jesus that has attracted you to Him, so that you want to spend more time with Him. This morning at my Mass that I celebrated,  I prayed intentionally for each one of you for the Elect of our Diocese, not only for today. but as you continue your final preparations to receive the sacraments at Easter. Though as bishop, I'm not able to be with you, I wish I could be at every parish in our diocese to celebrate those sacraments with you at the Easter Vigil.
Though I won't be able to be present with you at the Easter vigil in your parish, be assured that we will be united in prayer. As I pray for you, I ask that you when you're able to remember, to pray for me as your bishop, that I might continue to be the bishop and the shepherd that God has called me to be in this beautiful Diocese, and which you, God's people, so richly deserve.
I think the words from our first reading today which were proclaimed, are particularly beautiful and appropriate for those who are waiting to receive the sacraments. This is from the Letter to the Philippians, chapter one, verse six. "I am confident of this, that the one who began a good work in you will continue to complete it until the day of Christ Jesus."
I pray and I ask God to continue to work in each of your lives. That as he has called you and invited you to be here today, He may continue to work in your life, that you may grow in your relationship with Him and through your life, the way that you live your life, that you might always give glory and praise to God. Amen.