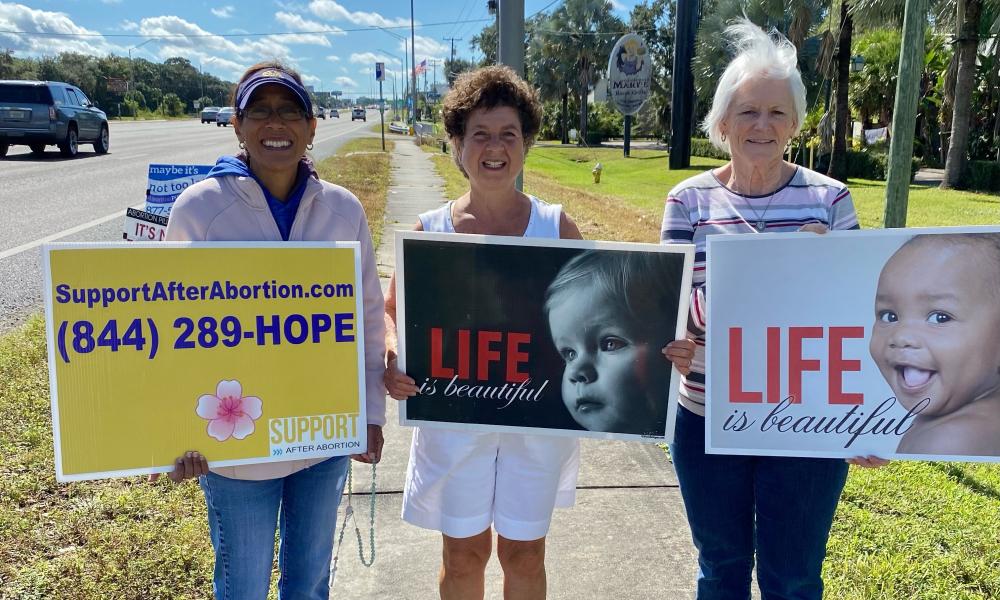 ---
"We Have Lots of Work Left To Do"
After a hurricane delay, 40 Days for Life began in Tampa, St. Petersburg, and Clearwater on October 3rd and continues through November 4th. To participate in the world's largest grassroots movement to end abortion, visit, www.40daysforlife.com.
Caption: Jane Lupia pictured center, with other volunteers participating in a peaceful prayer vigil outside an abortion business.  (Photo Credit/Jane Lupia)
---
October 3, 2022 | Jane Lupia was praying for the safety of babies and mothers outside an abortion facility when she was introduced to a miracle, a baby saved from becoming a victim of the abortion industry.
"I heard a car coming up from the parking lot toward me," she said. "There was a woman driving a minivan with a baby in the back seat. She rolled-down the window to say that she had seen us there praying and that changed her mind to not go through an abortion." 
In that moment Lupia said she felt the Lord telling her, "He hears our prayers and directs them where needed." She said the ruling this past June, on the U.S. Supreme Court case Dobbs v. Jackson Women's Health Organization, represented an answer to millions of prayers offered for mothers, fathers and their preborn children. 
"I was happy, but know our work is not done," she said. "We have lots of work left to do here in Florida." 
The ruling returned the responsibility of prohibiting and regulating abortion procedures to the states. In Florida, the current law allows abortions to take place until 15 weeks gestation with women having to undergo a 24-hour waiting period after receiving informed consent disclosures before undergoing an abortion. 
This year will be the first post-Roe 40 Days for Life campaign and organizers say it will be the largest ever, with a record 622 cities already registered to participate. The 40-day campaign aims to end abortion through prayer and fasting, community outreach and a peaceful all-day vigil in front of abortion businesses. 
"40 Days for Life is a focused pro-life campaign that generates measurable life-saving results," said Bishop Gregory Parkes in a letter encouraging parishes to participate. 
Local abortion numbers in our area have dropped, as much as 28 percent. That inspires people like Lupia who is leading a local 40 Day's for Life group.
"We hope to continue praying until abortion is unthinkable," said Lupia. "Every time we stand on the sidewalk, we bring awareness to the public. We need to stand tall and do this, so the public is constantly reminded that this is a life not a choice." 
If you are experiencing an unexpected pregnancy and need assistance in any way, visit the Foundations of Life website to find a location near you in Hillsborough, Hernando, Pasco and Pinellas counties at https://foundationsoflife.org
Whether you stay at home to pray or pray outside an abortion facility, here is a wonderful prayer:
---
A Prayer to our Lady of Guadalupe
Virgin of Guadalupe,
Patroness of unborn children,
we implore your intercession
for every child at risk of abortion.
Help expectant parents to welcome from God
the priceless gift of their child's life.
Console parents who have lost that gift
through abortion,
and lead them to forgiveness and healing
through the Divine Mercy of your Son.
Teach us to cherish
and to care for family and friends
until God calls them home.
Help us never to see others as burdens.
Guide our public officials
to defend each and every human life
through just laws.
Inspire us all to bring our faith into public life,
to speak for those who have no voice.
We ask this in the name of your Son,
Jesus Christ, who is Love and Mercy itself.
Amen.