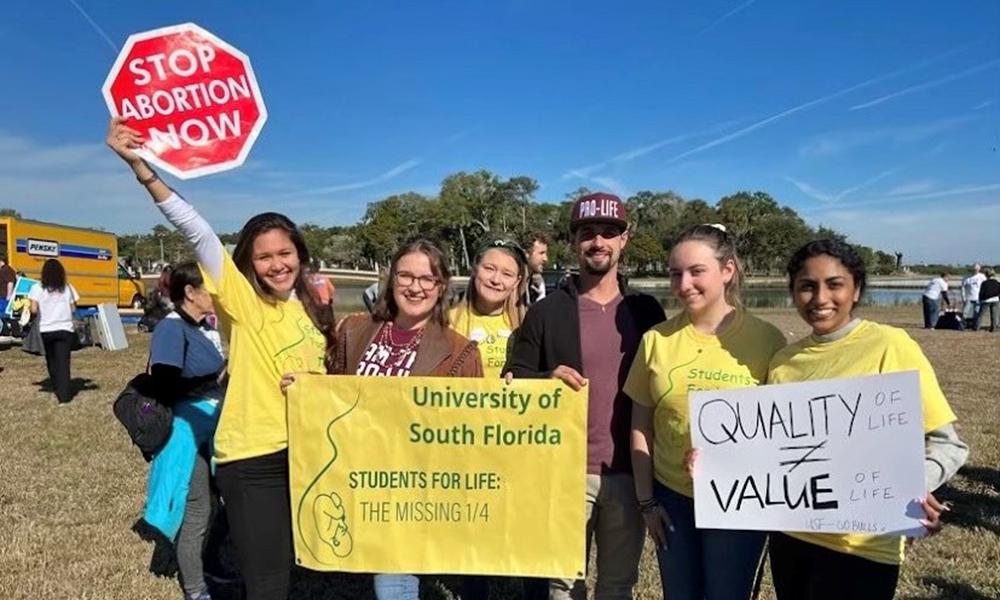 ---
University of South Florida Students Rally for Life
An English class project inspired Nichole Cufino to launch the only pro-life student club on the University of South Florida campus.
"We had to select a controversial topic to research, and I knew I wanted to pick a topic that was grounded in my Catholic faith," she said.
Through research, Nichole learned there were no pro-life clubs on campus despite the existence of several pro-abortion clubs.
"I knew this was an unfair bias, but I didn't feel special nor knowledgeable enough to start my own club. Over time, God kept placing the issue of abortion on my heart, until one day I looked up something totally random on my laptop just to have an excel spreadsheet of over 5000 pro-life articles pop up. I saw this as a miracle from God, and I took it as His sign for me," Nichole said. "Through the power of prayer and discernment, I started the USF Students for Life Club."
She named it, The Missing ¼, a reference to the staggering statistic that 1 in 4 women have an abortion, and ¼ of the population is missing.
Nichole began the club with some close friends from the Catholic Student Union. Since then, it has grown exponentially, with members from many different backgrounds.
"We began in the winter of 2019, and we have flourished. It has been hard finding members due to the pandemic, but in my last semester at USF, we found an amazing executive team that is super excited to keep the club going," she said.
Nichole is now passing on the torch of club president to Gabriela Fotopoulos, who will lead the club for the 2022 - 2023 school year.
One of the top goals for this year will be advocating for the creation of parking spaces for pregnant mothers on campus.
"Women need to know being pregnant does not stop success. This parking spot will support women who decide to keep their babies because they will feel okay going to school and working for their own goals." Gabriela said. "They won't feel ashamed, but loved. They need to know they are supported and help is here for them before, during, and after pregnancy."
Gabriela hopes to also create more awareness of the group's mission of saving the unborn and protecting women, especially the 44% of college women who get abortions.
"The time is now to see how wrong it is to side with abortion. We need to not let women feel ashamed or embarrassed if they are pregnant. As Catholics, we need to respect the life in the womb and also the life that's carrying it." She said. "We want to find and help these women and their precious babies. They need love, compassion, and support. The world has enough indifference already."
The club is active both on campus by holding student events and off-campus by partnering with pro-life organizations in the Tampa area. 
If you are a USF student or someone interested in learning more about this club, visit their Instagram page @prolifebulls or USF Students for Life Club on BullsConnect: https://bullsconnect.usf.edu/home_login 
 
---
Photo Caption: "Pro-Life Bulls speak up for the voiceless on and off the USF campus."