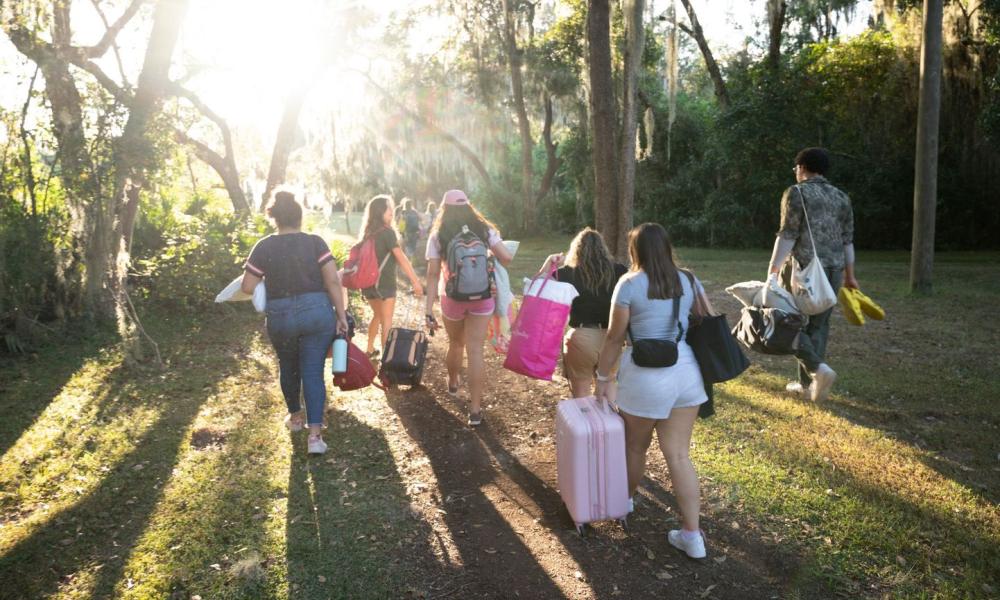 ---
Ten Tips for College Students
To help young adults maintain and grow their faith, Father Tom Morgan says they should consider his ten tips.
Photo Caption: Saint Leo University students gather for the  annual fall retreat. (photo credit/St. Leo University)
---
After years of academic hard work and dedication, eighteen-year-old Elena Rudaitis is embarking on a new journey. She is packing up her car and heading off to the University of Florida to start her freshman year in college. 
"It's only about a two-hour drive so I'll be driving to UF," said the Tampa native. "I feel that packing the car to the extremes is probably an essential college experience!" 
That experience will also include finding a new faith community as Rudaitis leaves her home parish of St. Paul Catholic Church in Tampa where she has been an active member for years. 
"I think it is highly important to keep one's spirituality alive by setting it as a priority ahead of time and having some non-negotiables, with regards to scheduling work, school, and a social life," she said. 
According to Father Tom Morgan, finding a balance will help young adults who are leaving home for the first time continue to grow in their relationship with Jesus.
"Most of us get that being in a relationship with someone else means being present to them. The call is the same in our relationship with Jesus as a Catholic Christian disciple," said Father Morgan, pastor, St. Jerome Parish in Largo. 
While it's easy for students to solely focus on educational goals, Father Morgan says this is a "step up to the plate moment," especially the first weekend away, when they ask themselves if they will attend Mass. 
"This is a moment to confirm they are disciples of Jesus Christ who continues to invite all of us to sit at His feet and listen to His Word," he said.   
To help young adults maintain and grow their faith, Father Morgan says they should consider the following ten tips: 
Decide the kind of person you want to be before you go and stick to it. 
Stand firm. College will test your faith. Don't believe the phrase "everyone is doing it." Because it's not true. 
Make friends who have the same values as you do, even if that means not settling for the first group of friends you meet. 
Get regularly involved with at least one good Catholic organization. 
Don't believe that everyone has pre-marital sex and that it's no big deal if you're a good person. 
Call your parents and siblings at least once a week. 
You cannot party all the time and get good grades. 
Go to Mass every Sunday, no matter what. 
Go to Confession once a month and look for an opportunity to go to a Catholic retreat. 
Pray, read Scripture, look for a good Catholic spiritual book to read, and seek a way to serve the needy. REMEMBER YOUR FAMILY AND YOUR PARISH ARE PRAYING FOR YOU.
It's also important for young people to know they are never alone. 
"They come from a family both of blood and faith. We all meet challenges along the way, but we must remember the promise of Jesus in Matthew 28:20; I am with you always," said Father Morgan.  
Rudaitis says this is solid advice she plans to follow as she takes advantage of her newfound freedom, all the while leaning on her faith and all it has taught her.
"Starting with a solid moral compass and letting all potential personality, lifestyle-changing decisions be guided by what is good and pure, is essential to changing for the better," she said. 
---
Photo Caption: Elena Rudaitis, University of Florida freshman. (photo credit/Elena Rudaitis)