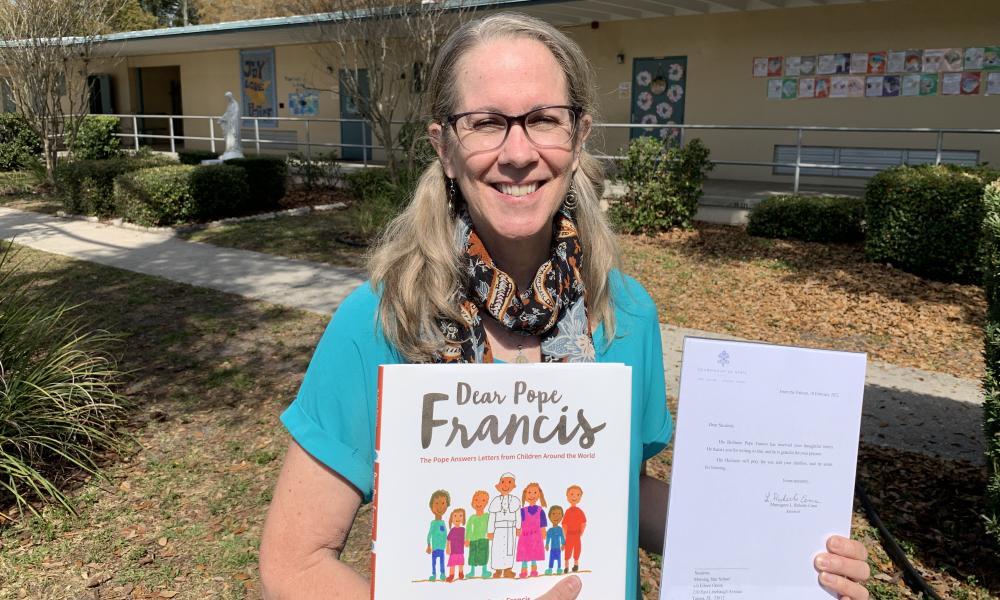 ---
Students Write Letters to Pope Francis and the Pope Responds!
Seventh graders, Chloe and Gabby received surprising and shocking news this past February after they wrote letters to Pope Francis, as part of a schoolwide project at Morning Star Catholic School in Tampa.
"I wrote about my life, what I want to do with my life and asked some questions like, what is heaven like?" said Chloe.
Gabby asked for blessings, "I really tried to think deeply about my family and ask for my family to be okay. Many things are going on in my family and I want them to be blessed."
School Principal Eileen Odom collected letters and drawings from each of the school's 74 students, and hand delivered them to a security official at the Vatican following an audience with the pope. The idea was sparked by the book, "Letters to Pope Francis," about letters the pope has received from children around the world.
Mrs. Odom was in Rome in October of 2021, on a pilgrimage to Italy. She had no way of knowing if she would even have the chance to see the pope close enough to hand him the letters.
"The Holy Spirit took hold, gave me the courage and the words to get the attention of the security official and I said "Scuzzi, Scuzzi, I have letters for the pope from special needs children in America!"
Months later, the school, which specializes in educating students with learning disabilities and related difficulties, received a letter from the Vatican. It reads in part:
"His Holiness Pope Francis has received your thoughtful letters. He thanks you for writing to him, and he is grateful for your prayers. His Holiness will pray for you and your family, and he sends his blessing."
"I was so excited," said Mrs. Odom, "I made an announcement on the intercom that the Pope had read our letters and that he sends a blessing for each one of you!"
The letter is on display in the office where Gabby, Chloe and the rest of their classmates can read it for themselves.
"They were very curious, and many came to the office to see the letter," said Mrs. Odom. "I think the children know their school is very unique and so special, and why wouldn't the pope write back. Of course, he would. It's just the Morning Star way!"
Both Gabby and Chloe are thankful their principal was instrumental in getting their letters to the Holy Father and say it put a smile on their face.
"I feel very lucky and blessed to have this happen to me. I felt it would be a very big help for my family," said Chloe.
---
Morning Star Catholic School in Tampa is a small, non-profit Diocesan school that specializes in educating elementary and junior-high age children with learning disabilities and related learning challenges. There is an on-going need for help with tuition expenses and fees for families who are financially strained. If you would like to support the school or learn more about their approach visit: https://www.morningstartampa.org/