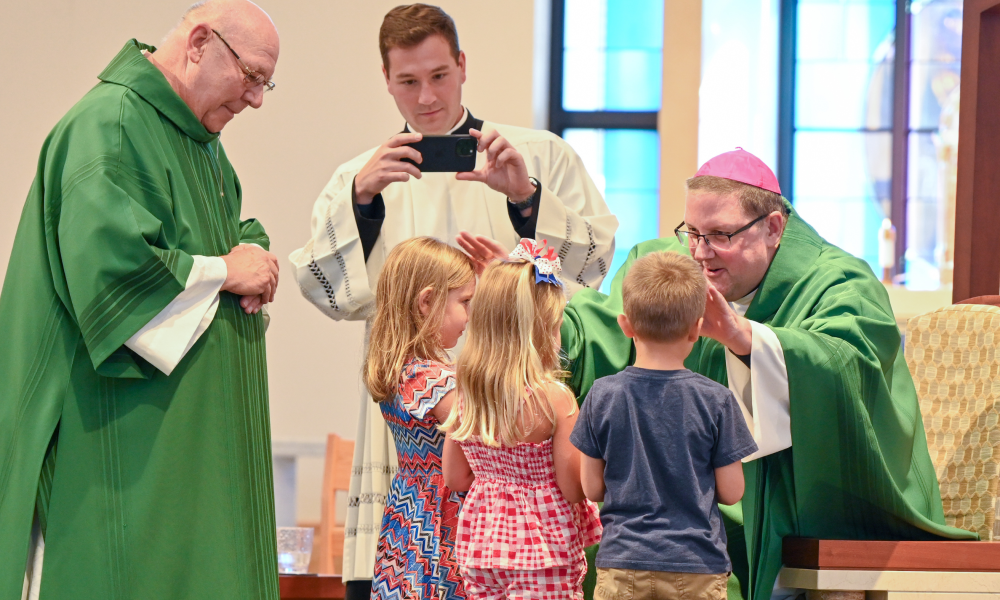 Bishop Gregory Parkes blessed the students who brought the gifts up at the Cathedral School of St. Jude the Apostle Mass on September 11, 2023. Photo by Keishla Espinal 
---
Students Will Receive a Special Gift When the Bishop Visits Their Catholic School
September 26, 2023 | Bishop Gregory Parkes is distributing gifts to Catholic school students in the Diocese of St. Petersburg. 
"Who likes to wear bracelets," Bishop Parkes asked students during his homily at the Cathedral School of St. Jude the Apostle on September 11, 2023, as all the students raised their hands. "I'm going to actually give you a gift today, each of you is going to receive a gift from me as the bishop," he added.
The gift was a two-part memorial of his visit, a bracelet/wristband and a prayer card.
"These bracelets say 'The Eucharist is my highway to heaven' which is what Blessed Carlo Acutis used to say. It is a small reminder of how important it is to receive Jesus in the Eucharist as often as possible," said Bishop Parkes.
Blessed Carlo Acutis was a teenager from Italy when he made it his life mission to document Eucharistic miracles and make them available through a website for the whole world to see.  He passed away in 2014 at the age of 15 from Leukemia and was declared a "blessed" by Pope Francis in 2020.
Addressing the students, Bishop Parkes shared the inspiring story of Blessed Carlo, highlighting the young man's love for Jesus and his devotion to receiving the Eucharist. Bishop Parkes encouraged the students to learn from Blessed Carlo's example and strive for holiness in their own lives.
"Blessed Carlo had a great love for Jesus. Once he received the Eucharist for the first time, all he wanted to do was go to Mass every day or as often as he could to receive Jesus in the Eucharist," said Bishop Parkes. 
The visit to the Cathedral School was one of many Bishop Parkes is planning for this current school year. It is his goal to visit as many schools as possible and to speak to the students about the Real Presence of Jesus in the Eucharist. This coincides with the National Eucharistic Revival that is currently underway to spark a renewal of belief and devotion to the Eucharist. Bishop Parkes is hoping that students will share their love for Jesus in the Eucharist with their families.
"When you go home today, and maybe mom or dad asks what you are wearing, you can share with them a little bit of the story of Blessed Carlo," said Bishop Parkes.
After the Mass, Bishop Parkes stopped at several classrooms to interact with the students. His first visit was with seventh-grade students. They asked him questions such as, "How tall are you?" "When did you realize that you wanted to be a Bishop?" and "How do you like being a Bishop?"
He then visited second graders to discuss First Communion and to emphasize the sacrament's importance.
Bishop Parkes stressed to the students how important it is to stay close to Jesus: "We need to stay close to Jesus in our lives, through our prayer each day, but also by receiving Him in the Eucharist in Holy Communion, to receive His Body and His love. The Eucharist is my highway to heaven. How beautiful is that?"
The bishop's next school visit is scheduled for St. Raphael Catholic School on September 29th. 
Here is the prayer that is found on the prayer card students will receive:
God our Father,
we thank you for giving us
Blessed Carlo Acutis,
a model of life for us,
and a message of love for all.
He loved your Son, Jesus, 
and he trusted that
the Eucharist was his 
"highway to heaven."
Give me the grace I need to love Jesus in the Eucharist
with all my heart, mind and soul.
Amen.