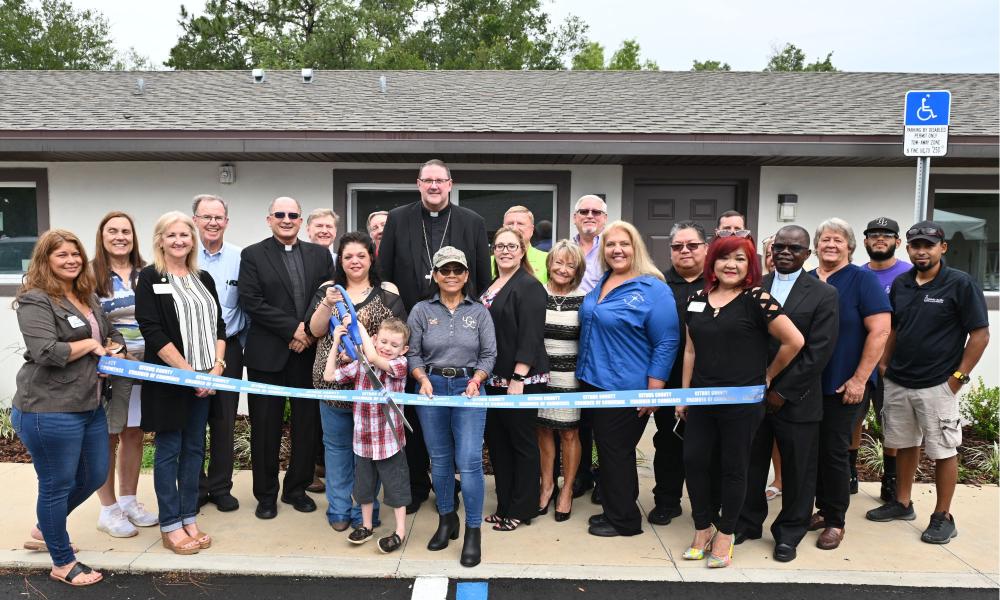 St. Benedict Apartments, ribbon cutting ceremony in Crystal River on July 11, 2023. Photo by Keishla Espinal 
---
St. Benedict Low-Income Apartments Now Open
Important Goal Reached for Courageously Living the Gospel 
July 14, 2023 | On July 11, 2023, the rain stopped long enough for the grand opening and ribbon cutting of St. Benedicts Apartments in Crystal River to take place. This affordable housing project is managed by Catholic Charities for the Diocese of St. Petersburg. Soon, 18 individuals and families will be able to move into their new one or two-bedroom apartment.
"Some might say, 'well it's only 18 units. What difference is that going to make?' Well, for the families and individuals that are going to move in here, this is going to make a world of difference in their lives. When somebody has a safe, clean home that they can live in, when they have an address that they can call their own, it gives them dignity," said Bishop Gregory Parkes during the grand opening event.
Despite many obstacles, including COVID-related shutdowns and subsequent labor and supply chain issues, the apartments are now completed. It has been almost five years since the groundbreaking ceremony took place. That was only several months after Bishop Parkes introduced the vision of Courageously Living the Gospel. One of the vision's goals was to establish eight to ten developments of affordable housing throughout the five counties of the Diocese of St. Petersburg. Nine new affordable housing properties have opened since 2018.
"It was an aggressive goal, and we faced a lot of obstacles," said Bishop Parkes. "But we overcame all those obstacles and have gotten here. As the bishop, I am very proud and pleased to say that we have achieved that goal. Praise be to God."
Since the affordable housing initiative was launched back in 2018, Catholic Charities has added 151 additional units of housing across the diocese.
Frank V. Murphy III, member of the Catholic Charities Board of Trustees who stood in for Executive Director Maggie Rogers, who spear-headed the project, stated, "These projects aren't easy, but we are looking forward to taking care of a lot of people and taking care of more."
The Citrus County Chamber of Commerce hosted the ribbon cutting ceremony with one of the first residents, Shanee Williams and her six-year-old son, serving as ceremonial ribbon cutters.
"As you know, across the state, there is a shortage of affordable housing and low-income households," said, "Michelle Alford, Housing Services Director from Citrus County. "These households are more likely to sacrifice necessities, like healthy food and health care just to pay rent."
This is a big win not only for the 18 families or individuals, but for the entire community. God must agree as sunshine interrupted the steady rain that fell immediately prior to and then immediately after the event!
"It's not just about affordable housing, it's about quality housing. Quality housing equals quality life, and that is something we all deserve," Alford said.
Present for the grand opening and ribbon-cutting ceremony were various religious leaders, including Rev. J. Glenn Diaz, Pastor of St. Thomas the Apostle Catholic Church who prayed the invocation, members of the Catholic Charities Board of Trustees including President, Msgr. Robert F. Morris, V.G. and Rev. Emery Longanga, Ph.D. pastor of Holy Cross Catholic Church, Citrus County and local government officials and agencies, including County Judge Edward C. Spaight and Sheriff Mike Prendergast, as well as Daystar Life Center board members, staff, and volunteers.
Catholic Charities is grateful for everyone who has been a part of this journey. The agency is excited to welcome new residents into their new home as soon as final inspections take place and for them to start creating joyful memories for themselves and their families.