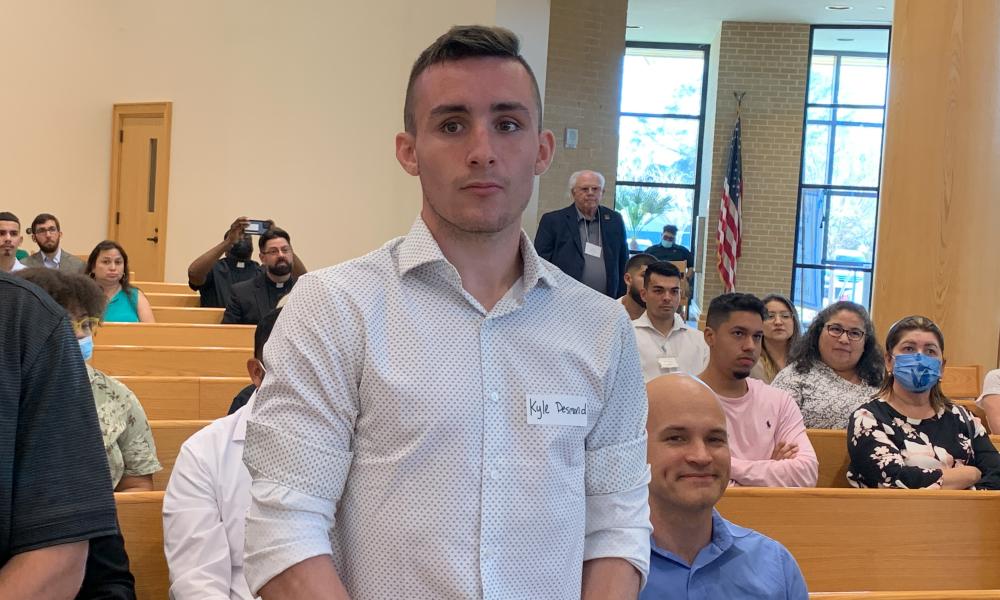 ---
Searching in the Darkness – More Than 250 Say Yes to God's Invitation
Photo Caption: Kyle Desmond stands during the Rite of Election on March 6, 2022 at the Cathedral of St. Jude the Apostle. Thomas Humphries is sitting to the right.
---
More than 700 people gathered at the Cathedral of St. Jude the Apostle in St. Petersburg on March 6, 2022, for the Rite of Election. At this prayer service, Bishop Gregory Parkes recognized and welcomed 278 adults and young people who are on the path to becoming Catholic. He called them "Elect" for the first time and acknowledged that they will be fully initiated into the Catholic Church at the Great Easter Vigil when they will receive the sacraments of Baptism, Confirmation, and first Holy Communion.
Fifty-five parishes in the Diocese of St. Petersburg were represented at the Rite of Election. Bishop Parkes said, "We give thanks and praise to God for gathering us here from the five counties of our Diocese as one family of faith. On days such as this, it is so evident to me as bishop how very diverse our diocese is. That is a beautiful gift for us to celebrate. Speaking directly to those who are preparing to become Catholic, he said, "We give thanks and praise to God for calling you to faith and for your yes to God's invitation."
Those preparing to be baptized Catholic are referred to as catechumens. They prepare at parishes and universities with the Rite of Christian Initiation (RCIA) process. After a one year break due to COVID, the catechumens were able to safely gather together again at the Cathedral with Bishop Parkes.
Each RCIA director read the names of the catechumens and brought their own church's "Book of Elect" to Bishop Parkes for blessing.
Included in the assembly was Kyle Desmond, a 21-year-old student from Saint Leo University. He's studying Criminal Justice and Homeland Security.
The journey to becoming Catholic for him started in a class at Saint Leo.
"I was taking Searching in the Darkness. That brought me closer to the Church, listening to Professor Humphries talk about the Catechism, the Bible. The class is about hope, faith, love and God," said Desmond.
It answered questions he had about the Church and how to find his way to God. He never had a prayer life before, and now he's attending Daily Mass.
"It makes me feel more alive in the Church because the Holy Spirit is coming to me," said Desmond.
"Searching for a Light in the Darkness: Faith, Reason, and the Quest for God," is a new class at Saint Leo that was introduced last semester. The class was developed in a collegial effort by professors, including Thomas Humphries.
"Like Kyle said, there was a desire already in his heart. Part of what we do in college is help students express that or formulate that more precisely," said Humphries.
At the Rite of Election, Bishop Parkes prayed the following:
Father of love and power,
it is your will to establish everything in Christ
and to draw us into his all-embracing love.
Guide these Elect of your Church:
strengthen them in their vocation,
build them into the kingdom of your Son,
and seal them with the Spirit of your promise.
Through Christ our Lord.
---
View photos from the Rite of Election by clicking on the image below.