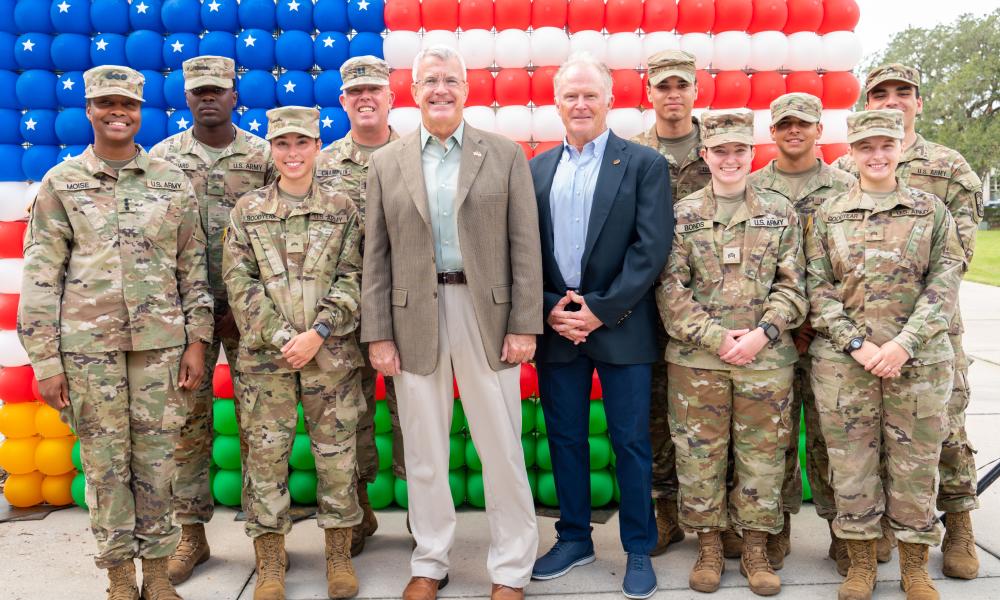 ---
Saint Leo University Honors Veterans
Retired U.S. Army General Raymond A. "Tony" Thomas III, former commander of the U.S. Special Operations Command (USSOCOM), headquartered at MacDill Air Force Base in Tampa, spoke at a ceremony on campus.
Photos by Renee Gerstein, Saint Leo University

Caption: Saint Leo ROTC cadets with Captain Wesley Champlin (back row) and Major General James Hartsell and General Raymond "Tony Thomas III (front row)
---
November 9, 2022 | Saint Leo University welcomed "a soldier's soldier" today (Tuesday, November 8) as the university held its Veterans Day observance for the community. While the weather kept members of the US-A Team from parachuting on to campus, the university hosted retired U.S. Army General Raymond A. "Tony" Thomas III, former commander of the U.S. Special Operations Command (USSOCOM), headquartered at MacDill Air Force Base in Tampa, as the special guest speaker for the ceremony.
Not only did Tuesday's observance honor the nearly 20 million U.S. veterans, but it also kicked off Saint Leo University's celebration of 50 years of military education. The university's 50th anniversary celebration will include several events taking place from November 2022 through November 2023.
Members of the Saint Leo University ROTC color guard presented the U.S. and military flags, which was followed by U.S. Air Force veteran Jacquelene Kritzer singing the national anthem. Kritzer, of Zephyrhills, is majoring in psychology at Saint Leo. Pastor Ken Nahrwold, retired U.S. Air Force master sergeant, provided the invocation for the ceremony, while welcomes were given by Dr. Larry Braue, director of the Office of Military Affairs and Services, and University President Edward Dadez. 
Braue, a retired U.S. Army lieutenant colonel, noted that while he did not serve under Thomas, everyone recognizes him as "a soldier's general. A soldier's soldier."
As the SOCOM commander, he was responsible for leading the nation's force of 80,000 commandos. And in his speech at Saint Leo, he acknowledged all who are serving or who have served the country. "There are tens of thousands of U.S. servicemembers down range, protecting our freedoms," Thomas said. "Please keep them in your prayers and thoughts."
He also recognized Saint Leo's ROTC cadets and the journey they are on to serve the nation. For those who will join the military, "You cannot take the support of the American people for granted," he said, after recognizing the Vietnam veterans in the crowd, and noting how they were vilified upon return to the United States. Thomas said he and others who served in the past 40 years were supported by Americans, but that servicemembers "must earn that support."
"'Ask not what your country can do for you–ask what you can do for your country;' if you don't know who said that, you need to go back to Government 101," Thomas said, quoting President John F. Kennedy's inauguration address. "But today, especially on Election Day, if a politician stood on a stage and said that, they probably would be laughed off."
Thomas said that the U.S. military do not take an oath to a king or dictator, but rather to the U.S. Constitution. And, those who serve are committed not only to their country, but to each other. "We fight for each other," he said. "I have never met a racist—or an atheist for that matter—in a firefight."
He said that he would not trade his nearly 40 years of military service because of that commitment. The retired general said that the country needs, "our best and brightest to pursue serving this great country." He also recognized Saint Leo for its commitment to veterans and the military. 
Dadez, the university president, said, "since 1973, Saint Leo has dedicated ourselves to serving active duty military, veterans, and military affiliated families. On June 23, 2007, U.S. Master Sergeant Gary Gustafson graduated via satellite while serving in Iraq, and he now is serving as president of the Saint Leo Alumni Association."
He also noted that Saint Leo is the first university in the country to offer a four-year bachelor's degree in veteran studies, and encouraged everyone to consider this degree program. 
"The Office of Military Affairs and Services and Saint Leo University wants to thank all of you for being here today," said Braue, "and I hope you take General Thomas' words to heart." 
Saint Leo University recently received top honors from the 2022 Military Times Best for Vets: Colleges—the university earned rankings of No. 24 among all schools in the United States, No. 3 among online schools, No. 5 among private schools, and No. 7 among schools in the Southeast. 
More than one-quarter of Saint Leo's student population is affiliated with the military, and this includes members of the U.S. Air Force, Army, Navy, Marines, and Coast Guard, National Guard members, retired military officers and enlisted veterans, military spouses, dependents, and others.
Saint Leo hosted its ceremony on Tuesday ahead of Veterans Day as the university will be closed Friday, November 11.