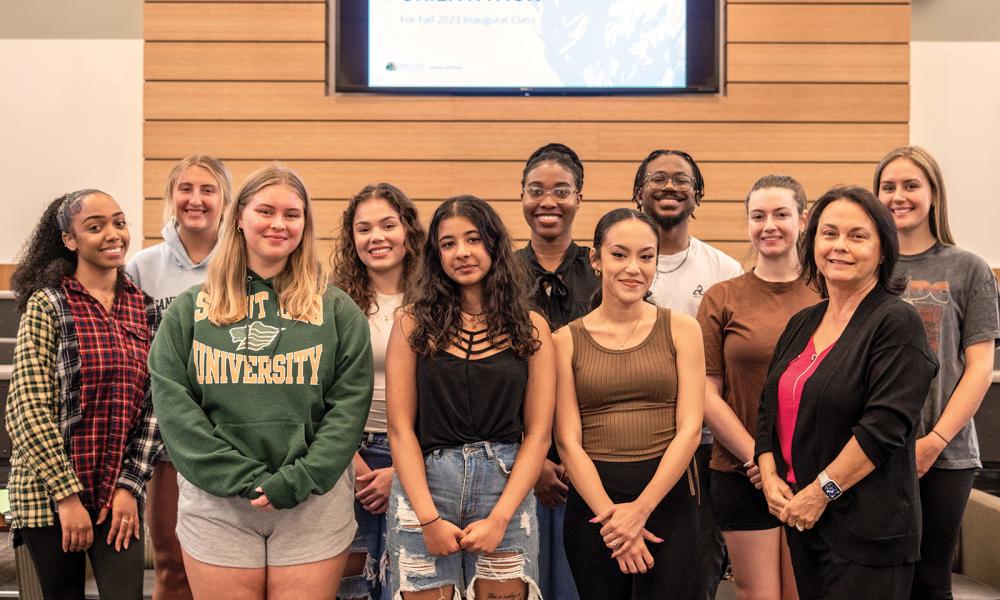 Saint Leo University Nursing Orientation
---
Saint Leo University Helps to Relieve Nursing Shortage
August 9, 2023 | As Florida and the Tampa area face a severe shortage of nurses, Saint Leo University is focused on meeting the health care needs of the community through its Bachelor of Science in nursing program.
With the Fall Semester beginning on August 28, students will begin their junior year in the core nursing program classes. By the end of its first five years of operation, Saint Leo's program is expected to add nearly 200 nurses to the workforce.
Not only did the university recognize the need for nurses when it launched the bachelor's degree in 2021, but so did the Florida Legislature, Gov. Ron DeSantis, area health care and government leaders, and several generous donors. They have provided additional funds to build the program and create learning spaces for the future health professionals.
The state of Florida's 2023-2024 budget includes an appropriation that will provide the university with $740,000 next year to develop the program and address the critical nursing shortage. More than $500,000 has been raised from private donations, bringing the total raised for the nursing program to $1.2 million.
"We are grateful that the Florida Legislature recognized the need for more nurses and the important role of nursing education in the state," said Dr. Kathleen Van Eerden, dean of the College of Health Professions, and a registered nurse herself. "We would like to express our thanks to Governor DeSantis, who approved the budget and funding for Saint Leo University's Bachelor of Science in nursing program and all of our generous donors who have contributed to growing this new degree and creating new nurses."
"The graduates from the Saint Leo nursing program will directly impact population health in the state by providing safe, compassionate care all while utilizing best practices and current innovations," wrote Dr. Robin McGuinness, senior executive officer/chief nurse executive for AdventHealth's West Florida Division, in a letter of support. In the Spring 2024 Semester, nursing students will partner with AdventHealth Zephyrhills.
With the rapid growth of Pasco County, FL, where Saint Leo's University Campus is located, Pasco Economic Development Council President/CEO Bill Cronin noted, "In one of our greatest areas of need — health care — it is especially clear that we need our education partners to step up and produce the talent needed for our hospitals and other health care providers to thrive." 
Joey Resnick, CEO of Premier Community HealthCare Group, echoed Cronin in his support. "I see the urgent need for nurses to provide services for people of all ages to support health promotion, disease prevention, and illness care," Resnick wrote. "The Saint Leo University Bachelor of Science in nursing program has a curriculum that aligns with health promotion and the needs of those with chronic and late-stage illnesses. This emphasis will support the needs of the growing population in our region."
Hands-on Learning Begins
In order to apply to become official nursing majors, the Saint Leo students in Spring Semester 2023 had to have a minimum 3.3 GPA in their college courses and pass the standardized ATI Test of Essential Academic Skills, said Dr. Deb Peterson, chair of the Department of Nursing.
"Finally, they get to take their first nursing course where they examine culture of health, the role of the nurse, and how to use clinical judgement to safely and effectively care for people," Peterson said. "There are four themes embedded in all courses: evidence-based practice, interprofessional communication, culture of health, and clinician well-being."
In the fall, the exciting part begins with hands-on learning. "That's what the students are waiting for," Peterson said. "The juniors will begin learning in the skills and simulation labs and will go to a clinical setting." This will include Blue Heron Senior Living in nearby Wesley Chapel, FL.
The second floor of Benedictine Hall is being renovated to create an innovative space for Saint Leo's nursing program, where students will encounter real-life scenarios in labs, classrooms, and simulated-learning areas.
John Picciano, a Saint Leo University trustee and member of the Class of 1969, recently donated $127,735 to the university's Bachelor of Science in nursing program and to help with construction during the university's annual giving day to bring total dollars raised from $372,265 to $500,000.
"Nursing changes the lives of others, and I hope others will support Saint Leo's program, help it to grow, innovate, and graduate caring and competent nurses," said Picciano, CEO of Oglethorpe Inc., which provides ownership and management services for psychiatric hospitals.
 About Saint Leo University
Saint Leo University is one of the largest Catholic universities in the nation, offering more than 60 undergraduate and graduate-level degree programs and specializations to more than 15,300 students each year. Founded in 1889 in the Benedictine tradition, the private, nonprofit university is known for providing an education to learners of all backgrounds and ages. Saint Leo is regionally accredited and offers a residential campus in the Tampa Bay region of Florida, at education centers, and through an online program for students anywhere. The university is home to more than 103,000 alumni. Learn more at saintleo.edu.