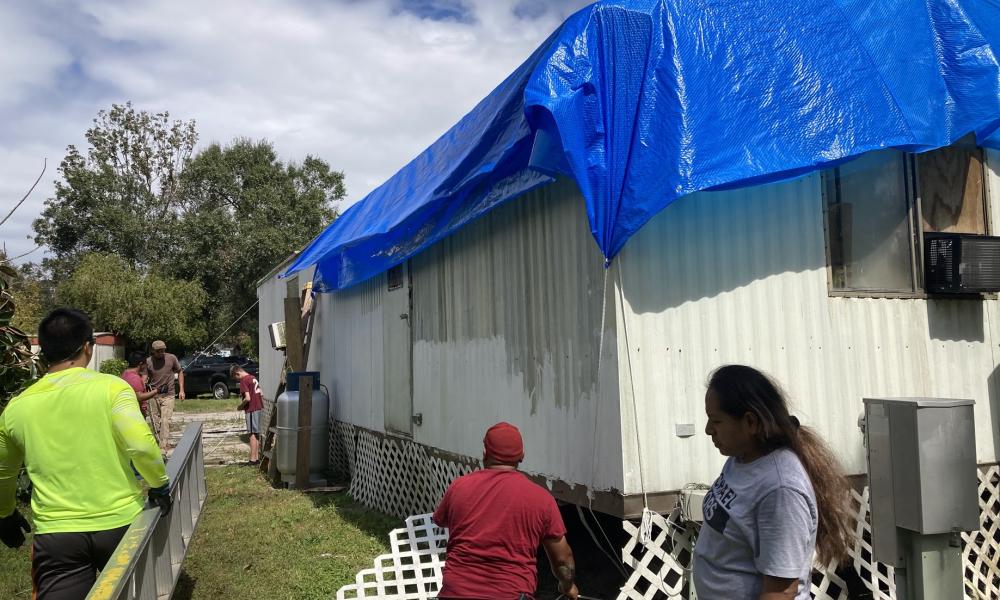 St. Michael's parishioners are shown assisting a family whose home was damaged during hurricane Ian. (Photo credit/ Sister Maria Gema de Jesus Ruiz SSVM)
---
Sacred Heart Parishioners Host Giving From the Heart for the Holidays
December 7, 2022 | Hurricane Ian left a path of devastation in many communities south and east of the Tampa Bay area. One of those communities includes the city of Wauchula located inland, and on the banks of the Peace River. Many who live there are parishioners of St. Michael Catholic Church, a multicultural congregation who celebrates liturgies in English, Spanish, and Creole.
"My family of seven packed up a few items and headed to the shelter at the nearby junior high school. It was a long night as the storm passed over Wauchula. But we were safe. Then the next day, once the roads became passible, we went back home to look for any damage. We were shocked and dismayed to find our house partially underwater. We didn't foresee that we would be dealing with flooding," said one parishioner wanted to remain anonymous.  "Our family tried to salvage some clothing items, then we returned to the shelter. The next day we went home to find the house now completely underwater."
Sacred Heart Catholic Church in Tampa is responding to hurricane survivors like this. The parish will be hosting Giving from the Heart, a drive-through collection event to help families through these tough times.  
"The people in this parish were hit hard by flooding because of Hurricane Ian, with many losing their income from farming. We would like to see our whole parish and others who can, get involved in helping the parishioners of St Michael's," said Father Mike Jones, OFM of Pastor of Sacred Heart Catholic Church in Tampa. 
The parish will also support the families through this Advent and Christmas Season by collecting gifts for children and teens of families that are currently struggling financially following the storm. 
St. Michael's currently has over 1,000 registered families and for them, the help is greatly appreciated. 
"It has been hard on the whole family," she said. "But I feel we are adjusting well, because of the generosity of others, who have made our hardship more bearable. Our family home is still ruined, and we still need to find a permanent housing situation, but we are all together and for this we are thankful."
The city of Wauchula, experienced record flooding after Ian dumped nearly 20" of rain over portions of Hardee County. 
"Please be a beacon of Christ's love this Advent for these families who so desperately need assistance," said Father Jones. "I invite everyone to take part in these upcoming efforts."
The public is invited to drop off donations during Giving from the Heart donation event Saturday, December 10, from 10 a.m. to noon at Sacred Heart's North Campus located at 3515 N. Florida Avenue in Tampa. If you wish to participate, but cannot make the drive-through event, please call the parish office at 813-229-1595.
---
Below are the needed items to be collected during the drive:
Gift cards for grocery and supply stores, gas stations (Walmart, Winn-Dixie, Save-a-lot, Family Dollar, Dollar Tree)
Kitchen and bedroom necessities, including pots, pans, dishes, cups, silverware, towels, sheets, blankets, pillows
Cleaning supplies, including disinfectant wipes, soap, detergent, sponges (no bleach, please)
Toiletries, such as toothpaste, toothbrushes, mouthwash, shampoo & conditioner, body wash, bar soap, deodorant, combs, brushes, hair ties, lip balm
Baby items, including wipes, disposable diapers and training pants, formula, baby shampoo and wash, clothes, blankets
Non-perishable food items, such as rice, beans, canned vegetables, crackers, peanut butter, cereal