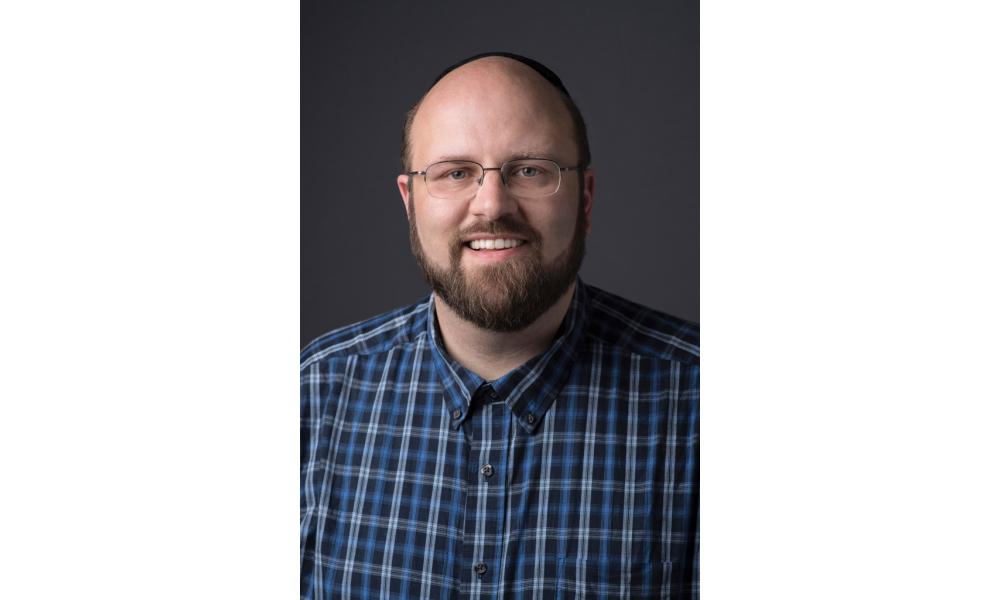 ---
Rabbi David Maayan will Serve in New Teaching Role at Saint Leo University
Goal Is to Promote Understanding Between Catholics and Jews
The Saint Leo University Center for Catholic-Jewish Studies (CCJS) is pleased to announce the appointment of Rabbi David Maayan as the center's inaugural Maureen and Douglas Cohn Visiting Chair in Jewish Thought and assistant director of CCJS. Maayan will join Saint Leo in August.
"Rabbi Maayan is a phenomenal person and scholar who has enormous talent and can advance the CCJS's mission and goals in Florida and beyond," said Dr. Matthew Tapie, director of the center and associate professor of theology.
This visiting chair position is made possible by the generosity of Maureen and Douglas Cohn of Tampa. A unifying force in their work with the Tampa Jewish Community Centers and Federation, the Cohns are longtime friends of CCJS and have supported the center's interreligious work since the early 2000s.
The Cohn Chair is a two-year visiting appointment with the possibility of a third-year renewal as a full-time faculty member in the College of Arts and Sciences. The chair also represents the establishment of Jewish Studies at Saint Leo University.
Maayan comes to Saint Leo from Boston College where he was a teaching fellow and instructor of Judaism and Christianity in Dialogue for the past academic year (2021-2022). He has an extensive teaching background in academia, secondary education, and community settings. He served as an instructor at Maimonides School in Brookline, MA, Hebrew College Rabbinical School, in Newton, MA, and at Yeshivat Simchat Shlomo in Jerusalem, Israel, in addition to his work at Boston College. He has taught extensively on the Hebrew Bible, Talmud and rabbinic literature, Jewish mysticism, Kabbalah, and Hasidism, incorporating historical, philosophical, and comparative religious perspectives. He also has an interest and background in multiple religions including Buddhism, Hinduism, and Islam, though his work is especially focused on the complex interrelationship between Christianity and Judaism.
He has taught on New Testament texts and Christian theology in relation to Jewish theology and practice, with a particular interest in the Trinity, theological anthropology, and theological reflections on love, embodiment, and suffering, This background informed his course on In-Depth Reading of the Talmudic Passage on 'Sufferings of Love' (Yissurim shel ahavah), and the yearlong graduate seminar Altruism (Jewish, Christian, and Islamic Perspectives) and Our Responsibility for the Other: An Interreligious and Interdisciplinary Investigation, which he co-taught with a Christian and a Muslim instructor.
The new Cohn Chair graduated cum laude with a bachlor's degree in religion with a focus in Jewish mysticism from Oberlin College in Ohio, earned his master's in Jewish studies from Hebrew College, and is a doctoral degree candidate in comparative theology at Boston College. In addition to training with a number of influential rabbis in America, he studied in rabbinical seminaries in Israel for six years, including Bat Ayin Yeshiva, Mir Yeshiva, and the Joseph S. Gruss Kollel of Yeshiva University in Jerusalem. His rabbinical ordination took place in Jerusalem in 2004.
Rabbi Maayan also has pursued interfaith dialogue and friendship throughout his life. He has participated in interreligious dialogue groups in Boulder and Snowmass, CO, Sharon, MA, as well as Paderborn, Germany, and Jerusalem, Israel.
The Saint Leo University Center for Catholic-Jewish Studies, founded in 1998, pursues a threefold mission: It promotes dialogue and education at the community level between the Catholic and Jewish faiths and extending at times into more faith communities; it readies students to become effective practitioners of interfaith dialogue and outreach efforts throughout their lives; and it publishes and promotes scholarship in the fields of Catholic-Jewish studies. CCJS regularly hosts scholarly lectures in churches and synagogues as well as online, providing members of the Tampa Bay community and beyond with opportunities for interreligious education.
"I have always firmly believed in the importance of community educational opportunities, including the art of teaching which fosters spaces in which people can meet, discuss, and exchange ideas in a spirit of creativity and mutual understanding," Maayan said. It is well-known to all who are involved in the Catholic-Jewish dialogue that the inspiring progress in several areas of the dialogue remains all too often in rarefied air, with congregants, parishioners, and religious leaders as well, untouched by the basic points outlined over half a century ago in Nostra Aetate.
"In my experience, there is often no lack of goodwill, but people have been afforded too little opportunity to grow in this knowledge," Maayan continued. "I am dedicated to helping to provide individuals with insights, tools, and resources which will empower them to understand and give them the opportunity to participate in this still-budding new relationship."
---
For more information about the Saint Leo University Center for Catholic-Jewish Studies, email matthew.tapie@saintleo.edu.
About Saint Leo University
Saint Leo University is one of the largest Catholic universities in the nation, offering 62 degree programs to more than 15,800 students each year. Founded in 1889 by Benedictine monks and sisters, the private, nonprofit university is known for providing a values-based education to learners of all backgrounds and ages in the liberal arts tradition. Saint Leo is regionally accredited and offers a residential campus in the Tampa Bay region of Florida, 16 education centers in five states, and an online program for students anywhere. The university is home to more than 100,000 alumni. Learn more at saintleo.edu.
Media Contact: Mary McCoy, Senior Editor & Media Relations Manager, mary.mccoy02@saintleo.edu, (352) 588-7118 or cell (813) 610-8416
---
Photo Caption: Rabbi David Maayan is the inaugural first-ever Visiting Chair in Jewish Thought and assistant director of the Saint Leo University Center for Catholic-Jewish Studies.