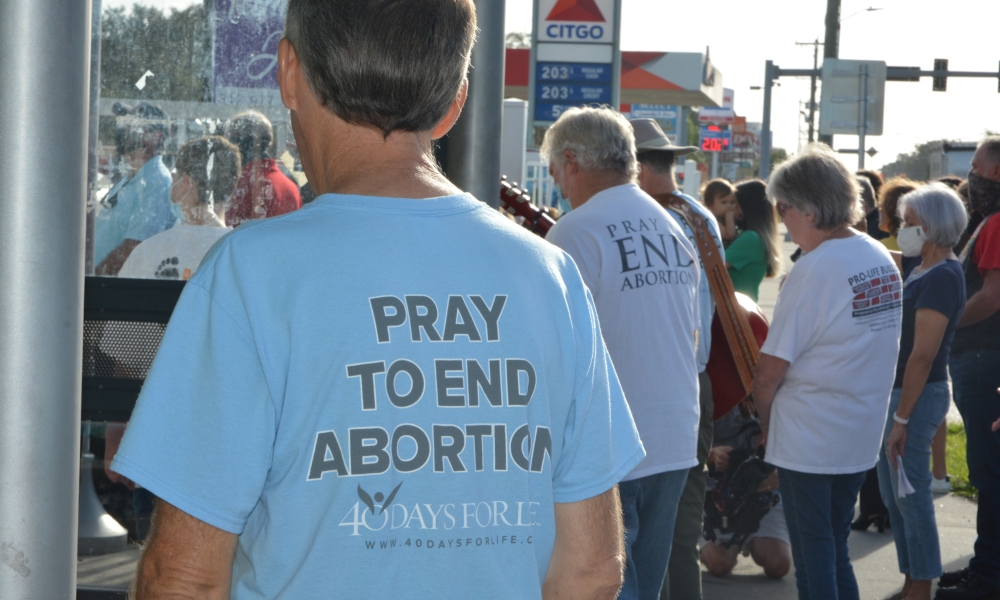 September 24, 2020, a group from the Diocese of St. Petersburg gathered at Knights Women's Center in Tampa to kick of the 40 Days for Life Campaign
---
Prayer Campaign To End Abortion to be Launched in Tampa Bay
September 5, 2023, | 40 Days for Life is a 40-day prayer campaign that aims to end abortion. The Diocese of St. Petersburg will once again be participating. The dates this year are September 27 – November 5, 2023. Organizers say there is an urgent need to save lives.
"In a post-Roe America, it's important to continue a peaceful and prayerful vigil to bring awareness to the humanity of the unborn and the absolute injustice of taking the lives of the most vulnerable among us. The right to life is THE most important right, given to us by our Creator. All other rights derive from the right to life and we must continue to give a voice to the unborn," said Jill Ricardo, 40 Days for Life Coordinator for the Diocese of St. Petersburg.
This is the first year that Ricardo is coordinating this campaign for the Diocese. Her life is a powerful witness to the pro-life movement.
"As a mother of eight, three of whom are adopted, I am personally invested in saving the lives of the unborn. We have three beautiful souls in our family who deserve the right to live and are worthy simply because God created them," said Ricardo. "We are blessed that their mother chose life."
The 40 Days For Life Campaign brings pro-life groups from all denominations together. It emphasizes that through peaceful presence and prayer those dedicated to the unborn can change minds and save lives.
"My hope is that through a peaceful campaign of prayer, fasting, and keeping vigil, we will change minds and hearts," said Ricardo. "Politics, vitriol, and talking past one another has never been an effective way to influence opinions so I hope that our witness will shine a light on the issue and allow us to bring humanity to an emotionally charged issue.
Three locations in the Tampa Bay area will organize prayer vigils in front of abortion businesses during the 40-day period.
40 Days for Life was founded by Shawn Carney in 2004. The campaign was first kicked off in the Diocese of St. Petersburg in 2008.
Get Involved In Your Community!
St. Petersburg: 
40DaysForLife.com/St.Petersburg
All Women's Health Center, 4131 Central Ave N St. Petersburg
Kick Off Rally: Tuesday, September 26, 2023  6:30PM
Closing Vigil: Sunday, November 5, 2023  5:00PM 
Clearwater: 
Women's OB/GYN Center, 28960 US 19 North #110 Clearwater 
Kick off Rally: Sunday, September 24, 2023 4:00PM 
Closing: Sunday, November 5, 2023 5:00 PM 
Tampa: 
Tampa Women's Health, 2010 E. Fletcher Ave. Tampa, FL 
Kick off: Monday, September 25, 2023 6:30 PM 
Closing: Sunday, November 5, 2023 5:00 PM 
To learn more, visit www.dosp.org/life/40-days-for-life.