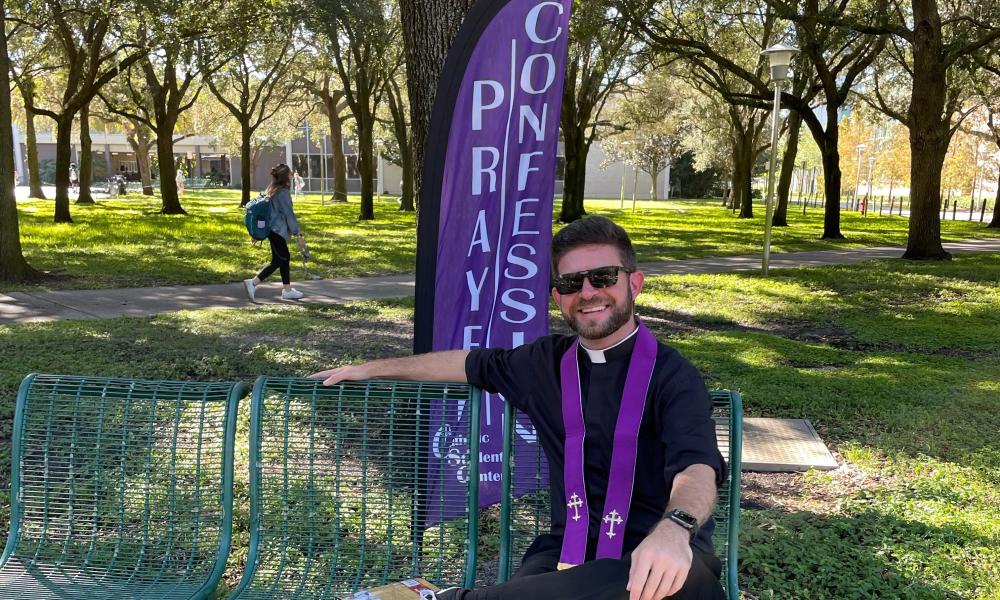 ---
Prayer Bench is a Safe Place on Campus
Every Wednesday and Thursday at 10:30 a.m., Father Bell can be found at the same bench on campus waiting for people to sit down for confession, a prayer, or a conversation.
Father Kyle Bell, Director of the Catholic Student Center at the University of South Florida was raised in the Protestant faith. He didn't experience the Sacrament of Reconciliation, but instead he confessed his sins to Jesus silently in his heart and in his prayer. 
When he became Catholic and went to confession for the first time, he stated, "it was freeing for me to hear the priest say, 'yes you are forgiven. I absolve you of your sins and you are loved.'" 
Father Bell seeks to extend this freedom and love to students on the campus of USF in a unique way. Instead of sitting in a confessional booth waiting for people to come to him, he sits outside on a bench located in a busy part of campus. Every Wednesday and Thursday at 10:30 a.m., Father Bell can be found on MLK Plaza outside of the Marshall Student Center as a purple flag is displayed behind him with the words, "Prayers and Confessions."  Anyone is welcome to sit with Father Bell for confession, to pray, or just to talk.  
Unfortunately, some people refrain from receiving the Sacrament of Reconciliation because they think their sins are unforgiveable. The reality is, "the Lord Jesus wants us to have this Sacrament so that priests can minister to that lie," said Father Bell. Also, there is nothing that can separate us from the love of God.
The Sacrament of Reconciliation allows the heart of the person confessing to receive love and mercy in a place of vulnerability. It's about receiving the embrace of Jesus Christ that is powerful and transforming.
Father Bell wants everyone to know that this bench on campus is a safe place. Whether it's to confess or to talk, he is there and ready to listen.
"The priest is there as an instrument of God's love and mercy. I am here for all on campus. God is calling us to set aside any fear or anxiety and approach the Sacrament of Reconciliation or conversation with confidence knowing that this is a safe place," said Father Bell.
---
Getting Involved
Meeting with Father Bell on the prayer bench can be the first step to something great. All students are invited to a weekly gathering hosted by the Catholic Bulls on Wednesdays from 8:00 p.m. until 10:00 p.m. 
Father Bell welcomes all to follow their Instagram and Facebook, @catholicbulls where you can see their daily posts and event schedule.
The Catholic Bulls welcome all students. As the semester starts up again, Father Bell wants you to remember how important and essential it is to have a community. There will be many groups on campus vying for your attention. People trying to get you to buy into different messages.
"If you are a Catholic college student, a solid Catholic unity is going to be essential for you. We are not meant to journey on this pilgrimage of faith alone. We are meant to be a part of a larger community. We are already a part of a larger church, but we want to be a part of an intentional community of disciples growing together," Father Bell stated.