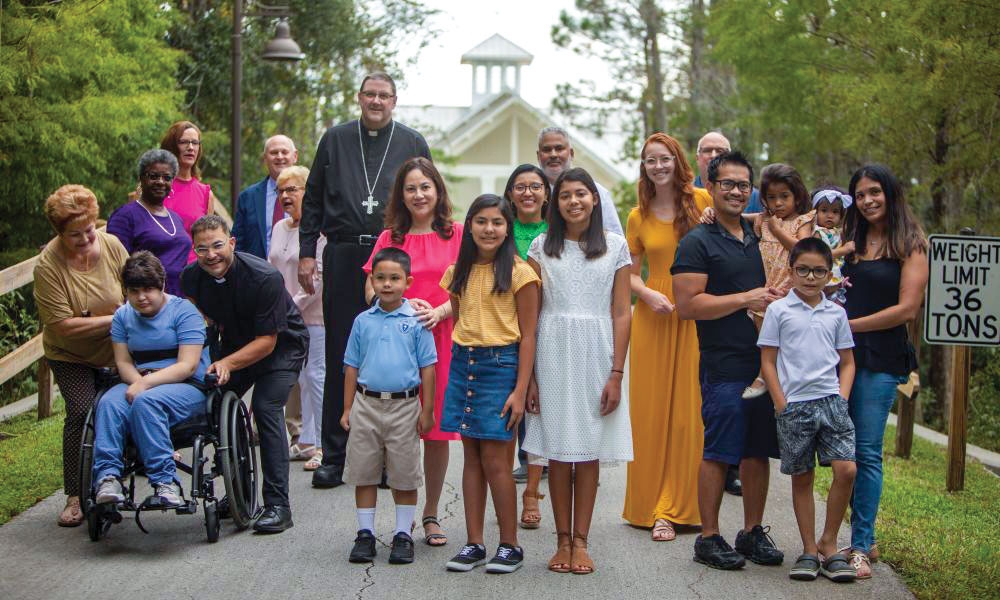 Bishop Gregory Parkes joined a variety of people from around the Diocese of St. Petersburg to portray the theme of the Synod on Synodailty, which is "Journeying Together."
---
One Body
Understanding the Catholic Church's Synod on Synodality
October 2, 2023 | The Synod on Synodality is a three-year process started in 2021 that involves encountering, listening, and discerning. Pope Francis' goal in calling this synod was to invite all the baptized to participate in the process. The word "synod" comes from the Greek synodos, which has the general meaning of "walking together."
How is this synod different?
Past synods were General Assemblies of bishops in Rome. According to the Vatican, although previous synods also began with wide consultations in the form of questionnaires, this is the first time that everyone has been directly asked to engage in an exercise of listening at the level of parishes and dioceses. Pope Francis has stressed throughout that no one should be excluded, especially those whose voices have not been typically heard in past synods.
What does it mean to become a "synodal Church"?
Pope Francis describes this as an opportunity to become a "listening Church" and a Church of "closeness, compassion and tender love," which better reflects the "style of God."
Gathering at the Vatican
The Universal Phase of the Synod on Synodality will take place between October 2023 and October 2024. The Synodal Assembly of Bishops (in two separate sessions) will be asked to listen deeply to the situations in which the Church lives and carries out its mission.
Call to Action
The Diocese of St. Petersburg participated in the diocesan phase of the Synod between October 2021 and April 2022 through listening and discernment sessions rooted in the Holy Spirit. A report that highlights the feedback that has been received is available at www.JourneyingTogether.org.
Three Key Themes from Continental Phase Held Earlier This Year
Key themes were recognized during the Continental Assembly of North America and presented in the final document.
Called and Gifted Through Baptism. In recognizing the dignity of all who have been baptized, every baptized person shares in the dignity of the sacrament and the responsibility of "expanding the tent," especially by reaching out to the marginalized and those who have historically had lesser roles in the Church.
Communion with Christ and One Another. Despite growing fragmentation in the world and the Church, all the faithful are united through baptism in Christ and called to communion with one another and our Savior. Building trust through dialogue, greater inclusivity, and listening are aspects that build this communion.
Sent Forth on Mission. All the faithful, through virtue of baptism, share in the same work that Christ himself commanded: to go forth and make disciples. Proper faith formation and understanding of Catholic social teaching is important for all the baptized to understand this missionary mindset.