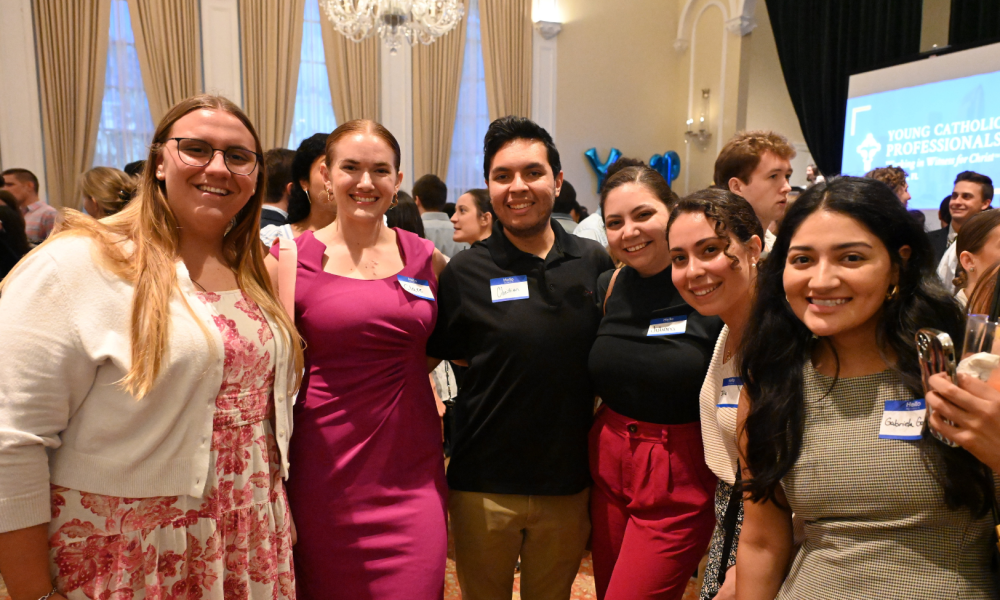 A group of young adults from around the Diocese of St. Petersburg gathered at the Young Catholic Professionals launch at Palma Ceia Golf and Country Club in Tampa, Florida on Thursday, September 7, 2023. Photo by Keishla Espinal
---
A New Group for Young Adult Catholics is Formed in Tampa
September 12, 2023 | The largest professional Catholic organization in the nation has landed in Tampa Bay. Young Catholic Professionals has inaugurated its 35th Chapter in Tampa, Florida.
On Thursday, September 7, 2023, over 500 young adults from around the Bay Area gathered at Palma Ceia Golf and Country Club in Tampa for the launch. They were initially expecting around 300 people, so the event was a major success.
The evening was filled with networking, socializing, and gathering insights into the organization.
Young Catholic Professionals was founded by Jennifer Baugh in 2010. Baugh was longing for something more in her life, which led to the creation of YCP. Since then, the organization has grown across the nation with its headquarters located in Dallas.
John Bencivenga, president of YCP Tampa and a driving force behind bringing YCP to Tampa wants to remind everyone that: "All young adults should join because it doesn't matter what step you are in your faith life. We are keeping it casual while sticking to our Catholic values."
Organizers says this is an opportunity for young adults in the area to come together, build a sense of community, and establish connections.
Before YCP came to Tampa it took months of planning and work. Bencivenga began his dialogue with YCP Nationals with bi-weekly calls. From there he started asking people if they were interested in the organization and built his leadership team. Once the leadership team was underway, they worked on assembling a board.
"Once the board was assembled, we started working on startup costs, and God put a lot of donors to work here," said Bencivenga. "They brought a dream to life. We want this organization to give people the chance to step back into their faith or discover their faith for the first time."
YCP wants to show young leaders across the nation how to integrate faith with professionalism. It serves as a reminder that when God is at the center, His will can be accomplished in all aspects of life.
"We believe that young people will be most successful if they have support," said Baugh during the launch.
Young Catholic Professionals will have monthly gatherings throughout the year that include a speaker series and networking happy hours.
"During and after college, I prayed for a good community of people," said Clare Naghdi, Christ the King parishioner and Youth Minister. "Tampa has provided that. There are so many young adults in the area, and it shows that the Church is young and growing."
YCP Tampa will have free events and events catered to their members. YCP Tampa offers two types of memberships: YCP Belong, which costs $36 a year, and YCP Belong Plus, which is priced at $84 a year."
To learn more about the memberships and what they have to offer you can visit this link.
Bencivenga wants people to remember that: "It is our Catholic faith and our belief in Jesus Christ that will help us face challenging times. In a time when it feels like God is being removed from our community, Young Catholic professionals offer the perfect vehicle to bring Christ's light back into that darkness. It is time to bring Him back to the center of all of our lives."
To view more photos from the event, click on the arrows below.