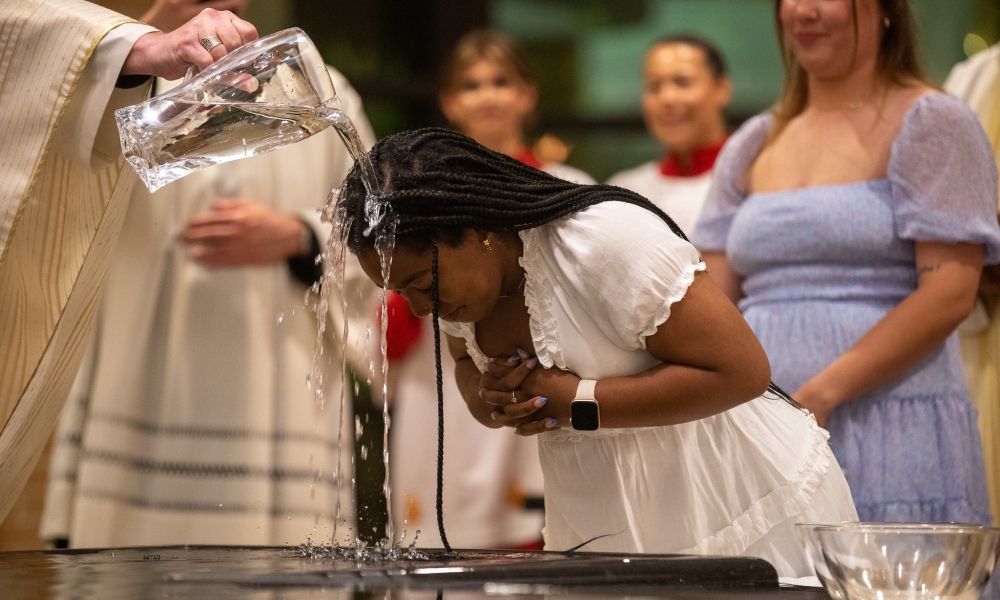 A woman is baptized during the Easter Vigil at the Cathedral of St. Jude the Apostle. Evangelization is on of the areas to be supported by new Community Impact Grant. 
---
New Community Impact Grant is Established
August 30, 2023 | This September, the Diocese of St. Petersburg is providing rewards ranging from $500 to $5,000 to programs that support the mission of Courageously Living the Gospel.
This is part of the new Community Impact Grant Program– a program funded through donations to the annual Giving Challenge. Parishes, missions, or ministries that fall into categories of Serving Christ by Serving Others, Youth and Young Adult Initiatives, and/or Evangelization and Missionary Discipleship are eligible to apply.
In May at the meeting of the Catholic Foundation Board of Trustees, a member expressed a desire to expand support into every county that the diocese covers. Members unanimously agreed that they wished to establish something like this that tied a grant to the mission of the diocese. The diocese wants to be able to support the community in their efforts to follow through with the mission statement.
This grant supports parish ministries, deanery initiatives, and diocesan ministries as they Courageously Live the Gospel in the three key areas of youth and young adults, serving the poor, and evangelization and missionary discipleship.
"We would love to see grants spread throughout the five counties, in every parish mission territory," said Meegan Wright, Executive Director of Stewardship and Development and the Catholic Foundation.
Applicants will be pre-screened by the Office of Stewardship and Development to ensure they meet all terms and conditions outlined in the application. Once pre-screening is complete, a sub-committee will review the applications and discuss before making a recommendation to the Board who will then make their final recommendations to the bishop.
"This is exciting– we had five applicants in the first 24 hours. We can't wait to see how many come in and how many communities we can support in their efforts," continued Wright.
If you are interested in applying, contact Meegan Wright at stewardship@dosp.org. Application deadline is September 8, 2023.