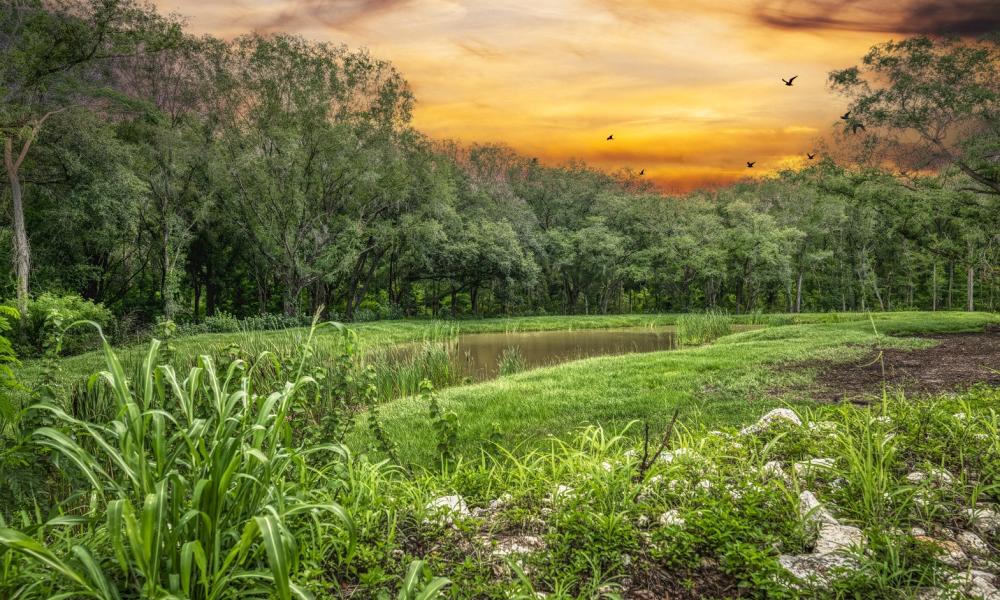 An artistic photo of Resurrection Catholic Cemetery, located on a 120-acre nature preserve in Hillsborough County. Photo by Ed Foster
---
A New Catholic Cemetery will Open Soon in Hillsborough County
August 16, 2023 | The Diocese of St. Petersburg is opening a new Catholic cemetery later this year in Hillsborough County that is easily accessible throughout West Central Florida. Even though Resurrection Catholic Cemetery will serve people of all faith backgrounds, Catholic identity will be a prominent feature of the grounds, which upon completion will be blessed by Bishop Gregory Parkes and considered sacred for all time.
"The decision to open Resurrection Cemetery in Hillsborough County was made so that Catholics and non-Catholics have a spiritual, sacred, and dignified place to lay their loved ones to rest.  Even after death, we believe that the human body and remains have dignity, and therefore should be treated with care and respect," said Bishop Gregory Parkes, spiritual leader of the Diocese of St. Petersburg.
Resurrection Catholic Cemetery is currently under construction, but tours of the cemetery grounds, including the mausoleum, are currently available for those interested in learning more. The new cemetery is located on a 120-acre nature preserve in Seffner and will exclusively provide above-ground arrangements, the only cemetery of its kind in Florida.
The location near the I-4 and I-75 interchange means residents of Hillsborough and Pasco counties now have a close and easily accessible Catholic cemetery available as a sacred resting place. The Catholic Church strongly urges Catholics to be buried or entombed in a Catholic cemetery or the Catholic section of a non-Catholic cemetery.
"It is good for Catholics to choose a Catholic cemetery since it is sacred ground.  In the case of Resurrection Cemetery, I will bless the grounds, as well as the mausoleum and columbaria buildings.  It will be a place where Catholics can go to spend time in prayer for those who have gone before us until we're reunited in the joy of heaven," added Bishop Parkes.
More information about the grand opening and blessing of Resurrection Cemetery will be available soon.
To learn more and to request a brochure on "Planning Your Cemetery Arrangements," call 813-961-8400, email Terry Young via terry@resurrectioncemeteryfl or visit https://resurrectioncemeteryfl.com.
The Diocese of St. Petersburg also operates Calvary Catholic Cemetery in Pinellas County. More information is available here.