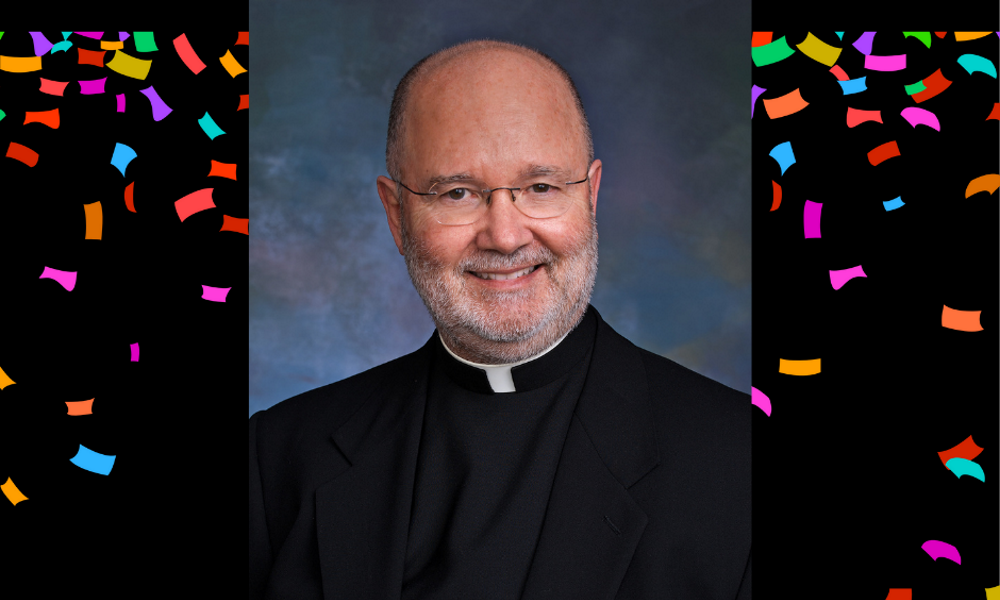 ---
Monsignor Ronald Aubin, J.C.L. Receives Father Luis de Cancer Distinguished Priestly Service Award
October 6, 2021 - During the Annual Convocation for Priestly Renewal, Bishop Gregory Parkes presented Monsignor Ronald Aubin with the 2021 Father Luis de Cancer Distinguished Priestly Service Award.
Since 1998, the Diocese of St. Petersburg has honored one priest annually who best exemplifies selfless and dedicated service to the people of God.
About Monsignor Aubin
He was born in Amesbury, Massachusetts on February 5, 1948.  He was 7 years old when his family moved to Miami, where he attended Bishop Curley High School and later, Sacred Heart High School Seminary, in Ipswich, Massachusetts, where he graduated as class Valedictorian.
While still a teenager, Monsignor Aubin discerned a vocation with the Salesians of Don Bosco, attending St. Joseph Novitiate and Don Bosco College Seminary, in Newton, New Jersey.  He graduated Magna Cum Laude in 1972, but later left the Salesians and returned to Miami, where he worked various jobs, including as a Catholic school teacher and youth minister.
In 1977, Monsignor Aubin entered St. Vincent de Paul Regional Seminary, in Boynton Beach, where he received his Master of Divinity degree in 1980 and was ordained to the priesthood for the Diocese of Rapid City, on April 23, 1981, by Bishop Harold H. Dimmerling.  After serving in South Dakota for two years, Monsignor Aubin began studies in canon law, and received his Licentiate in Canon Law (J.C.L.) degree from Saint Paul University, Ottawa, Ontario, in 1985.  The following year, he moved to the Diocese of St. Petersburg, where he was incardinated in 1990.
While in active ministry in our diocese, Monsignor Aubin served as Parochial Vicar of Corpus Christi Parish, Temple Terrace (1986-1987), St. Jude Cathedral Parish, St. Petersburg (1987-1990), and Light of Christ Parish, Clearwater (1990-1994).  On July 1, 1994, he was appointed as Pastor of Our Lady of the Rosary Parish, Land O' Lakes.  He faithfully ministered to the rapidly growing community in south-central Pasco County for 27 years until his retirement on July 1, 2021.
Along with his parish assignments, Monsignor Aubin served as Vicar Forane (Dean) of the Pasco Deanery, and member of the diocesan Presbyteral Council and College of Consultors.  He has also provided exemplary service to our diocesan Tribunal in multiple capacities, including as Judge, Defender of the Bond, and Judicial Vicar, an office he held from 2007 to 2018.  In February 2016, at the request of Bishop Lynch, Pope Francis conferred upon him the honorary title of Chaplain of His Holiness, or Monsignor.
Monsignor Aubin continues to reside in Land O' Lakes and provides occasional assistance to nearby parishes, as needed.
About Father Luis de Cancer
Pioneer Dominican missionary to the New World and to Florida. A native of Spain who entered the Dominican Order, Father de Cancer was inspired like many of his time to come to the New World in an effort to spread Christianity.
He came to the New World in 1518 and worked successfully among the native peoples of Puerto Rico, Hispaniola, and Guatemala. A disciple of the famed Indian protector, Bartolomeo Las Casas, Father de Cancer had particular success in Guatemala. His efforts were so successful in an area known for its bellicose natives, that it was renamed the "Province of True Peace." De Cancer believed that aggression and violence were counter-productive to the spread of the Gospel and that the native peoples needed to be treated with dignity.
Having read of several failed expeditionary attempts to Florida, de Cancer became convinced that a true missionary effort needed to be undertaken. By late 1547 he had received permission to undertake such an expedition. The Santa Maria de la Encina set out from Vera Cruz, Mexico in early 1549 with de Cancer and three other Dominicans bound for Florida. He insisted that it be an unarmed vessel.
Father de Cancer's high ideals were put to the test as he arrived on the shores of Tampa Bay in May 1549. Undoubtedly marred by previous contacts with Spanish Conquistadors, the native peoples were very suspicious of this latest venture. Despite warnings from the captain, de Cancer pressed onwards and continued to make contact with the natives despite the fact that one of the Dominicans had already disappeared. Just a few days after celebrating a Corpus Christi Mass ashore, Father Luis de Cancer, a remarkable man of peace and Gospel virtue, was martyred on June 26, 1549 by a band of Indians shortly after setting ashore in the sight of his companions.