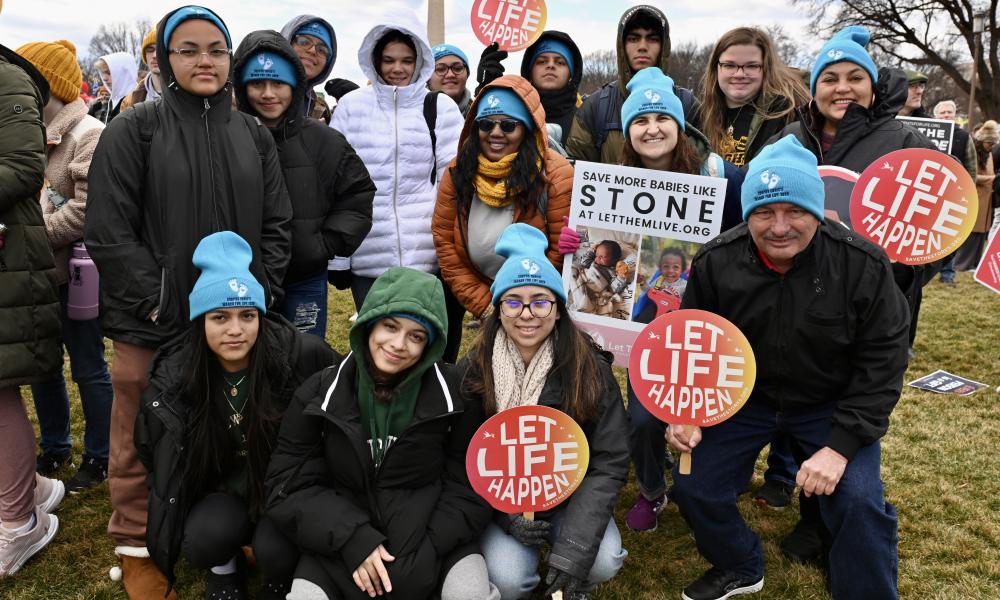 Mackenzie Kraker, second from right, middle row, photographed with her youth group at the 2023 National March for Life. Photo by Katie Camario
---
From Middle School to Ministry Leader: She Marched for Life
January 23, 2023 | Twenty-five-year-old Mackenzie Kraker started traveling to Washington D.C. to participate in the National March for Life when she was in middle school.
"My mom would just take us as a family. It was something important for me and I learned that there is something so much bigger than me because of my involvement as a teen," she said.
Year after year, Kraker would join thousands of other pro-life advocates to march up Constitution Avenue to the steps of the U.S. Supreme Court building. They were there to advocate for an end to abortion and the overruling of Roe v. Wade, the U.S. Supreme Court decision which made abortion legal in all 50 states.
Prayers were answered on June 24, 2022, when Roe was overturned and each state was given the opportunity to undo the grave injustice of abortion by enacting pro-life laws. 
This year, Kraker returned to Washington D.C. to participate in the march yet again. This time, she was leading a group of teenagers who are part of the Youth Ministry program at Corpus Christi Catholic Church in Temple Terrace, Fl.
"We are a young church that is so passionate about the pro-life movement," she said. "This is a celebration. We are here to show that life matters and I want to inspire my group of teenagers to be more involved when we do youth group projects back at home."
The theme of the 2023 March for Life was Next Steps: Marching into a Post-Roe America.
"We are overjoyed to welcome these inspiring pro-life leaders at this year's 50th March for Life, the first in our post-Roe nation," said Jeanne Mancini, president of March for Life Education and Defense Fund in a press release. "With Roe now behind us, we are empowered to save countless innocent American lives by continuing to advocate for commonsense protections at the state and federal level, educating Americans on the intrinsic dignity of all human life."
Over a pizza dinner following the march, Kraker led her teens in prayer and discussions.
"They were very struck by the gravity of abortion," she said. "I was praying during the lead up to this trip for greater conversion, both for myself and for the teens. I had a constant prayer in my heart, whether it's becoming more involved, or for the teens to have a greater understanding of the gravity of abortion."
Kraker attended the March for Life this year as part of the Diocese of St. Petersburg contingency organized by the Office of Youth and Young Adult Ministry that is supported by the Catholic Ministry Appeal. Over 140 pilgrims from the Diocese of St. Petersburg traveled to Washington D.C. and joined thousands of others in the 50th annual National March for Life. They rallied together in D.C. to stand for the protection of the unborn and to let women know they are supported. 
Although the March for Life is an annual event, pro-life education and advocacy is important year-round. For resources and to learn how you can get involved in your local community or on a state or national level visit: https://marchforlifeaction.org 
Click on the arrow below to view photos from the Tampa Bay March for Life. Photos by Katie Camario