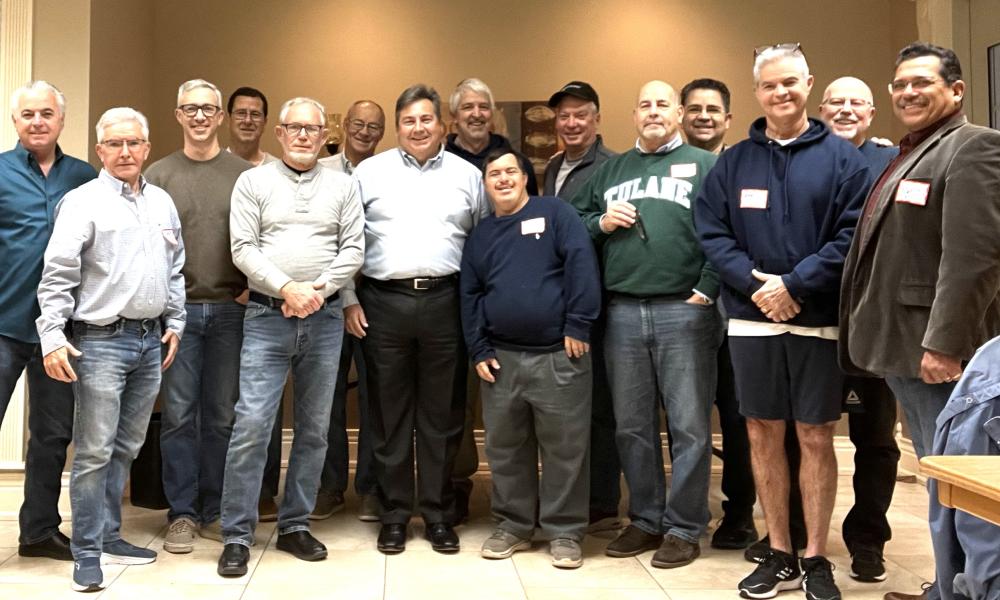 ---
Men Bonding Over Faith Find They Are Not Alone
January 17, 2023 | Ron Barreto grew up attending St. Lawrence Catholic Church in Tampa. He graduated from St. Lawrence Catholic School, has a successful career in publishing/advertising, has been married for nearly 30 years, and has two children.
All of these experiences have made him the man he is today. But there is one ministry recently, that has had a big impact on him.
"This ministry has helped my faith life significantly. It has made me a better guy and a better husband," said Barreto.
In 2021, Barreto joined That Man Is You, a men's group that meets weekly for faith enrichment and so much more. They seek to help men manage the pressures and temptations of the modern culture, especially those relating to their role as husbands and fathers. They cover difficult topics relating to marriage, parenting and career life. But they also share in fellowship and grow in their knowledge of the Catholic faith.
"It has opened my eyes to the depth of our faith. It's really refreshing and empowering to share your thoughts and feelings with other men. You find out you're not alone with your fears and insecurities. Also, our questions are more universal than we think," said Barreto.
Recently That Man Is You of St. Lawrence Parish was recognized nationally for being #6 in terms of generosity with 80% of active members voluntarily donating to support the ministry that was founded by Paradisus Dei. There are currently six other parishes that offer That Man Is You in the Diocese of St. Petersburg: St. Ignatius of Antioch Parish in Tarpon Springs, Christ the King Parish in Tampa, Blessed Sacrament in Seminole, St. John Vianney in St. Pete Beach, St. Raphael in St. Petersburg, and Our Lady of Lourdes in Dunedin.
For men wondering if this ministry is for them, Barreto has this message:
"Men should join this group because it gives them an opportunity to grow in their faith and socialize with other men with similar interest, backgrounds and struggles." Barreto said, "The group has taught me about the nuances and depth of our faith. It has filled holes and questions that my Catholic education didn't have the answers for."
The group meets each Wednesday from 6:00 a.m. to 7:00 a.m. in Higgins Hall at St. Lawrence Catholic Church. There are no financial responsibilities if you wish to join the group. It is all voluntary donations.
All Catholic men are welcome.
If you are interested in joining the St. Lawrence chapter of That Man Is You, call or text Ron Barreto at (727) 638-2429.