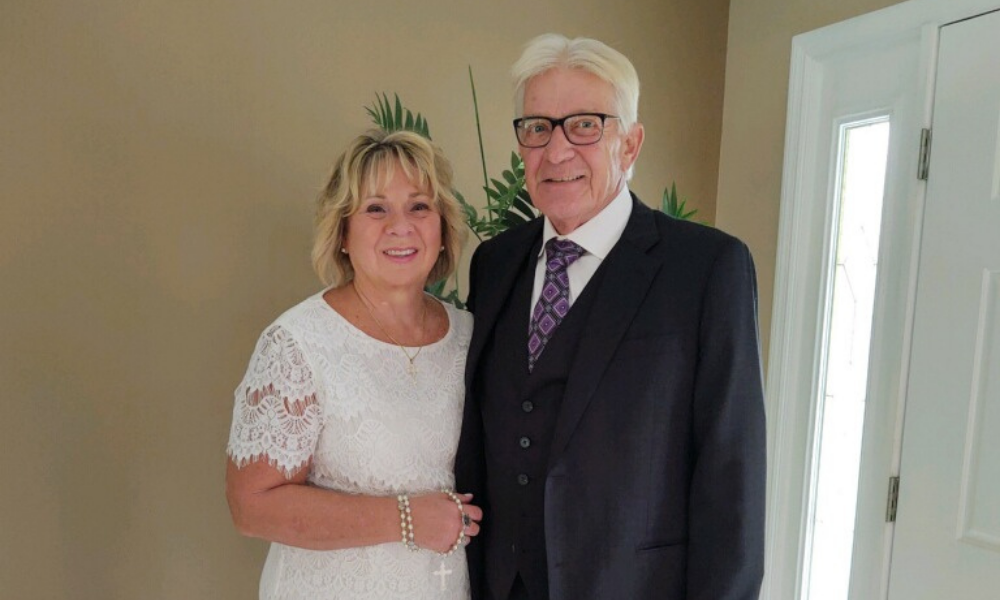 ---
Marriage of 41 Years Finally a Sacrament
Forty-one years after marrying, Cindy and Ed Karpowicz celebrated the Sacrament of Marriage at St. Scholastica Catholic Church in Lecanto, Florida.
"It felt great, I had tears in my eyes and my wife cried. It lifted the weight of the world off my shoulders. I was accepted back into the community, the body of Christ in the Roman Catholic Church," said Ed.
When Ed first laid eyes on Cindy, he knew she was special.
"Have you ever looked at somebody for the first time and said that's the one?  Well, she was the one," said Ed.
Soon after meeting the couple started dating and two years later a wedding date was set.
Although both Ed and Cindy were raised Catholic and were active in the faith, their marriage in 1979 took place at an Episcopal church. That's because Ed had divorced his first wife and was not able to get a declaration of nullity in the Catholic Church. Therefore, a priest could not convalidate their marriage. Circumstances changed recently and the two were free to have their marriage convalidated, a way for those who are civilly married to exchange their vows and receive the Sacrament of Marriage.
The Catholic Church believes that the Sacrament of Marriage is a covenant, which is more than a contract. The marriage covenant refers to the relationship between the husband and wife, a permanent union of persons capable of knowing and loving each other and God.
In the decades that followed their marriage in the Episcopal Church, Ed and Cindy attended Mass, were leaders for daily Holy Rosary, sent their children to Catholic schools and always kept the faith. But through it all, Ed says he had a nagging feeling that he needed God to consecrate his marriage as a Sacrament.
"It's fantastic it meant so much to both of us. We got special rings for that ceremony. It was wonderful," said Ed.