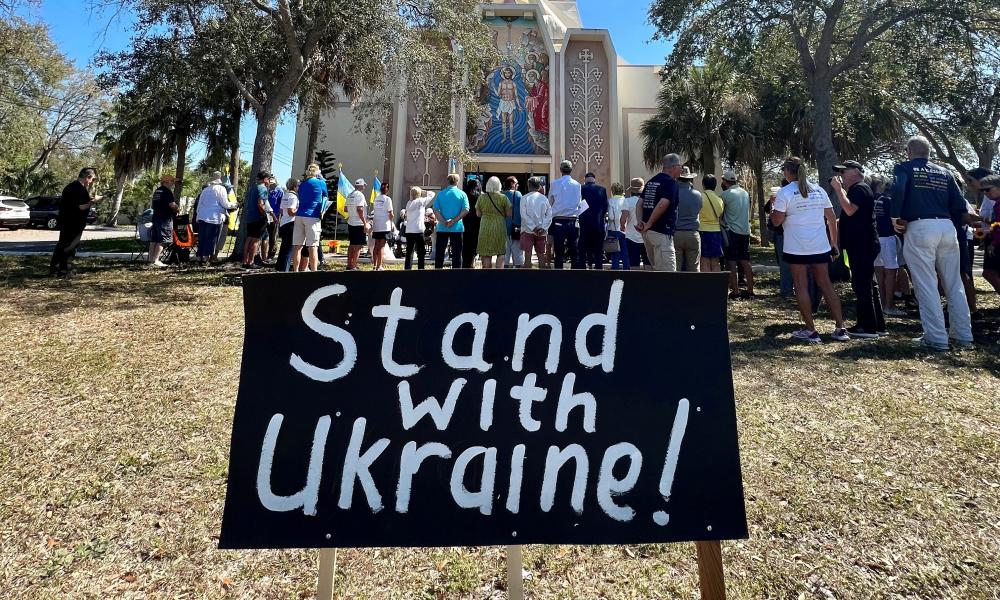 ---
Lord, Come To Our Aid
Pope Francis invited people across the globe to make March 2nd, Ash Wednesday, a day of prayer and fasting for peace in Ukraine. Tampa Bay faith leaders from multiple denominations answered that call at Epiphany of Our Lord Ukrainian Catholic Church in St. Petersburg, FL. Over a hundred people gathered for an outdoor prayer vigil seeking God's assistance for an end to the conflict in Ukraine.
"True peace comes from God. We are gathered today in unity to pray and ask God for peace in our dear Ukraine. For those suffering and for the whole world," said parish pastor, Father Bohdan Barytskyy, a native of Ukraine.
Nancy Kelly, a member of Pass-A-Grille Beach Community Church, attended along with many others to join in prayerful solidarity with the local Catholic Ukrainian community and Ukrainians across the world.
 "I'm here for support. When you see those doctors in the emergency rooms and little children being killed. As Christians it goes against everything we believe in," said Kelly.  "We're praying for peace, we're praying for a stop to the senseless killing and praying that the rest of the world will stand up too."
Faith leaders who spoke at the vigil had a message of unity in support of the Ukrainian people. Together they recited a statement that read in part:
"We the clergy and leaders of our faith communities in St. Petersburg, Florida, come together in an act of solidarity during this time of Russian aggression against Ukraine in support of the local Ukrainian community and the victims of this war. Regardless of any differences that might exist between us, at this moment we stand united."
Monsignor Robert Morris, Vicar General for the Diocese of St. Petersburg, led the group in the Prayer for Peace by Pope Francis.
"We are here with the common thread of seeking justice and peace in the world today. It's good to be united in a prayerful environment to seek peace in the world," said Monsignor Morris.
Parish organizers are asking the public's help for the collection of humanitarian aid. They say the Ukrainian people are in desperate need of support. If you would like to assist, visit the Epiphany of Our Lord Ukrainian Catholic Church website at: https://www.epiphanyukrch.com/