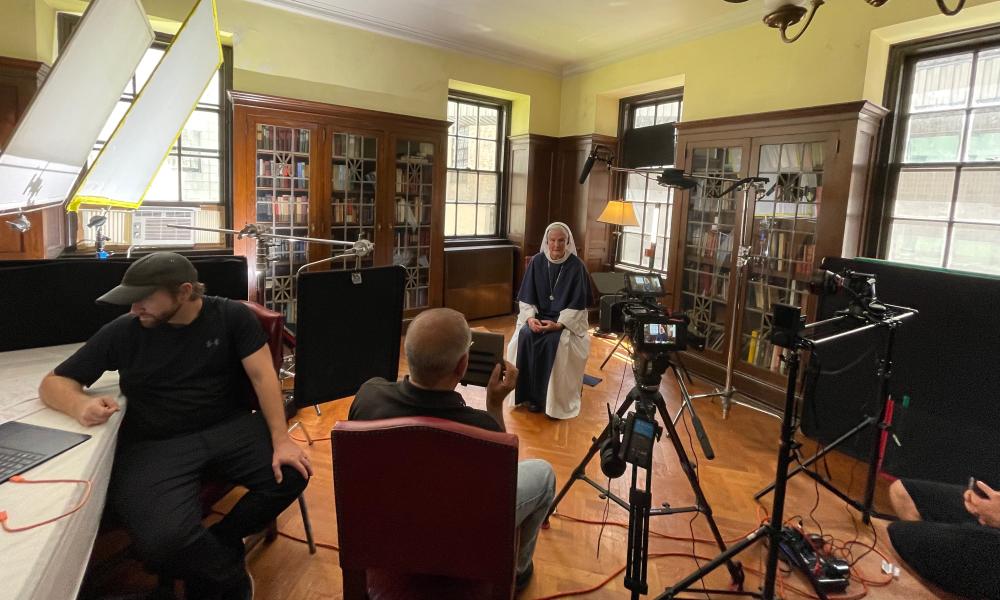 ---
Local Filmmaker Takes Pro-Life Message to National Audience
Caption: Behind the scenes look during filming of the Into Life series, which was directed and produced by Michael Campo, a local Catholic from Lutz, FL. Courtesy photos.
---
November 2, 2022 | Michael Campo of St. Timothy Parish in Lutz, has been a filmmaker for fifteen years and his work has been viewed around the country.  His most recent project inspires viewers to build a culture of life and solidarity.
"The reason I even got started in film was to create content that hopefully inspires, educates and brings people to Christ," said Campo, who has created popular films and viral web videos such as The Human Experience, a feature-length documentary that has received over 30 awards and accolades.
Campo partnered with the Sisters of Life and the McGrath Institute for Church Life to create Into Life: Love Changes Everything, an original 12-part video series based on the works of the Sisters as they accompany women through unexpected pregnancies.
"I believe the Holy Spirit and God brought us together. We had the trifecta, it was a perfect team," he said.
Campo and a film crew from his Tampa based production company, CampCampo Films, traveled to New York City to capture the footage needed for the series. For one week, they followed and filmed the sisters as they ministered and supported women who are pregnant and vulnerable.
"Each video tackles particular subjects," he said. "Our job was to get in there creatively and to build the content around that to make something that was going to be cinematic, beautiful, and had the emotional pull that it needs so it has a positive effect on the world."
The hope is that groups and individuals who watch the series discover new and different ways to engage with pro-life issues rooted in the heart of the Church.
"The benefit we had with this particular project was the Sisters and capturing their charism was a key element because it's hard to argue with people who have dedicated their lives to helping and serving women," he said. "They're the real deal. They're on the front lines and have dedicated their lives to supporting the pro-life efforts."
In a post-Roe world, Campo says his job as a Catholic filmmaker is to continue to find opportunities like these to share the pro-life message through the art of storytelling to influence positive change.
"The only way that things really change is if you change the hearts of people," he said. "I think great art can do that."
Campo says he will continue that mission, despite the recent move by YouTube to stifle pro-life voices by adding links for abortion resources to content produced by Catholic or pro-life organizations.
"We live in the world, but we're not of the world. So, you can't bury your head in the sand and pretend like this isn't happening," he said. "If we're not in these spaces putting this content out, no matter what anybody says, that's a mistake. We're really missing an opportunity."
Campo invites everyone, including small faith groups and ministries, to watch the series and participate in the program where they will learn what it means to truly accompany someone into God's life and freedom.
---
Into Life: Love Changes Everything and accompanying resources are available for free at: intolifeseries.com.