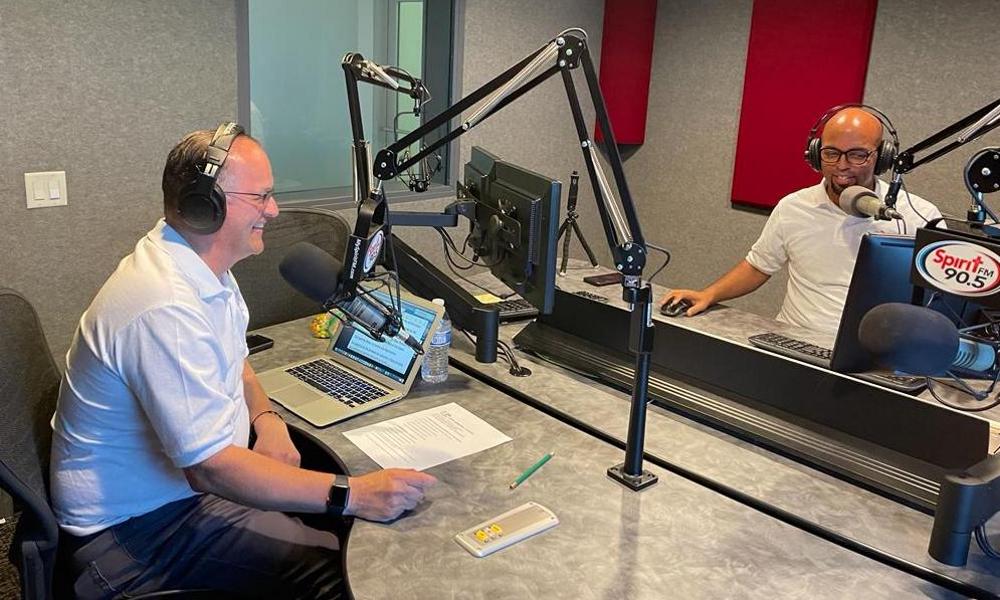 ---
Local Deacon Evangelizes Through the Media
A new Spanish-language radio show, Entre Hermanos, is hitting the airwaves in the Tampa Bay area. The live talk show launched on Spirit FM's HD 3 channel El Fuego earlier this year.
"Entre Hermanos is a talk show in which we touch on current topics, and also go into faith formation with the aim of being able to evangelize and guide our listeners, always following Church guidelines and doctrines," said host Deacon Elix Castro who serves at Nativity Catholic parish in Brandon Fl.
Listeners can tune in via an HD radio or online and are encouraged to become active participants in the program.
Entre Hermanos was first launched on social media and its transition to radio is a result of an increase in Spanish-speakers in the area. 
"The show gives the Bay Area Spanish-speaking audience another choice in listening," said John Morris, Spirit FM 90.5 Station Manager. "We know that the Hispanic population is continuing to grow in our area and providing a radio ministry platform is another way to connect the faithful to their church."
The show will also provide a platform for parish priests in the Diocese of St. Petersburg to promote ministries and events in their parishes. 
"Having relevant content and the collaboration of new clergy and parishioner voices will help appeal to the different segments of our Catholic audience, especially in the difficult times we are all living," said Deacon Castro.
If the ministry continues to flourish, Deacon Castro says there are plans to develop a daily weekday morning talk show. 
"We will continue to involve the Catholic community in this project, including priests, deacons and lay people. This can open up more discussion and a certain call for people to give back to our community through authentic witness to the Faith," said Deacon Castro.
"That's part of what drives the announcer and volunteers," said Morris. "Listener support and feedback is critical to keep any station going." 
The next live show is scheduled to air, September 13th from 7-9 p.m. and will focus on faith and religion. To listen to El Fuego and Entre Hermanos visit: https://spirit-fm.streamguys1.com/elfuego.
In addition to this new live talk show, Spirit FM's HD3 Channel is airing Deacon Castro's radio ministry, Catolico Hoy 24-hours a day, 7-days a week. The ministry provides Spanish-language music with an uplifting message of Christ's love.
About Católico Hoy
Católico Hoy is a ministry that was started in January of 2019 by Craulio de la Cruz, a Nativity Catholic Church parishioner, with the spiritual guidance of Deacon Castro, as a way to bring the good news of the Gospel to the Spanish community. The first broadcasts were daily reading reflections presented by Deacon Castro and aired via YouTube and Facebook. Two years later they launched Católico Hoy Radio, an internet radio station that played Catholic Spanish-language music. The ministry then grew to include, rosary, saint of the day, daily readings, reflections and a desire to share the works of the ministry as a broader audience grew.
That's when in January 2022, Católico Hoy show producers and hosts reached out to Spirit FM, to launch Entre Hermanos via their HD3 channel Spanish station El Fuego which had been on air for years already playing Spanish-language music for listeners.
---
Caption: Deacon Elix Castro, left, is pictured at the studios of Spirit FM during the broadcast of a new live Spanish-language Catholic talk show called Entre Hermanos. (Photo credit/Deacon Castro)